Kumkumadi Tailam is Ayurvedic herbal oil used for face massage. It is helpful to improve skin texture and also to relieve skin problems such as acne, scars etc. Kumkuma means saffron, which is the main ingredient of this medicine.
Uses
Kumkumadi Thailam Benefits:
Improves skin texture.
Relieves blemishes, acne, acne scars, white and black heads, pimple marks, under eye circle, sun tans, wrinkles, mosquito bite scars, black pigmentation on skin
It is a good face massage oil.
It has both cleansing and nourishing effect on skin.
It has anti aging qualities.
Adds radiance to the skin and helps in improving lips skin.
Removes scars, pimples, blemishes, white heads and wrinkles.
Useful in sun tan and makes skin radiant and beautiful.
10 ml of Kumkumadi + 100 ml Nalpamaradi oil when mixed and applied helps in improving the complexion.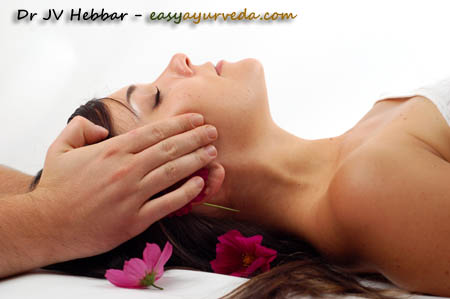 How To Use
Take just 3 -5 drops of the oil into your hands, apply a light coat of it evenly onto the face or to the acne area.
Do a gentle massage with your fingers.
Leave it for 10 – 20 minutes and wash off with hot water
If you are applying a thin layer of kumkumadi taila then you can leave it overnight without washing.
It can be used for 2 – 3 times in a day, continuously for a week. After that, it can be used once daily.
It can be used for Nasya but usually not mixed with Anu Tailam.
Kumkumadi oil is also used for face-steaming and vaporization. 5-10 drops of it is added to water, boiled and steam is directed on face for 5 – 10 minutes.
If just 1-2 drops are applied over face, it can be left on the face without washing off.
After using it, you can use soap water to wash it off.
To clean the facial skin pores, massage with this oil, and then followed by steam therapy would open and clean pores.
For under-eye circle
Kumkumadi oil is also useful in circles under eyes. Take a few drops of the oil onto the finger tips of index and middle fingers and apply gently beneath the eyes over the circles. Leave it on for 30 minutes, then wash off with plain water. Do this once or twice a day.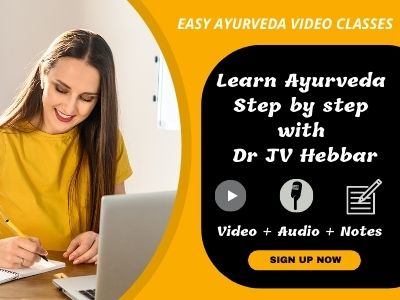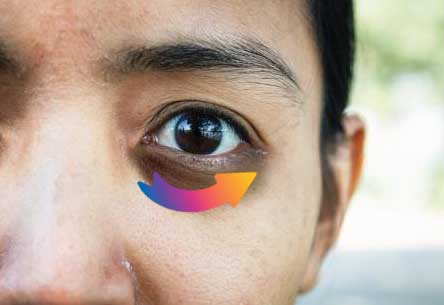 How to use Kunkumadi oil for under eye circles?
Take 5 drops of the oil on to your thumb. Gently rub over the circle area, 2 minutes each, in moon shaped movements, below the eyes. Do this for both the eyes. Wash off with hot water and soap.
Do this 2 times a day.

Indication, Synonyms
Dull and complexion less skin.
Hyper-pigmentation, freckles
Pimple, acne scars, melasma
Blemishes.
Wrinkled skin and menopausal spots
Scars, Freckles
Discolored Arm Pits – apply few drops of kumkumadi oil with gentle massage, 30 minutes before bath.
It can be used in people of any age group.
A thin layer of this oil can be used as sunscreen.
In case of cystic acne, usually this oil is applied with equal quantities of neem oil. Oral medicines to treat infection are also required.
Many years old wound scars are hard to treat even with Kumkumadi taila.
Kumkumadi oil can be used along with red sandalwood (Raktachandan) paste and honey.
It does not cause or increase facial hair growth. It in fact decreases facial hairs.
This oil can be used alongside face packs such as turmeric face pack.
It can be applied on the lips to get back natural lips colour
Synonyms:
Kumkumadi Thailam, Kumkumadi Taila, Kumkumadi tail, Kumkumadi oil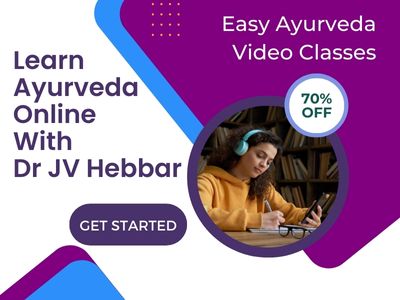 Kumkumadi Tailam – Indications, ingredients, side effects etc
Side effects
People with oily skin type should use it in small quantities, for not more than once a day.
If you have naturally oily skin, applying excess of this oil can lead to increased oiliness and acne. Hence, it is best to use this oil in small quantities.
In case of oily skin associated with open skin pores, it may worsen the condition, especially during winter. Seek your doctor's advice.
It is better to test this oil over a small skin area before starting using it. If you develop any rash / burning / itching sensation, avoid using it.
It is known to cause allergic skin rashes in people with sensitive skin.
It does not have any long term side effect if used for long duration.
In case if you develop any pimple even with application of few drops of oil then please avoid it.
Reported side effect – After using this oil (at night before sleeping) for a month, I am finding some patches and brown dots on my face which were never before on my face. I have dry skin. I use this oil on my hands also. before started using this oil, my hands feel had normal skin but not my hands feel extremely dry on the days i do not apply the oil.

Eye irritation side effect:
After using Kumkumadi oil my eyes are burning a lot and it becomes red. My skin is oily. Should I continue using it or stop?

usually this oil does not create any problems in the eyes, unless it gets in contact with it. So, while applying it on your face, if it causes a burning sensation even after avoiding the eyes, either the Kumkumadi oil is not well made or it is genuinely causing allergic reactions in you.
People with oily skin should always use very less quantity of oil for face massage. May be just 3 – 5 drops, taken on your finger tips. They should face massage only for 2 – 3 minutes of time and then should wash off with lukewarm water. If they use excess kumkumadi oil, it can cause excess oiliness on the face and acne.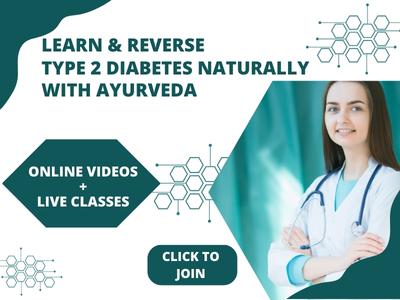 Before you use Kumkumadi oil or any other Ayurvedic herbal oil, It is always better to test this over a small skin area before using it.
For this, mark a small area of skin on your forearm. Apply oil there. Watch for 5 minutes. If you develop any skin irritation and rashes, then you are allergic to that oil. Avoid using it. Seek an Ayurvedic doctor's advice before using this oil.
Considering all these points I advise you to stop using Kumkumadi oil.
Questions
Can Kumkumathi oil be used on newborn?
Kumkumadi taila can be used only after the baby is 6 weeks old. While applying it, You need to dilute 10 ml of Kumkumadi taila to 200 ml of Sesame oil (gingelly oil).
Before applying, take 2 drops and apply over arm and watch for development of any allergic skin rashes. If there are no rashes, then only proceed to use this mix for baby massage.
1. if I could use soap to wash off the Kunkumadi tailam oil?
2. I have oily skin on my face, so can I use the oil as night cream?
3. Can I use soap after applying or before applying the oil?

1. Yes you can use soap to wash after applying. But if you wish, you can make your own bathing powder. Read here –
How to make herbal bath powders at home
2. If you have oily skin, using it at night is not a good idea. If you wish to do so, apply only a very little of the oil.
3. You can use soap, 5 – 10 minutes after applying the oil.
Q: I have oily skin. I used unjha kumkumadi oil for 1 week at night but no results are there…!
Answer:
You might have to use it for at least one week to see some results.
Q: I have dry and very sensitive skin. Can i keep it on face the whole night ?
If you're applying a very thin layer of the oil, then it can be left overnight. However, try it for a day or two and go by your experience.
Can i consume a few drops of kumkumadi thailam in warm milk every night? what is the positive and negative impact of doing so?
Yes you can, but morning, 15 minutes before breakfast with lukewarm water or warm milk is a better choice. The positive – good for skin. Negative – if you take it at night, or with cold water, it may cause indigestion / worsening of cold symptoms.

Can it be used allover the body?
Yes.
Q: do we need to wash after applying kumkumadi tailam for 15 20 minutes or we can also keep it overnight
Answer:
If you are applying a thin layer of Kumkumadi taila, then you can leave it on face without washing.
Using Kumkumadi oil along with Nalpamaradi oil for good skin health in babies.
A mix of Kumkumadi and Nalpamaradi oil works best for good skin health in babies. Both of these oils are good for improving skin health. But they should be used only after testing it on a small area. Very rarely, using herbal oils can produce allergic skin reactions.
100 ml of Nalpamaradi oil, mix it with 10 ml of Kumkumadi oil. First, as a trial, apply only 3 drops of the oil over forearm. Mark the area and watch for any allergic reaction. If there is allergic reaction (red patches, itchiness), then consult a doctor immediately. If there is no allergic reaction, you can use it for massage. Take around 2-3 teaspoons of it, apply to whole body, leave it for 15 minutes, wash off with lukewarm water. Do it once or twice a week. You can also do it daily. Read more about Nalpamaradi oil
After applying Kumkumadi taila, can it be left over on skin?
If you are applying only a few drops of it, then it can be leftover on skin as it is. It acts as a natural moisturizer.
If you have very oily skin or if you have applied excess oil, you can remove it after 15-30 minutes.
Can I use soap water to remove it?
Yes, you can use soap and water to wash your face and remove it.
Can it be applied all over the body?
Yes.
Can it be kept over night?
Yes, if you have dry skin. Avoid if you have oily skin because it can increase oiliness.
Can i continue using this oil even after getting rid off my problems?
yes, in few drops and a good product oil should be selected

How long does the oil take to cure my skin problems?
It depends upon the skin problems, It may take 2-3 weeks to show the improvement.
Can I apply face cream after applying this oil?
Better to apply Kunkumadi oil first, wait for 30 minutes, wash off with warm water and then apply face cream.
Manufacturer
Kama Ayurveda, Iraya, IMIS
AVN Ayurveda Formulations Pvt. Ltd. – Packing – 10 ml
Vasu Healthcare, AVP, Unjha Ayurvedic Pharmacy, Ashtavaidhyan Thaikattu Mooss Vaidyaratnam
Arya Vaidya Sala – Kottakkal calls the same product as Kunkumadi tailam.
Kadamkulthy, Khandige, Zandhu, Charak, Vyas, Ratnavilas
Principle
In this herbal oil, the herbs are infused in the medium of sesame oil along with herb water decotion. Then the solid waste herb materials are filtered out. Thus, this oil contains oil soluble and water soluble phyto-active principles of medicinal herbs.
Contents, Ingredients
Kumkumadi thailam ingredients:
48 grams of each of
Keshara – Saffron – Crocus sativus
Chandana – Pterocarpus santalinus
Laksha – Laccifer lacca
Manjishta – Rubia cordifolia
Madhuyashtika – Licorice
Kaliyaka – Berberis aristata
Usheera – Vetiveria zizanioides
Padmaka – Prunus cerasoides
Neelotpala – Nymphaea stellata
Nyagrodha – Ficus bengalensis
Plaksha – Ficus lacor
Kamala keshara – Pollen of Lotus – Nelumbo nucifera
Dashamoola – Group of ten roots –
Bilva – Aegle marmelos
Agnimantha – Premna mucronata
Shyonaka – Oroxylum indicum
Gambhari – Gmelina arborea
Patala – Stereospermum suaveolens
Shalaparni – Desmodium gangeticum
Prinshnaparni – Urarica picta
Gokshura – Tribulus terrestris
Brihati – Solanum indicum
Kantakari – Solanum xanthocarpum
water for decoction – 9.126 liters
Boiled and reduced to – 2.304 liters
12 grams of each of
Manjishta – Rubia cordifolia
Madhuka – Madhuca longifolia
Laksha – Laccifer lacca
Pattanga – Caesalpinia sappan
Yastimadhu – Licorice – Glycyrrhiza glabra
Taila – Oil of sesamum indicum – 192 ml
Goat milk – Aja ksheera – 384 ml
Method of preparation
First set of herbs (except saffron) upto Dashamoola roots are added to water, boiled and Kashayam is prepared, filtered.
Ratio of herbs and water is 1:8
A big vessel is taken. The above Kashayam, sesame oil and herb powders From Manjishta to Yastimadhu, along with goat milk and sesame oil are added to vessel. Boiled in mild fire till the Thailam is prepared. Usually saffron is added to the oil – water mix, nearing to the end of boiling,
Sesame oil based Kumkumadi taila is best, as traditionally, it is mentioned to be prepared with sesame oil.
Traditional Significance and Reference
Traditional significance of Kumkumadi tailam:
This special herbal oil was prepared first by Ashwin Twins – The Gods of Indian medicine.
Mixing Kunkumadi oil with other face creams –
Many people mix a few drops of Kumkumadi oil with face creams for application.
Kumkumadi, being a very versatile oil, can be used this way. No problem.
Reference: Astanga Hridayam, Bhaishajya Ratnavali – 60/115-120
Kumkumadi Tail as ingredient in proprietary Ayurvedic medicines:
It is used as ingredient in many Ayurvedic medicines such as –
UVA Acnovin Cream is a proprietary Ayurvedic medicine manufactured by Vasu Healthcare pharmaceuticals, Vadodara, Gujarat. Acnovin cream helps skin to glow like gold.
Sanskrit Shloka, verse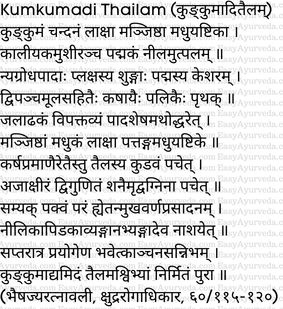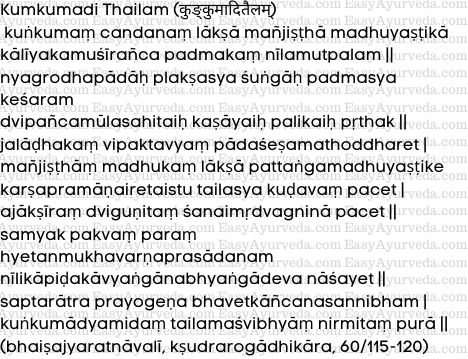 Usage in oily Skin
For people with oily skin, only a few drops of Kumkumadi oil is applied and washed off after 10-15 in hot water.
Is there any use at all for the residual mass of herbs that remains after making oils like kumkumadi and bhringraj?
No. Because they are heated for such a long period of time, all the nutritional value gets into the oil and the residue is useless.
During pregnancy
If you were using this oil before pregnancy without any allergic reaction, you can continue using this oil even during pregnancy. It is useful to prevent stretch marks.
If you have not used this product before and wish to use it during pregnancy, better to consult a doctor because it can cause skin allergy in some rare cases.

Can this product be applied after steam therapy?
No. Oil is best applied before steam therapy. This is as per basic Ayurvedic principles.
Facial hair growth
To relieve facial hairs, Kumkumadi oil – 10 drops is mixed with a pinch of turmeric powder and applied. Rub gently over the facial hair area. Wash off after 30 minutes.
Kumkumadi oil alone, when used, does not cause beard loss in men.
Keram, tailam difference
Kumkumadi keram is prepared with coconut oil base. It is a coolant oil.
Kumkumadi tailam is prepared with sesame oil base. It is slightly hot in nature. The rest of the ingredients are same in both.
Nasya therapy
Kumkumadi oil can be used as nasal drops.
Everyday, in empty stomach, in the morning, apply a few drops of this oil on the face, wash the face with lukewarm water and while lying down, put two drops of this oil into both your nostrils. After 10 minutes of putting this oil, you can take bath. Avoid this during cloudy days and during extreme winter.
Diet to follow
Have food rich in Vitamin E – Sunflower seed, almond, pine nuts, peanuts, spinach, taro root, flaxseed oil, soybean, pistachio.
Broccoli, carrots, chard, mustard and turnip greens, mangoes, nuts, papaya, pumpkin, red peppers
kumkumadi lepam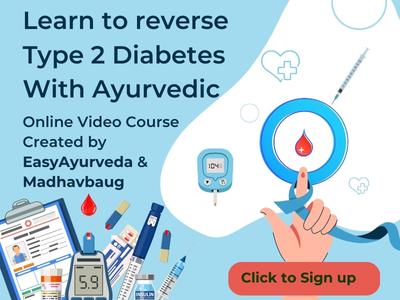 The Kumkumadi lepam that is available in the market is just a saffron based face cream. This does not contain Kumkumadi taila. It can be used as any face cream. better not to apply it at night.
Kumkumadi lepam is inferior to Tailam.