Pushyanuga Churna is a famous Ayurvedic medicine, in herbal powder form. It is used in the Ayurvedic treatment for bleeding disorders.
Uses
Pushyanug Churna benefits:
It is used in the Ayurvedic treatment of Menorrhagia, Metrorrhagia, Leucorrhoea, Menstrual disorder, Excessive menstrual bleeding of various etiology. It is also used in treating uterine infections and Haemorrhoids. This is good in diarrhea, dysentry, grahani and raktapitta.
Doctors also use this for the treatment of –
Candidiasis
Vaginal yeast infection
Synonyms
Pushyanuga churna, Pushyanuga churnam, Pushyanuga choornam, Pushyanug churna.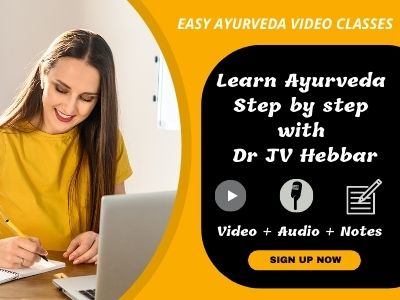 Effect on Tridosha – Calms Vata, Pitta and Kapha.
Dosage, Adjuvant
1 – 3 grams given along with honey and rice washed water, once or twice a day before or after food or as directed by your doctor.
How long to take?
It can be taken for a period of 2 – 3 months of time.

Adjuvant
Milk, Tandulodaka (rice washed water)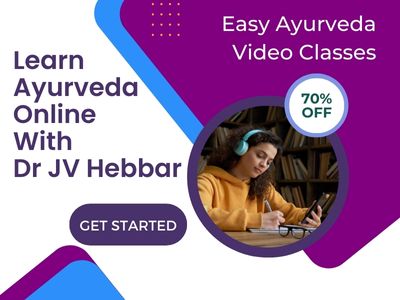 With western medicines
Seek your doctor's advice if you are taking this product along with other western (allopathic/modern) medicines. Some Ayurvedic herbs can interact with modern medicine.
If both Ayurvedic and allopathic medicines are advised together, then it is best to take allopathic medicine first, wait for 30 minutes and then, after a gap of 15 – 30 minutes, take Ayurvedic medicine or as directed by the physician.
Can this be used while taking Homeopathic medicine?
Yes. This product does not react with homeopathic medicine.
With supplements like multivitamin tablets, Omega 3 fatty acids etc?
Yes. Generally, this product goes well with most of the dietary supplements. However, if you are taking more than one product per day, please consult your doctor for an opinion.
Contents
Pushyanug churna ingredients
10 g of each of
Patha – Cyclea peltata – Root
Jambu-bija majja – Eugenia jambolana
Amra-bija majja – Mango seed
Shilabheda (Pasanabheda) – Aerua lanata – Rhizome
Rasanjana (Daruharidra) – Berberis aristata – Root/stem extract
Ambasthaki – Cissampelos pareira – Root
Mocharasa (Shalmali) – Salmalia malabarica – Gum exudate
Samanga (Lajjalu) – Mimosa pudica – Root/plant
Padma kesara (Kamala) – Nelumbo nucifera
Vahlika (Kumkuma) – Crocus sativus – Stamens
Ativisa – Aconitum heterophyllum – Root tuber
Musta – Cyperus rotundus – Root tuber
Bilva – Aegle marmelos – Root/stem bark
Lodhra – Symplocos racemosa – Stem bark
Gairika – Red Ochre
Katphala – Myrica nagi – Stem bark
Maricha – Black pepper – Piper nigrum – Fruit
Shunti – Ginger – Zingiber officinalis – Rhizome
Mrdvika (Draksha) – Raisins – Vitis vinifera – Dried fruit
Rakta candana – Pterocarpus santalinus – Heartwood
Katvanga (Araluka) – Oroxylum indicum – Stem bark
Vatsaka (Kutaja) – Holarrhena antidysenterica – Stem bark
Anantha (Shweta sariva) – Hemidesmus indicus – Root
Dhataki – Woodfordia fruticosa – Flower
Madhuka (Yasti) – Licorice – Glycyrrhiza glabra – Root
Arjuna – Terminalia arjuna – Stem bark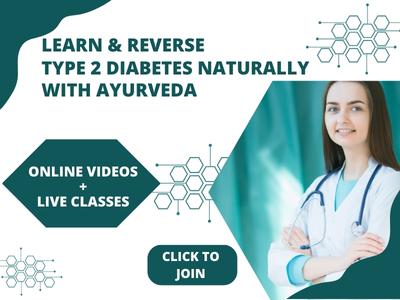 Pushyanuga Churna – Ayurvedic Powder for Women Care
Method of Preparation
Each ingredient is powdered and weighed separately. All ingredients are then mixed together to form homogeneous mixture of Pushyanug Churna. It is packed in a tightly closed container.
Reference
Charaka Samhita, Chikitsa Sthana, 30/90-96
Bhaisajyaratnavali, strirogadhikara: 46-49, Astangahridayam.
Shloka, Sanskrit Verse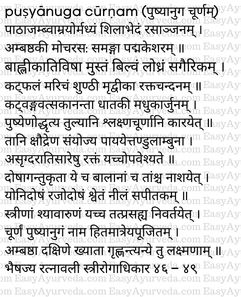 Side Effects
Over use of this medicine for a very long period of time may result in irregular menstruation.
It is best to take this medicine during the period of excessive discharge and during menorrhagia.
Manufacturer
Companies that manufacture Pusyanug Churan:
AVN Ayurveda Formulations Pvt. Ltd
Baidyanath Ayurved Bhavan
Vaidyaratnam OushadhaSala
Nagarjuna – Pushyaanuga Choornnam
Pusyanug Churan as ingredient in proprietary Ayurvedic medicine:
It is used as an ingredient in medicines like – Meryton Capsule – used for the treatment of menorrhagia, dysmenorrhoea etc.
Shloka- Sanskrit verse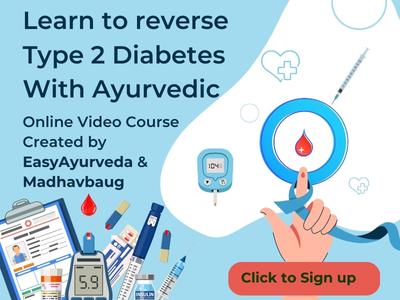 पाठा जम्ब्वाम्रयोर्मध्यं शिलोद्भेदं रसाञ्जनम्||९०||
अम्बष्ठा शाल्मलीश्लेषं समङ्गां वत्सक त्वचम्|
बाह्लीकातिविषे बिल्वं मुस्तं लोध्रं स गैरिकम्||९१||
कट्वङ्गं मरिचं शुण्ठीं मृद्वीकां रक्त चन्दनम्|
कट्फलं वत्सकानन्ता धातकी मधुकार्जुनम्||९२||
पुष्येणोद्धृत्य तुल्यानि सूक्ष्म चूर्णानि कारयेत्|
तानि क्षौद्रेण संयोज्य पिबेत्तण्डुल वारिणा||९३||
अर्शःसु चातिसारेषु रक्तं यच्चोपवेश्यते|
दोषागन्तुकृता ये च बालानां तांश्च नाशयेत्||९४||
योनिदोषं रजोदोषं श्वेतं नीलं सपीतकम्|
स्त्रीणां श्यावारुणं यच्च प्रसह्य विनिवर्तयेत्||९५||
चूर्णं पुष्यानुगं नाम हितमात्रेयपूजितम्|९६|
इति पुष्यानुग चूर्णम्|
pāṭhā jambvāmrayormadhyaṃ śilodbhedaṃ rasāñjanam||90||
ambaṣṭhā śālmalīśleṣaṃ samaṅgāṃ vatsaka tvacam|
bāhlīkātiviṣe bilvaṃ mustaṃ lodhraṃ sa gairikam||91||
kaṭvaṅgaṃ maricaṃ śuṇṭhīṃ mṛdvīkāṃ rakta candanam|
kaṭphalaṃ vatsakānantā dhātakī madhukārjunam||92||
puṣyeṇoddhṛtya tulyāni sūkṣma cūrṇāni kārayet|
tāni kṣaudreṇa saṃyojya pibettaṇḍula vāriṇā||93||
arśaḥsu cātisāreṣu raktaṃ yaccopaveśyate|
doṣāgantukṛtā ye ca bālānāṃ tāṃśca nāśayet||94||
yonidoṣaṃ rajodoṣaṃ śvetaṃ nīlaṃ sapītakam|
strīṇāṃ śyāvāruṇaṃ yacca prasahya vinivartayet||95||
cūrṇaṃ puṣyānugaṃ nāma hitamātreyapūjitam|96|
iti puṣyānuga cūrṇam|