Indukantham ghritam is an Ayurvedic medicine, in herbal ghee form.This medicine has ghee as its base. It is used for preparatory procedure for Panchakarma and also as medicine, used mainly for abdominal diseases. This medicine is formulated based on principles of Kerala Ayurveda.
This product is also known as Indukantham ghee, Indukantha ghritham
Uses
Indukantham Ghrita benefits:
It is used as medicine and also in preparatory procedure called snehakarma for the treatment of abdominal pain, chronic fever, bloating, weakness and tiredness. It also gives strength. For cough in the aged, this works better than the decoction of the same name. To eradicate malaria from the system, a daily dose is useful.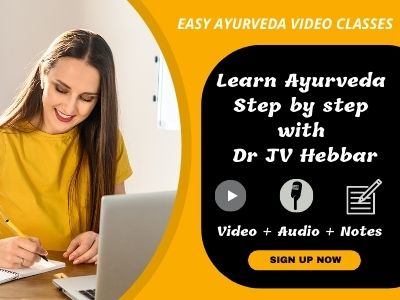 Doctors prescribe this medicine also for
Dry skin, allergic skin conditions
Dry cough, allergic cough, allergic rhinitis due to ingredients such as ginger and long pepper.
Irritable bowel syndrome associated with constipation.
Research shows that this product contains carbohydrates, phenols and terpenoids that makes this product anti oxidant and anti inflammatory. (1)
Ulcerative colitis –
Because it contains spicy herbs such as Chitraka, Chavya, Long pepper and ginger, it is not very suitable for usage in ulcerative colitis. However, some patients may be able to tolerate it, due to the combined effect of rest of the herbs.
Effect on Tridosha – Calms Vata at the level of intestines.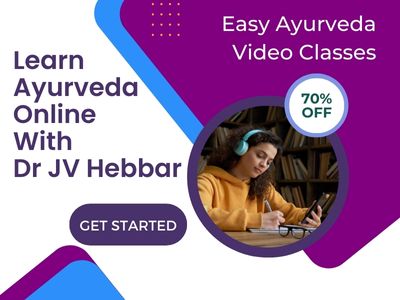 Dose
Indukantham Ghritham dosage:
As medicine – quarter to half teaspoon with water, usually before food, once or twice a day, or as directed by Ayurvedic doctor.
For Panchakarma preparation – Snehana procedure, the dose depends on the disease status and the judgement of Ayurvedic doctor.
With western medicines
Seek your doctor's advice if you are taking this product along with other western (allopathic/modern) medicines. Some Ayurvedic herbs can interact with modern medicine.
If both Ayurvedic and allopathic medicines are advised together, then it is best to take allopathic medicine first, wait for 30 minutes and then, after a gap of 15 – 30 minutes, take Ayurvedic medicine or as directed by the physician.
Can this be used while taking Homeopathic medicine?
Yes. This product does not react with homeopathic medicine.
With supplements like multivitamin tablets, Omega 3 fatty acids etc?
Yes. Generally, this product goes well with most of the dietary supplements. However, if you are taking more than one product per day, please consult your doctor for an opinion.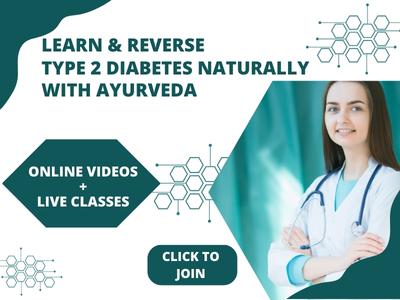 Side effects
Indukanta Ghrita Side Effects:
There are no known side effects with this medicine. However it is best to use this product under medical supervision. Self medication with this medicine is discouraged.
People with diabetes, high cholesterol, heart diseases and high BP should exercise precaution.
In very high dose, it may cause diarrhoea.
Principle:
In this herbal ghee, the herbs are infused in the medium of ghee along with herb water decotion. Then the solid waste herb materials are filtered out. Thus, this herbal ghee contains oil soluble and water soluble phyto-active principles of medicinal herbs.
Contents
Indukanta Ghrita Ingredients:
Putika – Holoptelea integrifolia – Chira Bilva – Stem bark – 256 g – Indian Elm – Holoptelea integrifolia is a herb mentioned in Ayurveda for the treatment of localized swelling, skin diseases, nausea, diabetes, indigestion, piles and acts as blood purifier
Daru – Cedrus deodara – Heartwood – 256 g
Dashamoola – group of ten herbs
Bilva – Aegle marmelos – Stem bark – 25.6 g
Agnimantha – Premna mucronata – Stem bark – 25.6 g
Shyonaka – Oroxylum indicum – Stem bark – 25.6 g
Gambhari – Gmelina arborea – Stem bark – 25.6 g
Patala – Stereospermum suaveolens – Stem bark – 25.6 g
Shalaparni – Desmodium gangeticum – 25.6 g
Prishnaparni – Uraria picta – 25.6 g
Brihati – Solanum indicum – 25.6 g
Kantakari – Solanum xanthocarpum – 25.6 g
Gokshura – Tribulus terrestris – 25.6 g
Water – 12.288 liters, boiled and reduced to 3.072 liters
Milk – 768 ml
Ghrita – ghee – 768 g
Pippali – Long pepper – Piper longum – Fruit – 48 g
Pippali moola – Long pepper – Piper longum – Root – 48 g – It is hot, useful in asthma, indigestion, bloating, anorexia etc.
Chavya – Piper cubeba – Stem – 48 g
Chitraka – Plumbago zeylanica – Root – 48 g
Shunti – Ginger – Zingiber officinale – Rhizome – 48 g
Yavakshara – Hordeum vulgare – barley – 48 g
Method of Preparation
Coarse powder of ingredients from Putika to Gokshura are added to specific quantity of water and boiled to prepare decoction. Ingredients from pippali to yavakshra are powdered separately and ground together with sufficient quantity of water to prepare the paste.
Ghee is heated along with prepared paste, decoction and milk with continuous stirring. Heating is stopped when all moisture content gets evaporated, froth subsides and when paste is rolled it forms wick (varti).
Shloka- Sanskrit verse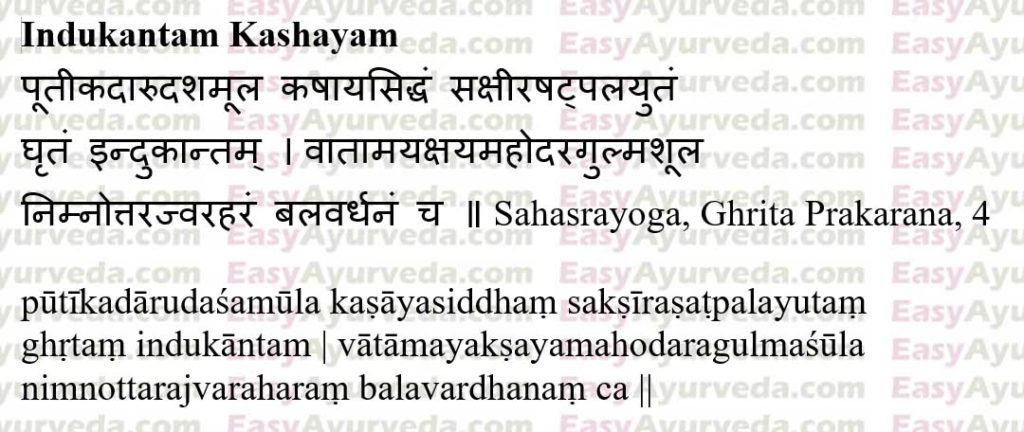 Reference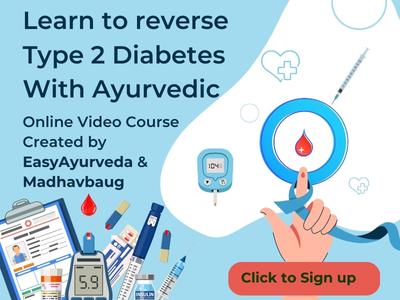 Sahasra yoga – Ghritaprakarana 5

Manufacturers:
Nagarjuna – Indukaantha Ghrutham