Eladi choornam is an Ayurvedic powder which is applied externally to treat skin ailments such as itching, boils, pustules etc. which are mainly related to vata and kapha doshas. It improves skin complexion.
Ingredients
Ela – Elettaria cardamomum – Seed – Because of vata and kapha subsiding quality, ela is useful in relieving itching of the skin.
Sthula ela – Amomum subulatum – Seed
Boswellia serrate – exudate
Kushta – Saussurea lappa – Root – It is the best vata and kapha balancing herb. It is mainly used in skin diseases.
Phalini – Callicarpa macrophylla – Flower
Mamsi – Nardostachys jatamansi – Rhizome – It is the best herb used in skin diseases. Relieves itching and improves skin complexion.
Jala – Coleus vettiveroides – Root
Actiniopteris dichotoma – Whole plant
Dhyamaka – Cymbogon martinii – whole plant
Sprkka – Anisomeles malabarica – whole plant
Coraka – Angelica glauca – Root
Coca – Cinnamomum zeylanica – stem bark
Patra – Cinnamomum tamala – Leaves
Tagara – Valeriana wallichii- Root
Sthauneya – Taxus baccata – Leaves
Jati – Myristica fragrans – Seed kernel
Rasa – Commiphora myrrha – Resin
Pearl oyster
Ipomoea pes-tigridis
Surahva – Cedrus deodara – Heartwood
Agaru – Aquilaria agallocha – Hearwood
Srivasaka – Pinus roxburghii – Resin
Kunkuma – Crocus sativus – Stamens
Canda – Costus speciosus – Rhizome
Guggulu – Commiphora mukul – Purified oleo resin
Devadhupa – Shorea robusta – Resin
Boswellia serrata – exudate
Punnaga – Calophyllum inophyllum – Flower
Nagahva – Mesua ferrea – Flower
Benefits
Balances Vata and kapha
Cures –
Visha – poisoning
Kandu – Itching
Pitaka – Abscesses
Kotha – Boils/pustules
Varna prasadana – improves complexion
Skin pigmentation
Skin rashes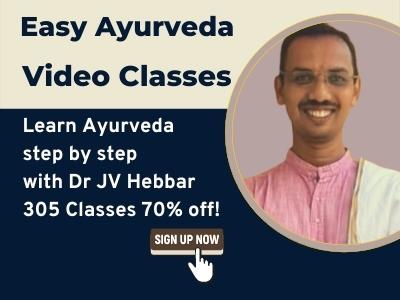 Sanskrit Verses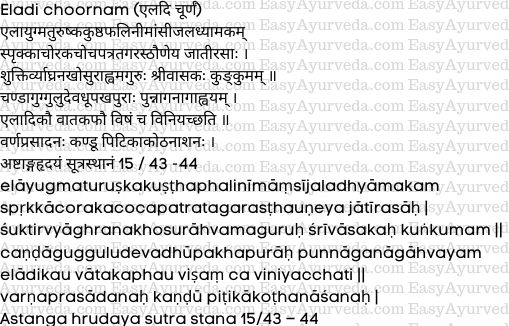 Usage
This medicine is used for external application only.
Side effects, precautions
Side effects of Shaddharana Choornam:
There are no known side effects with this medicine.
However, it is best to use this medicine under medical supervision.
Store in a cool dry place, away from sunlight.
Keep out of reach and sight of children.
Manufacturer, Shelf life, Reference
Manufactured by:
Vaidyaratnam Oushadhalaya Private Limited
Shelf life: 2 years from the date of manufacture.

Reference: Ashtaanga hrudaya