Panchagandha Churnam is a classical Ayurveda medicine in powder form. It is used in the treatment of Pittaja mano vikaras. It is also known as Panchagandhadi Choornam.
Indication of Panchagandhadi Churnam
Bhrama – Giddiness
Insomnia
Burning sensation on head region
Pittaja unmada – Insanity
Vat-pittaja shiroroga – Headache
Jwara – Fever
Murcha – Delusion
Mati bhrama.
It is tridoshahara in nature.
Direction for use
It is rubbed into butter milk or milk and dehydrated & applied over the head.
Equally effective when it is made into a paste with equal quantity of Amalaki churna in diluted butter milk and applied thick over the crown.
Ingredients
Kachura – Spiked ginger lily – Curcuma zedoaria – It has anti-bacterial, anti- inflammatory activities.
Amalaki – Indian gooseberry – Embelica officinalis
Manjista – Indian madder – Rubia cordifolia – Beacause it mitigates Pitta, it is useful in diseases of the tissues where Pitta is involved.
Yasti – Licorice – Glycyrrhiza glabra – It has anti-depressant compounds and it is a good brain tonic.
Daru – Himalayan cedar – Cedrus deodara – It has anti-ulcer, anxiolytic, anti-convulsant, analgesic and anti-inflammatory properties.
Shweta chandana – White Sandalwood – Santalum album – It relieves burning sensation.
Rakta chandana – Red Sandalwood – Pterocarpus marsupeum – It is specially used in Pitta disorders.
Kannara Kanmada Vedhi – Ferula asafoetida
Rohini – Picrorhiza kurroa – It improves digestion and metabolism.
Krishna jeeraka – Black Cumin – Nigella sativa
Rasna – Pluchea lanceolata Tintiri sira
Sariva – Indian sarsaparilla – Hemidesmus indicus
Kumkuma – Saffron – Crocos sativus
Sarja – Shorea robusta
Indu/karpura – Camphor – Cinnamomum camphora
Varivaha/musta – Nut grass – Cyperus rotundus – It is digestive and improves digestion strength.
Kandivenna Balamoola – Sida cordifolia – Country mallow – It improves strength and immunity.
Lajakounthi Jala/hribera – Pavonia odorata – Coolant, bitter tonic, anti-inflammatory, blood purifier, anti-pyretic etc.
Ushira – Khas Khas grass – Vetiveria zizanioides – It is a coolant, but yet aids in digestion. It is used in treating fever, dysuria, burning sensation etc. Kusta/Amaya – Indian costus root – Saussurea lappa
Sanninayaka Ahiphena – Poppy Seeds – Papaver somniferum
Gairika – Red ochre
Jatiphala – Nutmeg – Myristica fragrans – It is a appetizer and improves digestion strength.
All the above ingredients are taken in equal quantity, powdered separately & mixed together in desired quantity.
Side effects of Panchagandhadi Churnam
There are no recorded side effects with this medicine. For external application only.
Package, Manufacturer, Shelf life
Presentation:Pack of 50 g.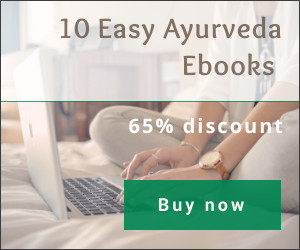 Manufacturer: Kottakkal Arya Vaidya Sala Pharmacy.
Shelf life: 2 years from the date of manufacture, but once opened it should be used within 2 – 4 months.
Habit forming
Is this medicine habit forming? Does it create dependence? Can we stop it after a few months of usage?
This medicine is not habit forming. After using for the prescribed period, your doctor would gradually decrease the dose and eventually stop it. Follow your doctor's instructions for gradual decrease of dose and stopping. Usually it does not cause any ill effects.