Sundari Kalpa Syrup is a proprietary Ayurvedic medicine manufactured by the Basic Ayurveda Company. It is used in the treatment of various women problems.
Benefits of Sundri kalp
Sundri Kalpa is a non-hormonal Safe uterine tonic.
It is a Natural menopause supplement that helps in reducing menopausal symptoms.
It regularizes the menstrual cycle and builds up the strength and stamina of women.
Sundri Kalpa is a tonic act as an endocrine regulator, regularize the menstrual cycle and resolves the primary and secondary menstrual problems.
Sundari Kalp helps to keep women fit and active throughout the month.
Sundari Kalp is tonic for women from the onset of menarche i.e. the first menstruation to menopause i.e. the cessation of menses. 
Indication
Primary and Secondary Menstrual Problems
Leucorrhea
All type of Female Sexual Problem
Endocrine Regulator
Improves Stamina
Improves Strength
Keep Women Fit and Active
Help to Reduce Menopausal Symptoms
Dose
15ml to 30ml with an equal amount of water after each meal or
as directed by a physician.
How long to take?
This medicine is usually prescribed for a period of 1 – 2 months time.
Ingredients of Sundri kalp
Ashok chhal – Saraca indica – Used mainly in bleeding gynecological conditions.
Lodhra Chhal – Symplocos racemosa – it has analgesic property, and used in bleeding disorders.
Dhataki – Dhai phool – Fire flam blush – Woodfordia fruticosa
Grapes – Munakka – Draksha – Vitis vinifera – improves nourishment and vigor.
Cumin seeds – Safed Jeera – Cuminum cyminum – It is hot in potency and aphrodisiac.
Nutgrass – Mustha – Nagar motha – Cyperus rotundus
Ginger – Sonth – Zingiber officinale 
Indian berberi – Daru Haldi – Berberis aristata – it is used in menorrhagia and leucorrhea and has anti-spasmodic property.
Lotus – Kamal Phool – Nelumbo nucifera
Harad – Haritaki – Terminalia chebula
Baheda – Vibitaki – Terminalia belerica
Indian gooseberry – Amla – Emblica officinalis
Aam ki guthali – Mangifera indica
Cobras saffron – Nagkesar – Mesua ferrea – it is used in leucorrhea and bleeding disorders.
Malabar nut – Vasa – Adhatoda vasica
Sandalwood – Safed Chandan – Santalum album – It has cold potency and useful in leucorrhea and menorrhagia.
Rasot – Extractum berberis 
Padam kast – Prunus cerasoides
Bilva – Bael giri – Aegle marmelos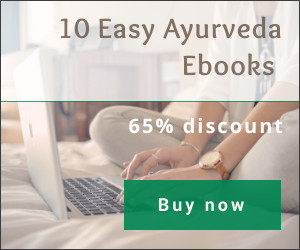 With Other Medicines
With western medicines
Seek your doctor's advice if you are taking this product along with other western (allopathic/modern) medicines. Some Ayurvedic herbs can interact with modern medicine.
If both Ayurvedic and allopathic medicines are advised together, then it is best to take allopathic medicine first, wait for 30 minutes and then, after a gap of 15 – 30 minutes, take Ayurvedic medicine or as directed by the physician.
Can this be used while taking Homeopathic medicine?
Yes. This product does not react with homeopathic medicine.
With supplements like multivitamin tablets, Omega 3 fatty acids etc?
Yes. Generally, this product goes well with most of the dietary supplements. However, if you are taking more than one product per day, please consult your doctor for an opinion.
Side effects and Precautions
There are no known side effects with this medicine. However, it is best to use this medicine under medical supervision.
Store in a cool dry place, away from sunlight.
Keep out of reach and sight of children.                                                     
Seek your doctor's advice for its usage during pregnancy.
This product can be safely used during lactation period and in children for a limited period of few weeks time for side effects and precautions.
Shelf life, Presentation, Manufacturer
Shelf life: 3 years from the date of manufacturing.
Presentation: 450 ml
Leading manufactures: Basic Ayurveda Company