Sathavaryadi Kashaya Choornam is a micro-fined powder of the respective Kashaya. It is used to treat neurological problems.
Benefits
Benefits of Sathavaryadi Kashaya Choornam:
Devoid of preservatives
Easy to prepare
Effective without any side effects
Very economical than other forms of kashayams
Uses
Indication of Sathavaryadi Kashaya Choornam:
Effective in all types of rheumatic complaints
Very effective in nervous debility and numbness.
Ingredients
Ingredients of Sathavaryadi Kashaya choornam:
Vari (Asperagus racemosus)
Pathya (Terminalia chebula)
Musta (Cyperus rotendus)
Sati (Curcuma zedoria)
Daru (Cedrus deodara)
Rohini (Picrorrhiza kurroa)
Rasna (Alpinia galanga)
Bala (Sida cordifolia)
Eranda (Ricinus communis)
Sahachara (Strobilanthus heynianus)
Sathahva (Anethum graveolens)
Punarnava (Boerhaavia diffusa)
Thikta (Solanum torvam)
Bilva (Aegle marmelos)
Kashmarya (Gmelina arborea)
Tharkari (Premna mucronata)
Patala (Stereospermum suaveolens)
Dundukam (Oroxylum indicum)
Bruhati (Solanum indicum)
Vrindakam (Solanum melongena)
Prushniparni (Uraria picta)
Saliparni (Desmodium gangeticum)
Gokshura (Tribulus terrestris)
Vasa (Adathoda vasica)
Dose
Dosage of Sathavaryadi Kashaya Choornam:
1 table spoon of Kashaya choorna is mixed with 6 oz of boiling water and is to be taken with castor oil and rock salt in the morning and with cumin seed powder and sugar in the evening before food.
This kwatha can be taken with adjuvants according to the conditions.
With western medicines
Seek your doctor's advice if you are taking this product along with other western (allopathic/modern) medicines. Some Ayurvedic herbs can interact with modern medicine.
If both Ayurvedic and allopathic medicines are advised together, then it is best to take allopathic medicine first, wait for 30 minutes and then, after a gap of 15 – 30 minutes, take Ayurvedic medicine or as directed by the physician.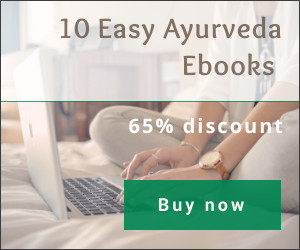 Can this be used while taking Homeopathic medicine?
Yes. This product does not react with homeopathic medicine.
With supplements like multivitamin tablets, Omega 3 fatty acids etc?
Yes. Generally, this product goes well with most of the dietary supplements. However, if you are taking more than one product per day, please consult your doctor for an opinion.
Side effects
Side effects of Sathavaryadi Kashaya Choornam:
There are no recorded side effects with this medicine.
Should be taken under medical supervision
Keep out of reach of children.
Manufacturer, package
Manufacturer:
Everest Ayurveda, Thrissur- Kerala.
Packing:
Bottle of 100 g
Read more about Rheumatic Arthritis Treatment as per Ayurveda: