Nagarajun Anjana is an Ayurvedic medicine in in collyrium form. It is a fine powder, used to apply as Kajal for the treatment of eye disorders.
Uses and effect on dosha
Nagarajun Anjana uses: It is used in the treatment of eye disorders with infection.
Effect on Tridosha: Calms Pitta.
Dose and duration of use
Nagarajuna Anjana dosage a thin line of powder is applied similar to collyrium.
Washed off with water after 2 – 3 minutes.
It is usually made into paste with water or honey for easy application.
How long to use: – It is usually used upto 1 – 2 weeks.
With western medicines
Seek your doctor's advice if you are taking this product along with other western (allopathic/modern) medicines. Some Ayurvedic herbs can interact with modern medicine.
If both Ayurvedic and allopathic medicines are advised together, then it is best to take allopathic medicine first, wait for 30 minutes and then, after a gap of 15 – 30 minutes, take Ayurvedic medicine or as directed by the physician.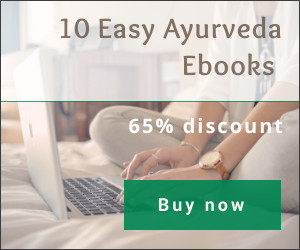 Can this be used while taking Homeopathic medicine?
Yes. This product does not react with homeopathic medicine.
With supplements like multivitamin tablets, Omega 3 fatty acids etc?
Yes. Generally, this product goes well with most of the dietary supplements. However, if you are taking more than one product per day, please consult your doctor for an opinion.
Ingredients and method of preparation
Nagarajun Anjan ingredients, How to make?
10 g fine powder of each of
Haritaki – Chebulic Myrobalan fruit rind – Terminalia chebula
Vibhitaki – Belliric Myrobalan fruit rind – Terminalia bellirica
Amalaki – Indian gooseberry fruit – Emblica officinalis Gaertn.
Shunti – Ginger Rhizome – Zingiber officinalis
Maricha – Black pepper – Piper nigrum
Pippali – Long pepper fruit – Piper longum
Saindhava Lavana – Rock salt
Yashti – Licorice – Glycyrrhiza glabra
Tuttha – Purified Copper Sulphate
Rasanjana – Aqueous extract of Berberis aristata
Prapaundarika – Lotus – Nelumbo nucifera
Jantughna – Vidanga – False black pepper – Embelia ribes
Lodhra – Lodh tree (bark) – Symplocos racemosa
Tamra Bhasma – Bhasma prepared from Copper
Jala – water – quantity sufficient for grinding.
Reference and side effects
Nagarajuna Anjana Reference:
Bhaishajya Ratnavali Netra Rogadhikara 123 – 127
Nagarajuna Anjan Side effects
This medicine should only be used under medical supervision.
Accidental oral intake may cause poisonous side effects.
It is best to avoid this medicine during pregnancy, lactation and in children.
Store in a cool dry place. keep out of sight and reach of children.