Vyaghri Haritaki is an Ayurvedic medicine in herbal jam form. It is mainly used in the treatment of cough, cold, asthma, bronchitis, tuberculosis etc.
Benefits
Vyaghri Haritaki Uses:
It is used in the treatment of cough, asthma, bronchitis, cold, rhinitis, hoarseness of voice, loss of voice.
Effect on Tridosha – Balances Vata and Kapha.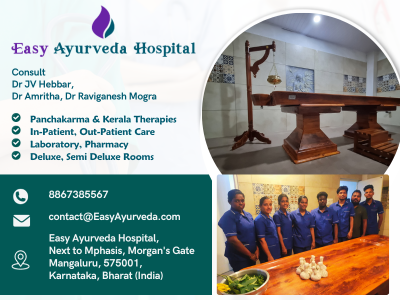 Dose
Vyaghri Hareetaki dosage:
5 – 10 g once or twice a day before or after food or as directed by Ayurvedic doctor.
Dosage for children below 5 years of age – 1 – 2 grams, once or twice a day, along with a teaspoon of honey or warm water / milk.
Dosage for children between 5 – 12 years of age – 5 grams once or twice a day along with a teaspoon of honey or warm water / milk.
How long to take?
This medicine can be safely taken for a period of upto 2-4 months.
With western medicines
Seek your doctor's advice if you are taking this product along with other western (allopathic/modern) medicines. Some Ayurvedic herbs can interact with modern medicine.
If both Ayurvedic and allopathic medicines are advised together, then it is best to take allopathic medicine first, wait for 30 minutes and then, after a gap of 15 – 30 minutes, take Ayurvedic medicine or as directed by the physician.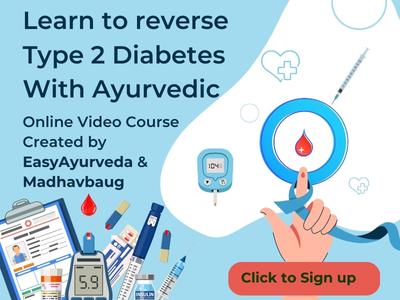 Can this be used while taking Homeopathic medicine?
Yes. This product does not react with homeopathic medicine.
With supplements like multivitamin tablets, Omega 3 fatty acids etc?
Yes. Generally, this product goes well with most of the dietary supplements. However, if you are taking more than one product per day, please consult your doctor for an opinion.
Side Effects
Vyagri Haritaki side effects:
Take this medicine in precise dose and for limited period of time, as advised by doctor.
People with diabetes should take this medicine under medical supervision.
Over-dosage may cause gastritis .
Pregnant ladies, lactating mothers and children should take this medicine strictly under medical supervision.
Keep out of reach and sight of children. Store in a dry cool place.

Shloka Sanskrit Verse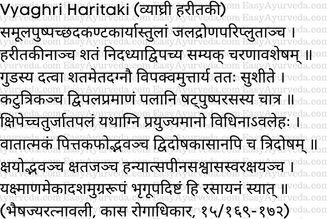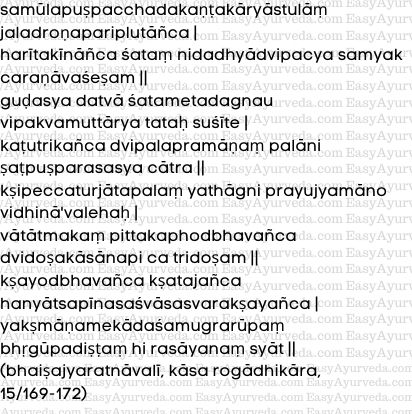 Contents
Vyaghri Haritaki ingredients, how to make:
Kantakari – Yellow berried nightshade – Whole plant – Solanum xanthcarpum – 4.8 kg
Water for decoction – 12.288 liters, boiled and reduced to 3.072 liters, filtered.
Haritaki – Chebulic Myrobalan – Terminalia chebula – Fruit rind – 1.2 kg
Guda – Jaggery – Saccharum officinarum
Shunti – Ginger – Zingiber officinalis – Rhizome – 96 g
Maricha – Black pepper – Piper nigrum – Fruit – 96 g
Pippali – Long pepper – Piper longum – Fruit – 96 g
Twak – Cinnamon – Cinnamomum zeylanicum – Stem bark – 48 g
Patra – Cinnamomum tamala – Leaves – 48 g
Ela – Cardamom – Elettaria cardamomum – Seeds – 48 g
Nagakeshara – Mesua ferrea – Stamens – 48 g
Madhu – Honey – 288 g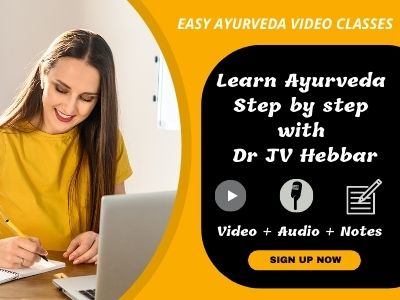 Method of Preparation
Haritaki free from seed is taken in powder form and is steamed in Dola Yantra. It is added with kantakari decoction, and jaggery, heated to semisolid consistency. While it cools down, fine powders of ingredients from Shunti to Nagakeshara and honey are added and mixed well to form a homogeneous mixture.
Reference, Manufacturer and Shelf Life
Reference: Bhaishajya Ratnavali Kasa Rogadhikara 43 – 46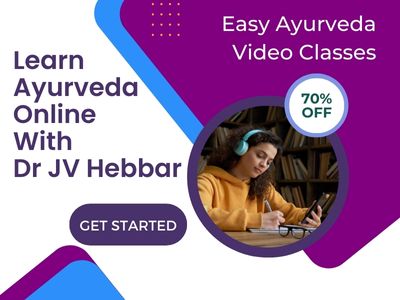 Shelf Life: 3 years from the date of manufacture. if you have opened the seal of the bottle, better to use it before 3 months.
Manufacturer: Zandu