Eranda Paka is an Ayurvedic medicine in herbal jam form. It is mainly used in the treatment of Vata diseases, abdominal colic pain, bloating, rheumatoid arthritis etc.
Benefits
Eranda Paka Uses:
It is used in the treatment of Vata diseases, abdominal pain, edema, inflammation, ascites, urniary tract diseases, rheumatoid disorder, Low back ache, spondylosis, locked jaw.
Post viral fever, when the patient complains of body, muscle and joint pains
Bursitis,  
Bursitis trochanterica,
Shoulder dislocation pain
Effect on Tridosha – Balances Vata

>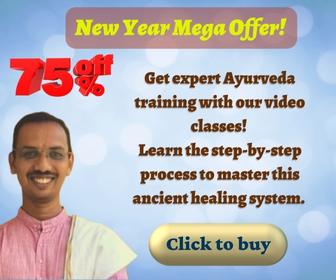 Dose and Duration
Eranda Pak dosage:
5 – 10 g once or twice a day before or after food or as directed by Ayurvedic doctor.
Dosage for children below 5 years of age – 1 – 2 grams, once or twice a day, along with a teaspoon of honey or warm water / milk.
Dosage for children between 5 – 12 years of age – 5 grams once or twice a day along with a teaspoon of honey or warm water / milk.
How long to take?
This medicine can be safely taken for a period of upto 2-4 months.
With western medicines
Seek your doctor's advice if you are taking this product along with other western (allopathic/modern) medicines. Some Ayurvedic herbs can interact with modern medicine.
If both Ayurvedic and allopathic medicines are advised together, then it is best to take allopathic medicine first, wait for 30 minutes and then, after a gap of 15 – 30 minutes, take Ayurvedic medicine or as directed by the physician.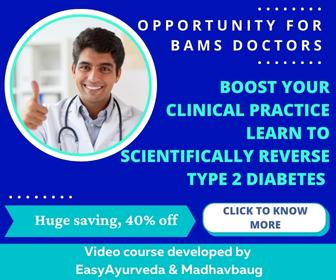 Can this be used while taking Homeopathic medicine?
Yes. This product does not react with homeopathic medicine.
With supplements like multivitamin tablets, Omega 3 fatty acids etc?
Yes. Generally, this product goes well with most of the dietary supplements. However, if you are taking more than one product per day, please consult your doctor for an opinion.
Side Effects
Eranda Pak side effects:
Take this medicine in precise dose and for limited period of time, as advised by doctor.
People with diabetes should take this medicine under medical supervision.
Over-dosage may cause gastritis .
Pregnant ladies, lactating mothers and children should take this medicine strictly under medical supervision.
Keep out of reach and sight of children. Store in a dry cool place.
Contents
Erand Pak ingredients, how to make:
Vatari Beeja – Eranda – Castor – Ricinus communis – 768 g
Ksheera – Cow milk – 6.144 liters
Ghrita – Cow ghee – 384 g
Khanda – Sugar candy – 1.532 g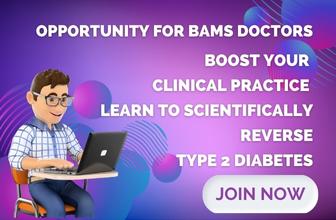 12 g fine powder of each of
Shunti – Ginger Rhizome – Zingiber officinalis
Maricha – Black pepper – Piper nigrum
Pippali – Long pepper fruit – Piper longum
Ela – Cardamom – Elettaria cardamomum
Twak – Cinnamon – Cinnamomum zeylanicum
Patra – Cinnamomum tamala
Nagakeshara – Mesua ferrea
Pippali – Long pepper fruit – Piper longum
Chitraka – Lead Wort (root) – Plumbago zeylanica
Chavya – Java Long Pepper – Piper chaba
Dhanyaka – Coriander – Coriandrum sativum
Mishreya
Shati – Curcuma zeodaria / Hedychium spicatum
Bilva – Bael (root) – Aegle marmelos
Dipyaka – Ajowan (fruit) – Trachyspermum roxburghianum
Jiraka – Cumin – Cuminum cyminum
Krishna Jiraka – Nigella sativa
Haridra – Turmeric rhizome – Curcuma longa
Daru Haridra – Tree Turmeric (stem) – Berberis aristata
Ashwagandha – Winter cherry/ Indian Ginseng (root) – Withania somnifera (L.) Dunal.
Bala – Country mallow (root) – Sida cordifolia
Patha – Cyclea peltata
Hapusha – Juniperus communis
Vidanga – False black pepper – Embelia ribes
Pushkara – Inula racemosa
Shwadamshtra
Kushta – Saussurea lappa
Haritaki – Chebulic Myrobalan fruit rind – Terminalia chebula
Vibhitaki – Belliric Myrobalan fruit rind – Terminalia bellirica
Amalaki – Indian gooseberry fruit – Emblica officinalis Gaertn.
Daru – Himalayan cedar (bark) – Cedrus deodara
Vellari
Abha – Commiphora myrra
Aluki
Shatavari – Asparagus racemosus root
Castor seeds skin is removed, added to milk, heated. Sugar and ghee are also added and heated till semisolid consistency. Allowed to cool. While it is cooling down, rest of the ingredients are added and stirred well.
Reference and Shelf Life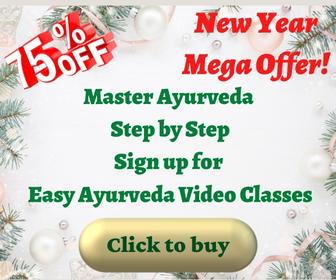 Reference: Yogaratnakara Vatavyadhi Chikitsa 468
Shelf Life: 3 years from the date of manufacture. if you have opened the seal of the bottle, better to use it before 3 months.