Kankayan Vati is a tablet, used in Ayurvedic treatment of piles, bloating, intestinal worms etc. It is used along with different co drinks to treat different disease conditions.
Uses
Kankayan Vati benefits:
It is used to treat abdominal lumps, extra growth, bloating, hemorrhoids, heart diseases, intestinal worms.
It is given along with milk to treat abdominal conditions due to Pitta.
It is given along with alcohol or sour drinks to treat abdominal diseases due to Vata, such as bloating
It is given along with Triphala or cow urine to treat abdominal conditions due to Kapha origin.
It is given along with Camel milk to treat excessive menstrual bleeding.
Effect on Tridosha – balances Kapha and Vata Dosha.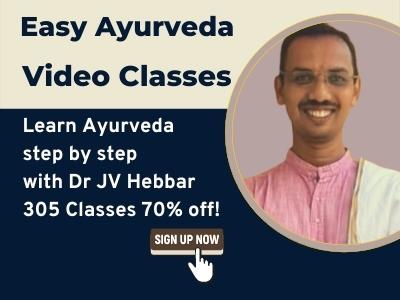 Dose
Kankayan Gulika dosage:
1 – 2 tablets 1 – 2 times a day, before or after food or as directed by Ayurvedic doctor.
To be taken with butter milk.
With western medicines
Seek your doctor's advice if you are taking this product along with other western (allopathic/modern) medicines. Some Ayurvedic herbs can interact with modern medicine.
If both Ayurvedic and allopathic medicines are advised together, then it is best to take allopathic medicine first, wait for 30 minutes and then, after a gap of 15 – 30 minutes, take Ayurvedic medicine or as directed by the physician.
Can this be used while taking Homeopathic medicine?
Yes. This product does not react with homeopathic medicine.
With supplements like multivitamin tablets, Omega 3 fatty acids etc?
Yes. Generally, this product goes well with most of the dietary supplements. However, if you are taking more than one product per day, please consult your doctor for an opinion.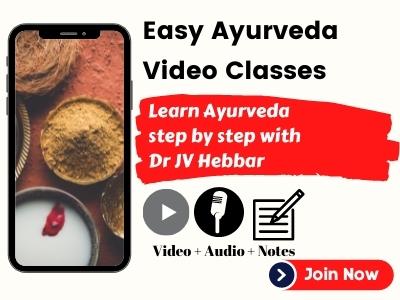 Side Effects
People with Pitta body type or people with high Pitta condition (excess body heat, burning sensation etc), may experience worsening of Pitta symptoms with this medicine.
Over-dosage may cause slight burning sensation in abdomen.
It is better to avoid this tablet during pregnancy, lactation and in children.
Keep out of rach and sight of children.
Store in cool dry place.
Contents
Kankayan Bati ingredients, how to make:
48 g of fine powders of each of
Shati – Zadoary (root) – Hedychium spicatum / Curcuma zeodaria
Pushkaramoola – Inula racemosa
Danti – Baliospermum montanum
Chitraka – Plumbago zeylanica
Adhaki – Pigeon pea – Cajanus cajan
Shringavera – Wet Ginger (rhizome) – Zingiber officinalis
Vacha – Sweet flag (rhizome) – Acorus calamus
Trivrit – Operculina turpethum
Hingu – Asa foetida – 144 g
Yavakshara – Kshara of Barley – Hordeum vulgare – 96 g
Amlavetasa – Garcinia pedunculata Roxb. / Rheum emodi Wall. – 96 g
Yavani – Hyoscyamus niger – 12 g
Ajaji – Cumin – Cuminum cyminum – 12 g
Maricha – Black pepper – Piper nigrum – 12 g
Dhanyaka – Coriander – Coriandrum sativum – 12 g
Upakunchika – Nigella sativa – 24 g
Ajamoda – Ajowan seed – Trachyspermum ammi – 24 g
Matulunga Swarasa – Lemon juice extract – quantity sufficient.
The fine powder of the herbs are triturated with lemon juice, dried and rolled into pills.
Reference and Manufacturers
Bheshaj Ratnavali, Gulma Rogadhikara 56 – 62
Manufacturers: Baidyanath, AVN, Dabur, Nagarjuna – Kaankaayanam Gulika
Sanskrit Shloka Verse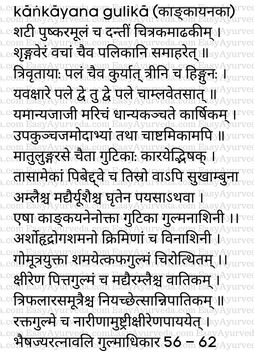 Expiry Date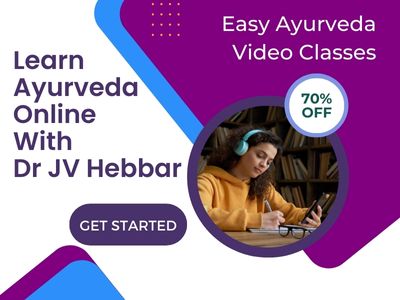 Two years from the date of manufacture. Once after opening the container, it is better to empty it before an year.