Lakshadi oil is an Ayurvedic herbal oil, used in the treatment of fever and related bodyache. It is used for external application. This oil is prepared in sesame oil base.
Benefits
Lakshadi oil uses:
Fever and headache.
Useful to promote bone, muscle and muscle strength.
Useful to relieve muscle and joint pain.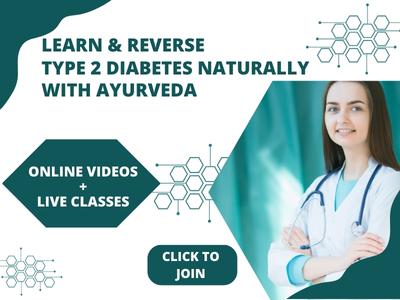 Application on feet
Oil application over feet
Precaution if you apply this oil over feet:
If you apply this oil on feet, make sure to wash off thoroughly with water or wipe off with cloth. The oil can make you slippery while walking.
After applying, make sure there are no oil spills on the floor. This can make the floor slippery.
Mode Of Usage
How to use Lakshadi Thailam?
It is used for external application only.
It is used in Ayurvedic therapies such as Abhyanga (massage).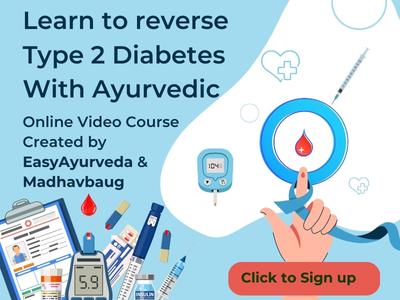 How long to use?
Externally, it can be used for a very long period of time.
Side Effects
There are no apparent side effects with this medicine, on external application.
Keep out of sight and reach of children. store in cool dry place, away from direct sunlight.
Contents
Lakshadi Oil ingredients:
Taila – Sesame oil – Sesamum indicum – 768 ml
Aranala – Fermented gruel – 4.608 liters
Laksha – Laccifer lacca – 32 g
Haridra – Turmeric rhizome – Curcuma longa – 32 g
Manjishta – Indian Madder (root) – Rubia cordifolia – 32 g
In kerala, it is made with coconut oil base, in place of sesame oil. This oil is called Lakshadi kera thailam.
Ingredients as per Ashtanga hrudaya
Laksharasa – Laccifer lacca
Taila – sesame oil
Mastu – whey of curd
Ashwagandha, turmeric, Devadaru, Kaunti,
Kushta – Saussurea lappa
Abda – Cyperus rotundus
Chandana – Sandalwood
Murva,
Katukarohini
Rasna – Pluchea lanceolata
Shatahva – dill
Madhuka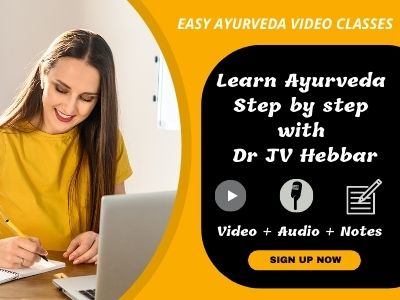 Shloka, Sanskrit verse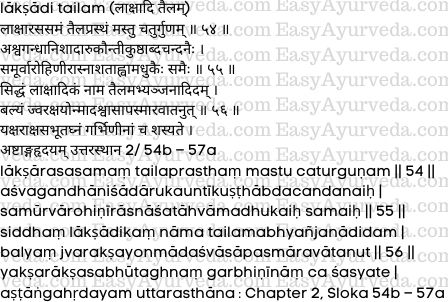 Reference, Expiry Date
Bhaishajya Ratnavali Jwara Rogadhikara – 346
Ashtanga Hrudaya, Uttarasthana, 2/54b-57a
Shelf life / expiry date – Three years from the date of manufacture. Once opened, it is best to empty the oil within 1 year.
Manufacturers
Cholayil, Nagarjuna – Laakshaadi Thailam
Usage In Children
Usage of lakshadi taila in children for massage:
Before applying this on children, at first a few drops of this oil should be applied over arm area. Watch for any allergic reactions such as redness, itching spots etc. If there are no allergic reactions, then it can be used as massage oil.
During pregnancy, lactation
If you were using this oil before pregnancy without any allergic reaction, you can continue using this oil even during pregnancy.
If you have not used this product before and wish to use it during pregnancy, better to consult a doctor because it can cause skin allergy in some rare cases.
It is generally considered as safe to use during lactation, however consult your doctor for the right advice.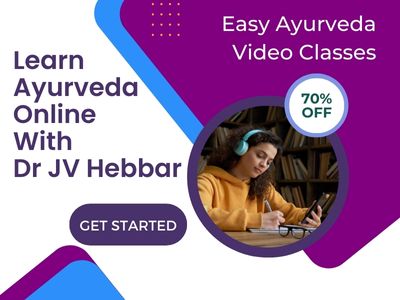 Can this product be applied after steam therapy?
No. Oil is best applied before steam therapy. This is as per basic Ayurvedic principles. 
Effect of turmeric on hair