Balaswagandhadi Thailam is an Ayurvedic oil, used in Ayurvedic treatment of fever, weakness of muscles, bones and joints etc. It is used for external application. This oil is formulated based on Kerala Ayurveda principles.
Benefits
Balaswagandhadi  Tailam  Uses: 
It is used in the treatment of headache, fever, emaciation, muscle wasting, lack of strength in joints, muscles and bones.
It is used in all Vata diseases like arthritis, brachial plexus injury, lumbar and cervical spondylitis pain, neuralgia, paralysis, insanity etc.
It strengthens muscle, improves quality of blood.
This oil is also known as Ashwagandha bala lakshadi thailam
It is good in catarrh.
Bursitis,  
Bursitis trochanterica,
Shoulder dislocation pain
Post viral fever, when the patient complains of body, muscle and joint pains.
It is used in the treatment of middle chest, middle back and rib pain. Usually in these areas, the pain occurs due to strain on muscles, ligaments and nerves.
Use in injury, accidents
Does balaswagandha tailam is used for middle chest and ribs pain that above abdominal diaphragm pain? 
Usually in an herbal oil, if Bala – Sida cordifolia is used, it is useful to soothe and regenerate nerves, useful in relieving burning sensation, neuropathy and useful to improve the tensile strength of blood pipes. So, Bala, in Balaswagandhadi tailam is useful to improve strength of nerves and blood vessels. 
Ashwagandha, in this oil, strengthens the muscles, relieves inflammation and improves blood circulation. 
Laksha, in this oil, strengthens the bones and ligaments. 
Devadaru, Kushta and rasna are useful to relieve pain and swelling 
Licorice, sarsaparilla, vetiver etc. herbs are useful to relieve damage to the vessels and joints. 
Considering all these, balaswagandhadi taila can be very effectively used in chest injury, ribs pain due to fall from a height, pain and damage to chest bones and muscles.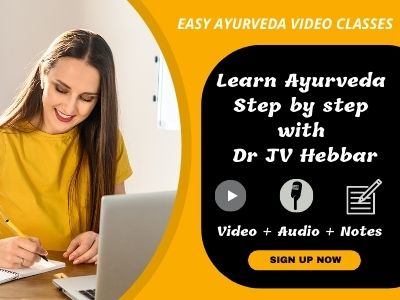 Balaswagandhadi Thailam – An Ayurvedic Muscle Bulk Enhancing Oil
Usage in Basti therapy

Apart from external application, Balaswagandhadi tailam is also used for enema treatment (Anuvasana Basti) to improve nerve strength, in the treatment of paralysis and other neurological disorders.
Effect on Tridosha – Balances Vata and Pitta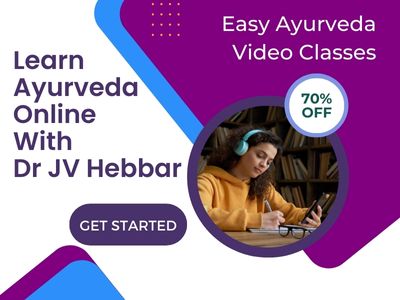 How to use Balaswagandhadi oil?
It is used for external application, in Ayurvedic treatment like massage, dhara etc.
Application on feet
Oil application over feet
Precaution if you apply this oil over feet:
If you apply this oil on feet, make sure to wash off thoroughly with water or wipe off with cloth. The oil can make you slippery while walking.
After applying, make sure there are no oil spills on the floor. This can make the floor slippery.
Side Effects
There are no recorded side effects of this medicine on external application.
It can be used to massage children and pregnant ladies.
Keep out of sight and reach of children.
store in cool dry place, away from direct sunlight.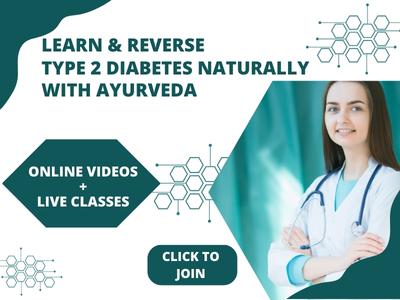 How long to use Balaswagandhadi Thailam?
For external use, it can be used for a long period of time.
Contents
Balaswagandhadi Tailam ingredients:
768 g of coarse powder of each of
Bala – Sida cordifolia
Ashwagandha – Withania somnifera
Laksha – Laccifer lacca
Water for decoction – 12.288 liters, boiled and reduced to 3.072 liters
Taila – Oil of Sesamum indicum – 768 ml
Mastu – Supernatent liquid of curds – 3.072 liters
12 g of fine powder of each of following, made together as paste.
Rasna- Pluchea lanceolata
Chandana – Red Sandalwood – Pterocarpus santalinus
Manjishta – Rubia cordifolia
Durva – Cynodon dactylon
Madhuka – Licorice – Glycyrrhiza glabra
Choraka – Angelica glauca
Sariva – Hemidesmus indicus
Usheera – Vetiveria zizanioides
Jalada – Cyperus rotundus
Kushta – Saussurea lappa
Agaru – Aquilaria agallocha
Suradruma – Cedrus deodara
Haridra – Turmeric Rhizome – Curcuma Longa
Kumuda – Nymphaea stellata
Kaunti – Vitex agnus-castus
Shatahva – Anethum sowa
Padmakesara – Nelumbium speciosum
Special method – Laksha is
is powdered well and placed in a vessel. Hot water is poured and stirred well. When the water becomes red it is strained and used.

Reference and Expiry Date
Sahasrayoga – Tailayoga Prakarana – 13
Balaswagandhadi Kuzhambu is the same product. But here, in place of sesame oil base, a mix of sesame oil, castor oil and ghee is used as base. The two extra base combination further adds to the Vata pacifying quality of the oil. Kottakkal Arya Vaidya Sala manufactures this product.

Expiry date: 3 years from the date of manufacture. Once you open the seal, it is better to use it within an year.
Sanskrit Verse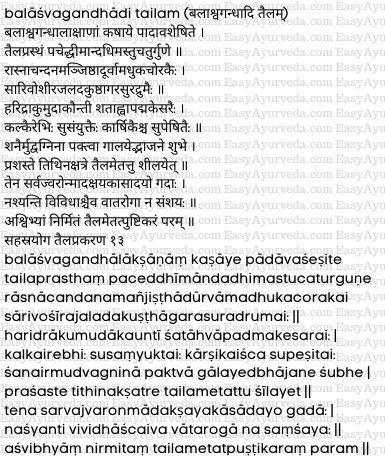 Manufacturers
Arya Vaidya Sala – Kottakkal, AVP.
Nagarjuna – Balaashwagandhaadi Thailam
During pregnancy, lactation
If you were using this oil before pregnancy without any allergic reaction, you can continue using this oil even during pregnancy.
If you have not used this product before and wish to use it during pregnancy, better to consult a doctor because it can cause skin allergy in some rare cases.
It is generally considered as safe to use during lactation, however consult your doctor for the right advice.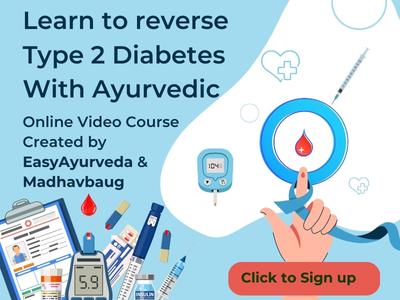 Can this product be applied after steam therapy?
No. Oil is best applied before steam therapy. This is as per basic Ayurvedic principles.