Kottamchukkadi Thailam is an Ayurvedic oil used in the treatment of Vata disorders causing neuro muscular pains, sciatica, spondylosis etc. This oil is formulated based on Kerala Ayurveda practice.
Uses
It helps to relieve pain and inflammation. It is used in arthritis, sciatica, myalgia, spondylosis, neck sprain, ankle sprain, blunt injury of knee, tennis elbow etc.
Useful in intercostal neuropathy
It is useful to relieve numbness, pain and stiffness.
Bursitis
Bursitis trochanterica
Shoulder dislocation pain
Post viral fever, when the patient complains of body, muscle and joint pains
Mode of Usage
It is used for massage and Ayurvedic therapies like Dhara.
In low back ache, it is used for oil pooling method called Kati Basti.
How long to use?
Since it is only used for external application, this can be applied over the painful swollen areas for a very long period of time.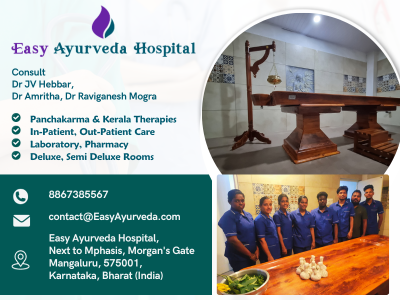 Application on feet
Oil application over feet
Precaution if you apply this oil over feet:
If you apply this oil on feet, make sure to wash off thoroughly with water or wipe off with cloth. The oil can make you slippery while walking.
After applying, make sure there are no oil spills on the floor. This can make the floor slippery.
Side Effects
There are no known side effects of this oil on external application.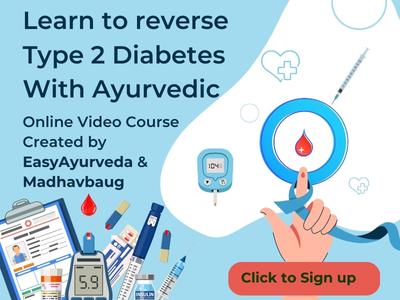 Principle
In this herbal oil, the herbs are infused in the medium of sesame oil along with herb water decotion. Then the solid waste herb materials are filtered out. Thus, this oil contains oil soluble and water soluble phyto-active principles of medicinal herbs.
Contents
Kottamchukkadi Thailam ingredients:
Kottam – Saussurea lappa – Root – 21 grams
Chukku – Ginger – Zingiber officinalis – Rhizome – 21 grams
Vayambu – Acorus calamus – Rhizome – 21 grams
Shigru – Moringa oliefera – Stem bark – 21 grams
Lashuna – Garlic – Alium sativum – Bulbs – 21 grams
Karotti – Capparis sepiaria – Root – 21 grams
Devadruma – Cedrus deodara – Heartwood – 21 grams
Siddartha – Mustard – Brassica juncea – Seed – 21 grams
Suvaha – Rasna – Pluchea lanceolata – Rhizome – 21 grams

Murchita tila taila – Oil of Sesasmum indicum – 768 ml
Dadhi – Curds – 768 ml
Chincha rasa – Tamarind leaves juice – Tamarindus indica – 3.072 liter
Method of Preparation
Ingredients from Kottam to Suvaha is made into paste by adding with sufficient quantity of water. Fresh tamarind leaves are collected, made into paste and juice is extracted. Murchita tila taila is heated adding with paste and stirred continuously while adding chincha rasa and curds. Heating is stopped on appearance of froth over the oil and absence of moisture content. To confirm the absence of moisture, the oil is exposed to fire and checked for absence of crackling sound. It is filtered, cooled and stored in tightly closed container.
Reference and Expiry Date
Sahasra Yoga Taila Prakarana – 12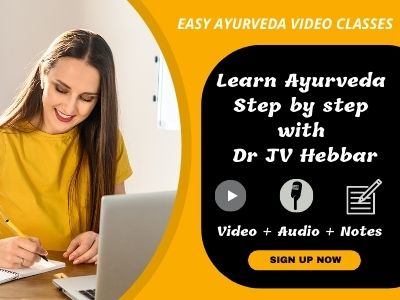 Expiry date: 3 years from the date of manufacture. Once you open the seal, it is better to use it within an year.
Sanskrit Shloka Verse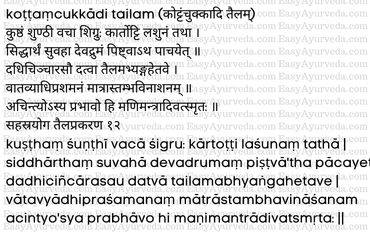 Manufacturers
Vaidyaratnam
Arya Vaidya Sala, Kottakkal
AVP, AVN.
Nagarjuna – Kottamchukkaadi Thailam
Nagarjuna also manufactures Kottamchukkaadi Kuzhampu.
Research
Kottamchukkadi Taila is available in market in khara paaka. The Physico Chemical properties of Kottamchukkadi Taila prepared in mrdu, madhyama and khara paaka have not been reported. Aim of the study was to assess the physico-chemical characters of Kottamchukkadi Taila prepared in mrdu, madhyama and khara paaka. Study setting: Research and development division, Oushadhi Pharmacy, Thrissur, Kerala and Arya Vaidya Sala, Kottakkal, Kerala. The physico-chemical characters like colour, odour, refractive index, specific gravity, acid value, saponification value, iodine value, peroxide value, optical rotation, rancidity test, loss on drying of Kottamchukkadi taila prepared in mrdu, madhyama and khara paaka were analyzed. On analytical study of trividha paaka of Kottamchukkadi Taila, the loss on drying, iodine value and acid value were less in khara paaka indicating fewer chances of early rancidity and thereby a prolonged shelf life whereas Acid value, Saponification value and Peroxide value were higher in mrdu paaka. On experimental study, mrdu, madhyama and khara paaka showed significant difference in molecular level, concentration of active ingredients and penetration co-efficient of active ingredients. (Source)
During pregnancy, lactation
If you were using this oil before pregnancy without any allergic reaction, you can continue using this oil even during pregnancy.
If you have not used this product before and wish to use it during pregnancy, better to consult a doctor because it can cause skin allergy in some rare cases.
It is generally considered as safe to use during lactation, however consult your doctor for the right advice.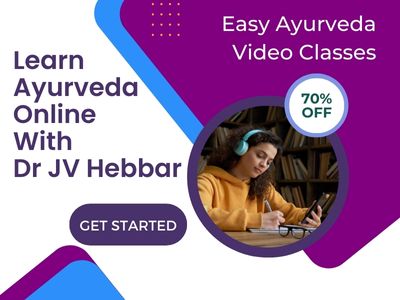 Can this product be applied after steam therapy?
No. Oil is best applied before steam therapy. This is as per basic Ayurvedic principles.