Kalyana Ksharam is an Ayurvedic medicine, used in treating constipation, bloating, hemorrhoids, etc. This medicine is more used in South Indian Ayurveda practice. This medicine should only be taken under strict medical supervision.
Benefits
Kalyana Ksharam uses:
It is used in Ayurvedic treatment of hemorrhoids, constipation, bloating.
It is used in sprue, intestinal worm infestation.
It is used in urinary disorders such as UTI, dysuria, urinary calculi.
It is used in respiratory diseases such as cough, cold, bronchitis and asthma.
It improves digestion, cures spleen disorders and is excellent in stomach ache.
Dose
Kalyan Kshar Dosage:
125 mg – 50o mg used in various combination, for oral intake and also for external application.
>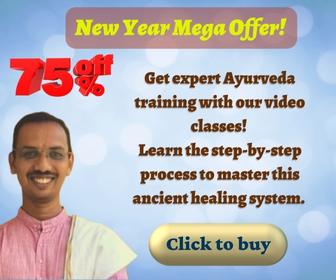 With western medicines
Seek your doctor's advice if you are taking this product along with other western (allopathic/modern) medicines. Some Ayurvedic herbs can interact with modern medicine.
If both Ayurvedic and allopathic medicines are advised together, then it is best to take allopathic medicine first, wait for 30 minutes and then, after a gap of 15 – 30 minutes, take Ayurvedic medicine or as directed by the physician.
Can this be used while taking Homeopathic medicine?
Yes. This product does not react with homeopathic medicine.
With supplements like multivitamin tablets, Omega 3 fatty acids etc?
Yes. Generally, this product goes well with most of the dietary supplements. However, if you are taking more than one product per day, please consult your doctor for an opinion.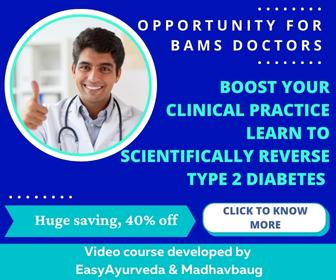 Side Effects
Since it is a Kshara, it is best avoided in men seeking treatment for infertility, as it may affect the quality and quantity of sperm production.
In higher doses, it may cause burning sensation and diarrhoea.
It is not ideal to use this medicine in people with excessive tiredness, emaciation and who are underweight.
This medicine should only be taken under strict medical supervision.
It should be avoided in pregnancy, lactating mother and children.
Shloka – Sanskrit Verse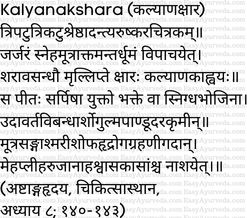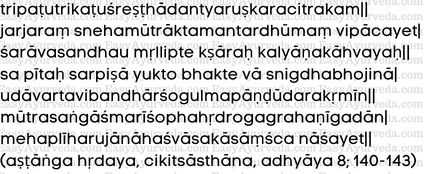 Contents
Kalyanaksharam Bhasma ingredients:
Trikatu
Pepper – Piper nigrum – Fruit – 10 grams
Long pepper – Piper longum – Fruit – 10 grams
and
Ginger – Zingiber officinale – Rhizome – 10 grams
Bida – Black salt – 10 grams
Saindhava – Rock salt – 10 grams
and
Sauvarchala – Black salt – 10 grams
Triphala
Haritaki – Terminalia chebula – Fruit rind – 10 grams
Vibhitaki – Terminalia bellirica – Fruit rind – 10 grams
Amalaki – Emblica officinalis – Fruit – 10 grams
Danti – Baliospermum montanum – Root – 10 grams
Chitraka – Plumbago zeylanica – Root – 10 grams
Arushkara – Purified and processed Semecarpus anacardium – Fruit – 10 grams
Sesame oil – Sesamum indicum – 80 ml
Cow urine – 160 ml
The above combination of burnt into ash in closed container to obtain the Kshara.
Kalyana ksharam for female infertility treatment.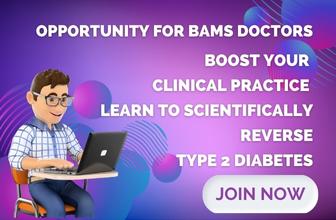 Method of Preparation
Ingredients from Pepper to Chitraka are powdered and mixed with crushed fine bhallataka paste, sesame oil and cow urine. All ingredients are mixed well to form homogeneous blend. Mixture is kept in an earthen pot and covered with sharava, edges are sealed with clay smeared cloth and dried. Pot is heated to red hot. Contents are then removed and made into powder. It is packed in a tightly closed container.
Reference and Manufacturer
Sahasrayoga Choorna Prakarana 97, Ashtanga Hrudayam
Manufacturers: Asoka Pharmaceuticals, Kottakkal Arya Vaidya Sala manufactures the same product in the name of Kalyanaksharam Bhasma.
Presentation and shelf life
Jar pack of 50 gms.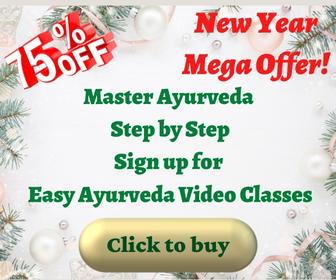 Shelf life:
5 years from the date of manufacturing.