Rasnadi Choornam is an Ayurvedic medicine, used to apply over scalp, to relieve headache and sinusitis. This herbal powder is formulated based on Kerala Ayurveda tradition.
Uses
Rasnadi Choornam Benefits:
It helps to relieve headache, dizziness, cough with sputum and sinusitis and heaviness of the head.
This is essential in rheumatism.
Muscle pain, tennis elbow etc.
Effect on Tridosha – Balances Vata and Kapha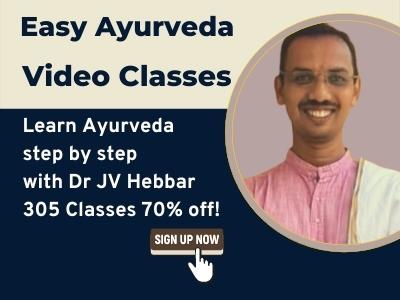 Dose
Rasnadi Choornam dosage:
For external application only.
Traditionally it is made a paste with castor oil and applied over forehead.
It is to be rubbed over the scalp over bregma in catarrh, cold, etc as a preventive as well as a curative. It is extremely useful in headache associated with sinusitis. It is to be mixed with boiled water or milk, made into a paste and applied on the forehead for immediate relief in headache.
This may also be cooked in equal quantities of Vasa (Adathoda vasica) juice and breast milk with castor or other oils and applied over the crown.
Side effects

There are no known side effects with this product.
Contents
Rasnadi Choorna ingredients:
Equal quantities of herbal powders of
Rasna – Pluchea lanceolata
Amukkura – Withania somnifera
Devadaru – Cedrus deodara
Katuka – Picrorhiza kurroa
Sarjarasa – Vateria indica
Kottam – Saussurea lappa
Vayampu – Acorus calamus
Gairika – Red ochre
Nisha – Turmeric – Curcuma longa
Yashti – Licorice – Glycyrrhiza glabra
Bala – Sida cordifolia
Mustha – Cyperus rotundus
Vyosha – Pepper, long pepper and ginger
Puti – Holoptelea integrifolia
Sahasravedhi – Ferula asa foetida
Jala – Coleus vettiveroides
Ushira – Vetiveria zizanioiders
Phenaka – Samudraphena
Srikantha – Sandalwood – Santalum album
Aguru – Aquilaria agallocha
Tintrini dalasira – veins of tamarind leaves – Tamarindus indicus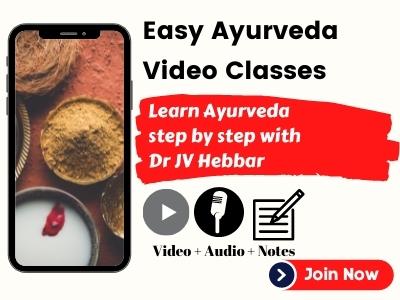 Reference
Sahasrayoga, Choorna Prakarana – context of powders.
Sanskrit shloka verse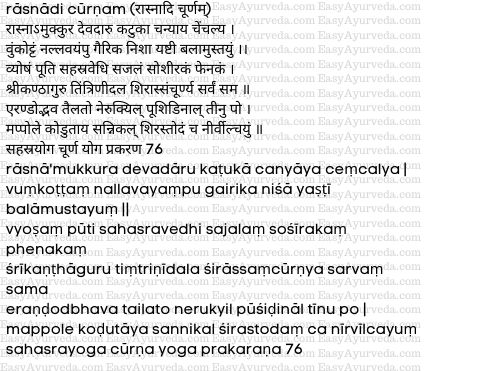 Manufacturers
AVN Ayurveda Formulations Pvt. Ltd.
Arya Vaidya Sala (Kottakkal)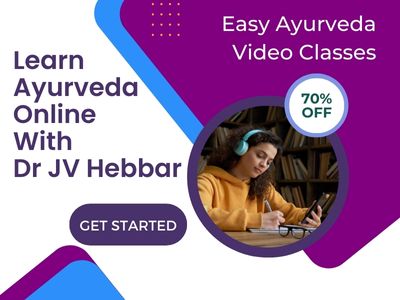 Nagarjuna – Raasnaadi Choornnam