Dhanwantharam kashayam is an Ayurvedic medicines used in Ayurvedic post natal care. It is in herbal decoction form. It is also available in the form of Kashayam tablet form.
Uses
Dhanwantharam kashayam benefits:
Used in Ayurvedic post natal care of mother and in gynaecological diseases.
It is also effective against Vata diseases, low back ache
It is a good uterine tonic.
Useful in arthritis conditions like pain, numbness on hands and feet, swelling.
Useful in lumbar and cervical spondylosis, disc prolapse and disc herniation.
Effective in cases like fever, indigestion, hydrocele, gulma, urination difficulties, vaginal ailments and consumption.
A palliative in paraplegia, facial paralysis, bahyayama, antarayama, tetanus, emprosthotonus, wasting and numbness and excellent in nervous disorders.
Doctors use this for the treatment of parkinson's disease, restless leg syndrome
Bursitis,
Bursitis trochanterica,
Shoulder dislocation pain
This is used as part of post partum (after-delivery) care of the mother.
Post viral fever, when the patient complains of body, muscle and joint pains
Side Effects

In post natal care, this medicine should only be taken under strict medical supervision only.
In higher doses, it may worsen gastritis.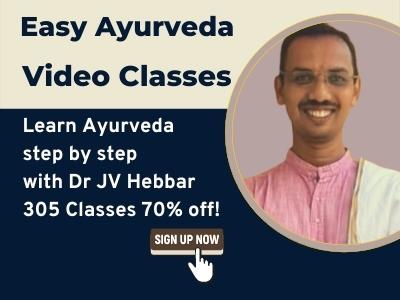 Dose
Dhanwantharam kashaya dosage:
5 – 10 ml, before food, or on empty stomach, once or twice a day or as directed by Ayurvedic doctor.
If the kashayam is concentrated, then it needs to be mixed with equal quantity of water and should be taken.
AVN manufactures this in Kashayam tablet form.
Dose of Dhanwantharam kashayam tablets is 2 tablets 2 times a day before food or as directed by Ayurvedic doctor.
With western medicines
Seek your doctor's advice if you are taking this product along with other western (allopathic/modern) medicines. Some Ayurvedic herbs can interact with modern medicine.
If both Ayurvedic and allopathic medicines are advised together, then it is best to take allopathic medicine first, wait for 30 minutes and then, after a gap of 15 – 30 minutes, take Ayurvedic medicine or as directed by the physician.
Can this be used while taking Homeopathic medicine?
Yes. This product does not react with homeopathic medicine.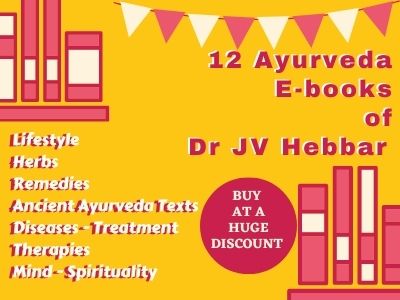 With supplements like multivitamin tablets, Omega 3 fatty acids etc?
Yes. Generally, this product goes well with most of the dietary supplements. However, if you are taking more than one product per day, please consult your doctor for an opinion.
Adjuvants
Rock salt,
Dhanwantaram gulika or Ksheerabala and other tailas [avarti].
Questions
How long does it take to start showing results?
Depends on the dosage and other products suggested with this. Usually 1 – 2 weeks time.
Can this product be taken along with Allopathic medicines (English medicines)?
It may react with some medicines. Consult your doctor for the right advice. When English and Ayurvedic medicines are advised together, it is best to take English medicine first, give a gap of half an hour and then take Ayurvedic medicines.
Can it be used in people with diabetes?
Yes. But an eye should be kept on the blood sugar level. Your doctor should help you in this regard. This product can alter blood sugar levels.
It is sold in plastic bottles. Is it fine?
If the quality of the bottle material is very good, it should not be problem, if stored for a short period of time.
Can this be taken without consulting a doctor?
No. In many cases, this product alone might not work. More often this is given in combination with a few Ayurvedic medicines. Your Ayurveda practitioner will be the best judge to decide on those things.
Can one take non vegetarian food while taking this medicine?
Yes, unless your practitioner has asked to avoid it.
Is there any Pathya (diet rules to be followed while taking this product?
No product specific diet is mentioned. If the practitioner has advised diet control based on disease, one has to follow that.
Avoid excess spicy foods, junk foods, aerated drinks, frozen and canned foods
Can this be taken while taking multivitamin tablets?
Yes, generally. Your consulting doctor will be good judge on this topic.
What is its effect on blood sugar level? Can a diabetic patient take it?
Many of ingredients such as bale, tribulus, sandalwood etc are useful in decreasing the blood sugar level to a small extent. Diabetic patients can take this.
Is it fine to take calcium supplements while taking this kashayam?
Usually in cases of osteoporosis, weak bones in elders, calcium supplements are advised by doctors along with this kashaya. It is fine to take calcium while continuing with this Kashaya.
Contents
Dhanwantharam kashayam ingredients:
The kashayam is prepared by following herbs in equal parts.
Bala moola – Root of Sida rotusa – excellent nervine tonic and balances Vata Dosha
Yava – Barley – Hordeum vulgare
Kulattha – Horse gram – Dolichos biflorus
Dashamoola – group of ten roots – a potent group of anti inflammatory roots.
Bilva – Aegle marmelos
Agnimantha – Premna mucronata
Shyonaka – Oroxylum indicum
Gambhari – Gmelina arborea
Patala – Stereospermum suaveolens
Shalaparni – Desmodium gangeticum
Prinshnaparni – Urarica picta
Gokshura – Tribulus terrestris
Brihati – Solanum indicum
Kantakari – Solanum xanthocarpum
Meda – Polygonatum cirrhifolium
Mahameda – Polygonatum verticillatum
Daru – Cedrus deodara
Manjishta – Rubia cordifolia
Kakoli – Fritillaria roylei
Ksheerakakoli – Lilium polyphyllum
Chandana – Pterocarpus santalinus
Sariva – Hemidsemus indicus
Kushta – Saussurea lappa
Tagara – Valeriana wallichi
Jeevaka – Malaxis acuminata
Rishabhaka – Manilkara hexandra
Saindhava – Rock salt
Kalanusari – Ichnocarpus frutescens
Shaileya – Convolvulus pluricaulis
Vacha – Acorus calamus
Agaru – Aquilaria agallocha
Punarnava – Boerhaavia diffusa – helps to reduce swelling and inflammation
Ashwagandha – Withania somnifera – useful to reduce pain, swelling and to strengthen bones, tendons and ligaments.
Shatavari – Asparagus racemosus
Ksheerashukla – Anogeissus latifolia (?)
Yashti – Licorice – Glycyrrhiza glabra
Vara = Triphala – Terminalia chebula, Terminalia bellirica, Amla (Emblica officinalis)
Shatahva – Saccharum munja / Peucedanum graveolens
Mashaparni – Teramnus labialis
Mudgaparni – Phaseolus trilobus / Vigna libosa
Ela – Cardamom – Elettaria cardamomum
Twak – Cinnamomum zeylanicum
Patra – Cinnamomum tamala
Reference
Ashtanga Hrudayam
In Sahasra Yoga, Dhanwantaram Tailam is explained. The ingredients of the Kashayam and tailam are one and the same.
Shloka, Sanskrit Verse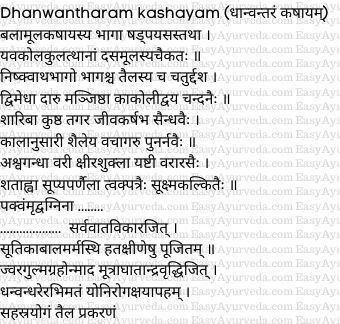 Manufacturer
AVN Ayurveda Formulations Pvt Ltd – manufactures both Kashayam and kashayam tablet
Arya Vaidya Sala Kottakkal
AVP, Kottakkal, Santhigiri
Nagarjuna – Dhaanwantharam Kashaayam, Dhaanwantharam Kashaayam Tablet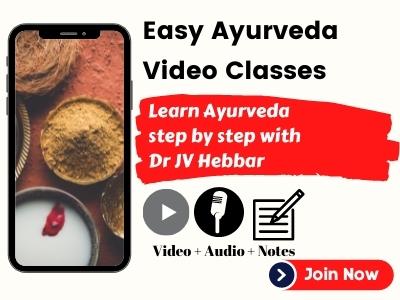 Side effects
Q: Does it cause restlessness in children?
If it is given before food, if the baby gets hungry, due to excess hunger, baby may show restlessness symptoms. In such a case, consider giving it after food. Even with this change, if restlessness continues, stop it and consult a doctor directly.