Nyagrodhadi Churna is an Ayurvedic medicine, in herbal powder form. It is used in the Ayurvedic treatment for urinary disorders and diabetes.
Benefits
It is used in the Ayurvedic treatment of Urinary obstruction, Dysuria, urinary disorders, diabetes and its complications like Diabetic carbuncle.
Synonyms

Nyagrodhadi churna, Nyagrodhadi churnam,
Nyagrodhadi choornam, Nyagrodhadi choorna.
Effect on Tridosha – Calms Vata, Pitta and Kapha.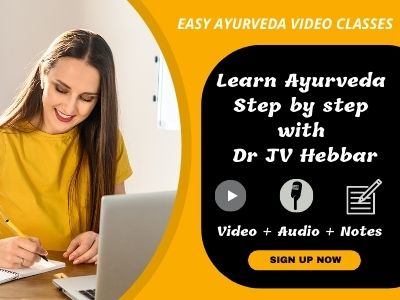 Dosage

1 – 3 grams given along with honey or triphala kashaya, before or after food or as advised by Ayurvedic doctor.
With western medicines
Seek your doctor's advice if you are taking this product along with other western (allopathic/modern) medicines. Some Ayurvedic herbs can interact with modern medicine.
If both Ayurvedic and allopathic medicines are advised together, then it is best to take allopathic medicine first, wait for 30 minutes and then, after a gap of 15 – 30 minutes, take Ayurvedic medicine or as directed by the physician.
Can this be used while taking Homeopathic medicine?
Yes. This product does not react with homeopathic medicine.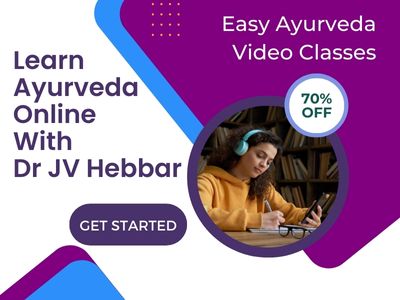 With supplements like multivitamin tablets, Omega 3 fatty acids etc?
Yes. Generally, this product goes well with most of the dietary supplements. However, if you are taking more than one product per day, please consult your doctor for an opinion.
Side Effects

Care should be taken while giving this medicine to people with diabetes.
It is best to take this medicine under medical supervision.
Shloka Sanskrit Verse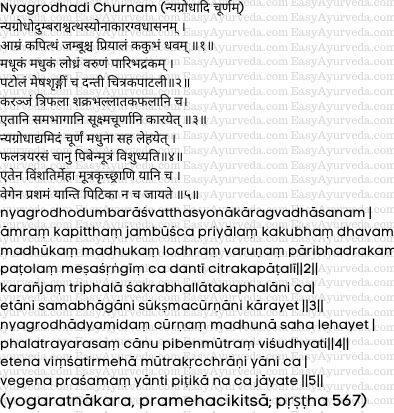 Ingredients

10 g of each of
Nyagrodha – Ficus benghalensis
Udumbara – Ficus racemosa
Ashwattha – Ficus religiosa
Shyonaka – ORoxylum indicum
Aragwadha Phalamajja – Cassia fistula
Asana – Pterocarpus marsupium
Amra – Mango – Mangifera indica
Kapittha – Feronia limonia
Jambu – Eugenia jambolana
Priyala – Buchanania lanzan
Kakubha (Arjuna) – Terminalia arjuna
Dhava – Anogeissus latifolia
Madhuka – Madhuca longifolia
Madhuka (Yasti)- Glycyrrhiza glabra
Lodhra – Symplocos racemosa
Varuna – Crataeva nurvala
Paribhadra – Erythrina indica
Patola – Trichosanthes dioica
Meshaashringi – Prosopis specigera
Danti – Baliospermum montanum Muell. Arg
Citraka – Plumbago zeylanica
Patali (Patala) – Stereospermum suaveolens
Karanja – Pongamia pinnata
Haritaki – Terminalia chebula
Bibhitaka – Terminalia bellirica
Amalaki – Phyllanthus emblica
Sakra (Kutaja) – Holarrhena antidysenterica
Bhallataka – Shuddha – Purified Semecarpus anacardium
Reference

Yogaratnakara, Pramehachikitsa : Page 567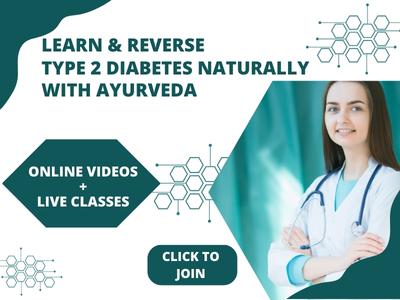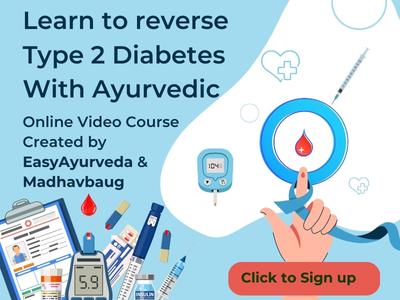 Note:
This product is to be taken under strict medical supervision.