Talisadi Churna is an Ayurvedic medicine, in herbal powder form. It is mainly used in the Ayurvedic treatment of respiratory and digestive conditions.
Uses
Talisadi Churna benefits:
It is used in the Ayurvedic treatment of cough, cold, asthma, bronchitis, fever, vomiting, diarrhoea, bloating, vomiting, side and chest aches, anemia, spleen diseases.
It is used to control wheezing due to asthma or allergy.
Alcohol consumption:
Taleesapatradi churnam is advised for intake before wine consumption. it helps in better absorption and helps to derive better pleasure from wine. Reference: Ashtanga Hrudaya, Chikitsa Sthana, 7/85.
Synonyms
Talisadi Churna, Talisadi  Choornam, Talisadi Powder, Talisapatradi churnam
Effect on Tridosha – Calms Vata and kapha
Dosage
1 – 3 grams along with water, once or twice daily after food or as advised by Ayurvedic doctor.
It is usually given along with honey.
Regular dose is – half – 1 teaspoon – mixed with 1 teaspoon of honey. Make a paste. Swallow it with a cup of water.
It is also available in tablet form.
How long to continue?
This can be continued for a period of 1 – 2 months.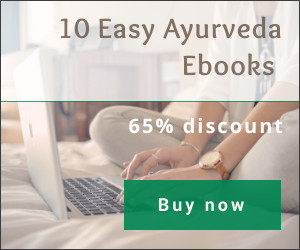 With western medicines
Seek your doctor's advice if you are taking this product along with other western (allopathic/modern) medicines. Some Ayurvedic herbs can interact with modern medicine.
If both Ayurvedic and allopathic medicines are advised together, then it is best to take allopathic medicine first, wait for 30 minutes and then, after a gap of 15 – 30 minutes, take Ayurvedic medicine or as directed by the physician.
Can this be used while taking Homeopathic medicine?
Yes. This product does not react with homeopathic medicine.
With supplements like multivitamin tablets, Omega 3 fatty acids etc?
Yes. Generally, this product goes well with most of the dietary supplements. However, if you are taking more than one product per day, please consult your doctor for an opinion.
Side Effects
In higher doses, it may cause burning sensation and gastritis.
People with diabetes best avoid this, as it contains sugar as an ingredient.
Seek your doctor's advice for its use during pregnancy.
It can be taken in smaller doses during lactation and in children.
Contents – ingredients
Talisadi  Churna  Ingredients:
Talisa – Abies webbiana – Leaves – 12 grams
Maricha – Black pepper – Fruit – 24 grams
Shunti – Ginger – Rhizome – 36 grams
Pippali – Long pepper – Piper longum – Fruit – 48 grams
Vamshalochana – Bambusa bambos – 60 grams
Ela – cardamom – Elettaria cardamomum – Seeds – 6 grams
Twak – Cinnamon – Cinnamomum zeylanicum – Stem bark – 6 grams
Sharkara – Sugar – 384 grams
Note: The same formula is added with sugar binding agent to prepare tablet called as Talisadi Modaka.
Method of Preparation
Each ingredients are powdered and weighed separately. All ingredients are then mixed together to form homogeneous mixture. It is packed in a tightly closed containers.
Sanskrit Verses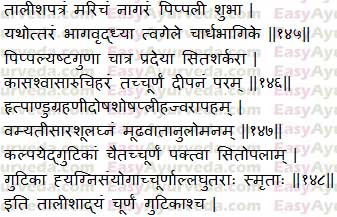 Reference
Talisadi  powder  reference:
Charaka Chikitsa Sthana 8/145-148
Sharangdhara Samhita Madhyama Khanda 6/130-133
Manufacturer
Baidyanath
IMIS Pharma
Zandu
Sadvaidyashala
Arya Vaidya Sala, Kottakkal
Nagarjuna – Thaaleesapathraadi Choornnam
SKM Siddha & Ayurveda Company India Ltd., Erode- Tamil Nadu.
Research: Quality control parameters
Proprietary Ayurvedic medicines with Talisadi Churna as ingredient:
Flue Five Syrup  – manufactured by Aushadhi Bhavan.

Pentacare company manufactures this churna in the form of tablet, called Talisadya Churna Tablet, available in jars of 50 and 100 tablets.