Sukumara Ghrita is an Ayurvedic medicine, in herbal ghee form. This herbal ghee is made from Vidaryadi group of herbs, mentioned in Ashtanga Hrudayam. It is used for preparatory procedure for Panchakarma and also as medicine, used in the treatment of gynecological diseases. This medicine is prepared based on Kerala Ayurveda principles.
Uses and Synonyms
Sukumara Ghrita benefits:
It is used as medicine and also in preparatory procedure called snehakarma for the treatment of lower abdominal pain in women, abscess, hemorrhoids, menstrual pain, inflammation, constipation. This will show better results in hernia and vata based gulma. For those constipated by nature, this will do well if taken daily.
In women, it is usually given as a daily tonic in lower doses for overall good health. It is also used to improve skin complexion.
It is used in gynecological disorders such as painful periods, dysmenorrhea, amenorrhea, PCOS.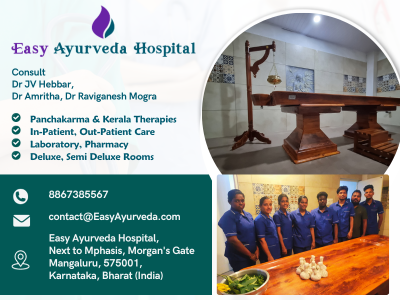 synonyms– sukumara ghritham, sukumaram ghritam, sukumara ghrita, Sukumara Kalyana Ghrita

Effect on Tridosha – Calms Vata and Pitta
How sukumar Ghrit is useful in hemorrhoids?
It relieves constipation, bloating, pain and itching, which are commonly seen symptoms of piles.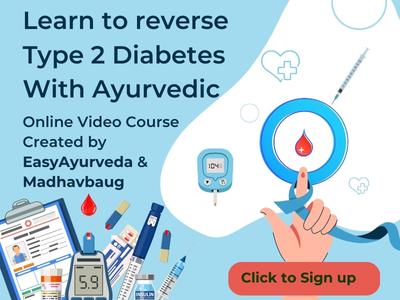 Dose
Sukumara Ghrita dosage:
As medicine – quarter to half teaspoon with water, usually before food, once or twice a day, or as directed by Ayurvedic doctor.
For Panchakarma preparation – Snehana procedure, the dose depends on the disease status and the judgement of Ayurvedic doctor.
With western medicines
Seek your doctor's advice if you are taking this product along with other western (allopathic/modern) medicines. Some Ayurvedic herbs can interact with modern medicine.
If both Ayurvedic and allopathic medicines are advised together, then it is best to take allopathic medicine first, wait for 30 minutes and then, after a gap of 15 – 30 minutes, take Ayurvedic medicine or as directed by the physician.
Can this be used while taking Homeopathic medicine?
Yes. This product does not react with homeopathic medicine.
With supplements like multivitamin tablets, Omega 3 fatty acids etc?
Yes. Generally, this product goes well with most of the dietary supplements. However, if you are taking more than one product per day, please consult your doctor for an opinion.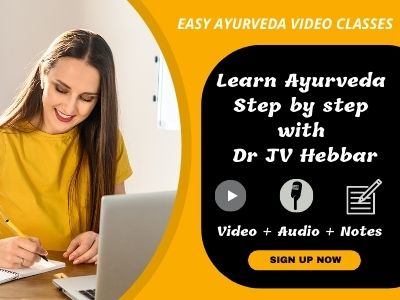 Contents, ingredients
Sukumara Ghritham Ingredients:
Punarnava – Boerhaavia diffusa – 4.8 kg
480 grams of each of
Bilva – Aegle marmelos
Agnimantha – Premna mucronata
Shyonaka – Oroxylum indicum
Patala – Stereospermum suaveolens
Gambhari – Gmelina arborea
Brihati – Solanum indicum
Kantakari – Solanum xanthocarpum
Gokshura – Tribulus terrestris
Shalaparni – Desmodium gangeticum
Prishnaparni – Uraria picta
Payasya (Kshirakakoli) – Roscoea purpurea
Ashwaganda – Withania somnifera
Eranda – Ricinus communis
Shatavari – Asparagus racemosus
Darbhamoola – Erianthus arundinaceum
Kushamoola – Desmostachya bipinnata
kashamoola – Saccharum spontaneum
Shara moola – Saccharum arundinaceum
Ikshumoola – Saccharum officinarum
Potagala moola – Typha elephantina
Water for decoction – 49.152 liters boiled and reduced to 6.144 liters.
Guda – Jaggery – 1.44 kg
Eranda taila – Castor oil – 768 g
ghee – 1.536 kg
Milk – 1.536 liters
96 grams of fine powder of each of
Krishna – Long pepper fruit
Krishnamoola – Long pepper root
Saindhava Lavana – rock salt
Yashti – Licorice – Glycyrrhiza glabra
Madhuka – Madhuka longifolia
Mridvika – Raisins
Yavani – Trachyspermum ammi
Nagara – ginger
All the ingredients are heated till Ghrita is prepared.
Reference and Manufacturers
Sahasrayoga Ghrita prakarana – 4
Reference for Vidaryadi Gana – Ashtanga Hrudaya Sutrasthana 15/9-10
Note: The same set of herbs in the above formula is used in the preparation of Sukumaram kashayam
Shloka, Sanskrit Verse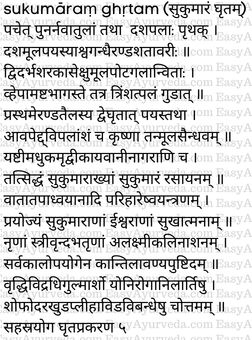 Manufacturers:
Nagarjuna – Sukumaara Ghrutham
Side Effects
There are no known side effects with this medicine. However it is best to use this product under medical supervision. Self medication with this medicine is discouraged.
People with diabetes, high cholesterol, heart diseases and high BP should exercise precaution.
In very high dose, it may cause diarrhoea and indigestion.
How long does it take to start showing results?
Depends on the dosage and other products suggested with this. Usually 1 – 2 weeks time.
Can this product be taken along with Allopathic medicines (English medicines)?
It may react with some medicines. Consult your doctor for the right advice. When English and Ayurvedic medicines are advised together, it is best to take English medicine first, give a gap of half an hour and then take Ayurvedic medicines.
Can it be used in people with diabetes?
Yes. But an eye should be kept on the blood sugar level. Your doctor should help you in this regard. This product can reduce blood sugar levels.
It is sold in plastic bottles. Is it fine?
If the quality of the bottle material is very good, it should not be problem, if stored for a short period of time.
Can this be taken without consulting a doctor?
No. In many cases, this product alone might not work. More often this is given in combination with a few Ayurvedic medicines. Your Ayurveda practitioner will be the best judge to decide on those things.
Can one take non vegetarian food while taking this medicine?
Yes, unless your practitioner has asked to avoid it.
Is there any Pathya (diet rules to be followed while taking this product?
No product specific diet is mentioned. If the practitioner has advised diet control based on disease, one has to follow that.
Avoid excess spicy foods, junk foods, aerated drinks, frozen and canned foods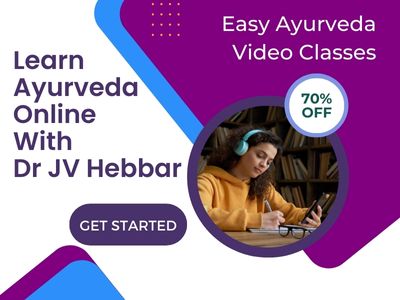 Can this be taken while taking multivitamin tablets?
Yes, generally. Your consulting doctor will be good judge on this topic.