Brahmi Ghrita is a very famous Ayurvedic medicine, in herbal ghee form. This medicine has ghee as its base. It is used for preparatory procedure for Panchakarma and also as medicine, mainly for treatment of improving intelligence, learning skills and speech.
Uses
Brahmi Ghrita benefits:
It is widely used as medicine and also in preparatory procedure called snehakarma for the treatment of improving learning skills, intelligence, memory, speech. It is also used in the treatment of skin diseases, epilepsy and female infertility. Reportedly overcomes impotency.
It is used for treating
Depression,
Fatigue,
Myalgia – depression induced bodyache
Stress disorder
Useful in panic attacks.
Effect on Tridosha – Calms Vata, Pitta and Kapha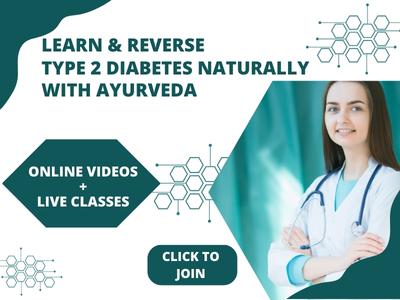 Dose, Adjuvant
Brahmi Ghritam dosage:
As medicine – quarter to half teaspoon with water, usually before food, once or twice a day, or as directed by Ayurvedic doctor.
For Panchakarma preparation – Snehana procedure, the dose depends on the disease status and the judgement of Ayurvedic doctor.

Adjuvant – Warm water and warm milk
With western medicines
Seek your doctor's advice if you are taking this product along with other western (allopathic/modern) medicines. Some Ayurvedic herbs can interact with modern medicine.
If both Ayurvedic and allopathic medicines are advised together, then it is best to take allopathic medicine first, wait for 30 minutes and then, after a gap of 15 – 30 minutes, take Ayurvedic medicine or as directed by the physician.
Can this be used while taking Homeopathic medicine?
Yes. This product does not react with homeopathic medicine.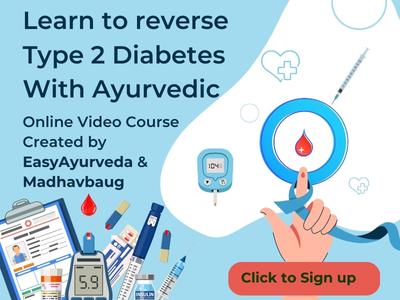 With supplements like multivitamin tablets, Omega 3 fatty acids etc?
Yes. Generally, this product goes well with most of the dietary supplements. However, if you are taking more than one product per day, please consult your doctor for an opinion.
Diet To Follow
Have more of Ghee, coconut oil, Sunflower seed, almond, taro root, flaxseed oil, soyabean, pistachio,
Broccoli, carrots, chard, nuts, papaya, pumpkin, red peppers
Flax seeds, walnut, tofu, brussel sprout, cauliflower, winter squash, fish oil, egg oil, krill oil, chia seeds, camelia are fine to take.
Diet To avoid:
There are no diet restrictions. Please avoid all types of junk foods, excessive non veg foods, try to avoid or limit alcohol and smoking. Avoid aerated drinks.
Please prefer homemade food wherever possible.
How to use Brahmi Ghrit as a brain tonic for healthy people?
If you are healthy, still want to use Brahmi ghrita, then take half a teaspoon of this, just before your morning cup of coffee / tea / milk. You can take it for up to two months. Note that you have to have some hot drink or at least hot water, after taking this herbal brain tonic ghee.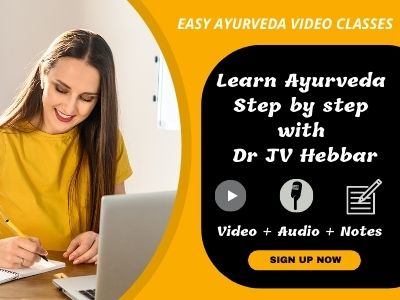 Side Effects
Brahmi Ghritam Side Effects:
However it is best to use this product under medical supervision. Self medication with this medicine is discouraged.
People with diabetes, high cholesterol, heart diseases and high BP should exercise precaution.
In very high dose, it may cause diarrhoea and indigestion.
Side effect recorded by Ms Shubhra –
Hello doctor, my baby is 3 years old. I started giving her Brahmi Gritham 1 tablespoon with milk. But she started getting blood in her stools. This stopped as soon as I stopped the medicine. Since is underweight (only 11 kgs at this 3.4 years), I wanted to give her food supplement to improve her immunity and strength.
Synonyms and Principle
Synonyms: brahmi ghrita, brahmi ghritam, brahmi ghrit, brahmi ghritham
Principle:
In this herbal ghee, the herbs are infused in the medium of ghee along with herb water decotion. Then the solid waste herb materials are filtered out. Thus, this herbal ghee contains oil soluble and water soluble phyto-active principles of medicinal herbs.
Contents and Reference
Brahmi Ghrit Ingredients:
Brahmi – Bacopa monnieri juice extract – Plant – 1.536 liters
Ghrita – Ghee – 768 ml
12 g of each of
Trikatu – 3 medicinal spices
Pepper – Piper nigrum – Fruit
Long pepper – Piper longum – Fruit
and
Ginger – Zingiber officinale – Rhizome
Shweta and Krishna Trivrit – Operculina turpethum – Root
Danti – Baliospermum montanum – Root
Shankhapushpi – Clitorea ternatea – Whole plant
Nripadruma – Cassia fistula – Fruit pulp
Saptala – Acacia sinuata – Whole plant
Krumihara – Embelia ribes – Fruit
Brahmi Ghrutham reference: Ashtangahrudayam Uttarsthana 6/23-25
Brahmi Ghrita – Memory Boosting Herbal Ghee
Sanskrit Shloka Verse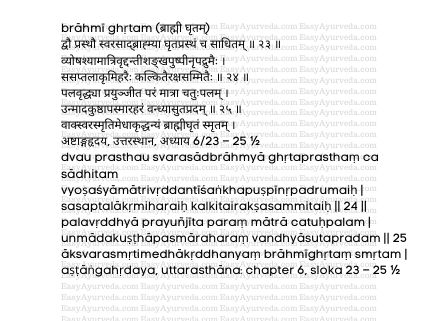 Method of Preparation
Juice is extracted from Brahmi. Ingredients from Pepper to Krumihara are powdered and paste is prepared by adding sufficient quantity of water. Ghee is heated along with prepared paste and brahmi juice. It is heated and stirred continuously till there is subsidence of froth and all the moisture content is evaporated. Heating is stopped when the paste rolled between fingers forms varti (wick). It is packed in a tightly closed containers.
Another reference of Brahmi ghritam:
Charaka Samhita Chikitsa Sthana 10/25
ब्राह्मीरस वचा कुष्ठशङ्खपुष्पीभिरेव च|
पुराणं घृतमुन्मादालक्ष्म्यपस्मारपापनुत्||२५||
brāhmīrasa vacā kuṣṭhaśaṅkhapuṣpībhireva ca|
purāṇaṃ ghṛtamunmādālakṣmyapasmārapāpanut||25||
Old cow ghee (1 part) is cooked with
4 parts of Brahmi Juice (Bacopa monnieri) and
The paste of
Vacha – Acorus calamus Linn.),
Kushta – Saussurea lappa and
Shankhapuspi – (1/4th part in total)
This medicated ghee is indicated in –
Unmada – insanity
Alaksmi – inauspiciousness
Apasmara – epilepsy and
Papa – effects of devil deeds [25]
Scientific research on Brahmi Ghrita in patients of depression:
In a clinical study conducted by Dept. of Panchakarma & Manasa Roga, I.P.G.T. & R.A., Gujarat Ayurved University, Jamnagar, India, Brahmi ghrita showed moderate improvement in 50% patients and mild improvement in 35% patients. Its total effect was statistically highly significant (p<0.005) as compared to placebo.
Diet
Food to avoid and have during Brahmi Ghrit –
1. It is better to drink hot water soon after taking Brahmi Ghritham.
2. It is best to avoid cold water / cold food stuff soon after taking this ghee.
3. While taking this ghee, better to avoid excess of garlic and onion and excess of non veg food. (to improve Satt/vik nature of mind)
Food to take –
Vitamin E Rich food like almonds, sunflower seeds, Fortified cereals, Nuts, Vegetable oils, peanuts, Cooked spinach, Tomato, turnip greens, peanut butter, wheat germ, Avocado.
Fish oil, soyabean are some of food that are good to take.
Shelf life and Manufacturer
Shelf life: 2 years from the date of manufacture.
Manufacturer: Kottakkal Arya Vaidya Sala, Zandu
Nagarjuna – Brahmi Ghrutham
Packaging: 150 grams
Can Brahmi Ghrita Be Given To Infants?
Pregnancy, lactation, children
Seek medical advice for its usage during pregnancy.
It can be administered to lactation mother and children, in lower doses.
In Children, the dose depends on the precsribing doctor. For a five year old, the average dose is quarter to half a teaspoon per day, preferably before food.
Brahmi Ghritam is used along with Swarna Bhasma (Gold calx) in a childhood healthcare program called Swarna Prashana Samskara, useful in improving immunity and mental strength of children. Read more about Swarna Bindu Prashana
Habit forming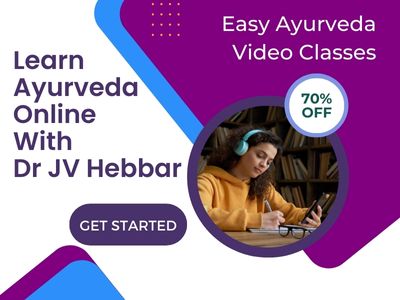 Is this medicine habit forming? Does it create dependence? Can we stop it after a few months of usage?
This medicine is not habit forming. After using for the prescribed period, your doctor would gradually decrease the dose and eventually stop it. Follow your doctor's instructions for gradual decrease of dose and stopping. Usually it does not cause any ill effects.