Panchatikta Guggulu Ghrita is an Ayurvedic medicine, in herbal ghee form.This is also known as Guggulutiktaka ghrita. It is used for preparatory procedure for Panchakarma and also as medicine, mainly for skin diseases. Panchatikta refers to five bitter herbs, which are the main ingredients in this herbal ghee.
Uses
Panchatikta Guggulu Ghrita benefits:
It is widely used as medicine and also in preparatory procedure called snehakarma for the treatment of deep seated ulcers and abscess, sinus, asthma, rhinitis, cough and cold, cardiac diseases and gout.
It is useful in cooling the inflamed part of the body, mostly due to aggrevated pitta.
Conditions such as psoriasis and arthritis have traditionally been treated with this ghritam.
Improve digestion.
Purify the blood from toxins.
It is also beneficial in skin disorders of vata and kapha predominance.
It is more efficacious in vatashonita wounds.
Indications and Dosage
Doctors also use this for the treatment of
Gout, heal spur, osteo arthritis, osteoporosis.
Effect on Tridosha – Calms Vata, Pitta and kapha

Panchatikta Guggulu Ghrita dosage:
As medicine – quarter to half teaspoon with water, usually before food, once or twice a day, or as directed by Ayurvedic doctor.
For Panchakarma preparation – Snehana procedure, the dose depends on the disease status and the judgement of Ayurvedic doctor.
It is usually administered with warm water.
With western medicines
Seek your doctor's advice if you are taking this product along with other western (allopathic/modern) medicines. Some Ayurvedic herbs can interact with modern medicine.
If both Ayurvedic and allopathic medicines are advised together, then it is best to take allopathic medicine first, wait for 30 minutes and then, after a gap of 15 – 30 minutes, take Ayurvedic medicine or as directed by the physician.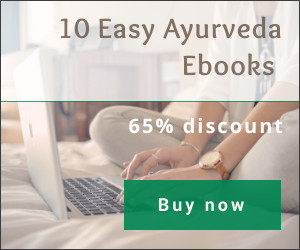 Can this be used while taking Homeopathic medicine?
Yes. This product does not react with homeopathic medicine.
With supplements like multivitamin tablets, Omega 3 fatty acids etc?
Yes. Generally, this product goes well with most of the dietary supplements. However, if you are taking more than one product per day, please consult your doctor for an opinion.
Synonyms
It is also known as Guggulutiktaka ghrita. Kottakkal Arya Vaidya Sala calls this product as Guggulutiktaka Ghritam
Leaving out the ghee part, only Kashayam is also prepared from this formulation, it is known as Guggulutiktam kashayam
AVN company manufactures this kashayam in tablet from called as – Gulgulutiktam kashayam tablet.
Dose of this Kashayam tablet is – 2 tablets 2 times a day before food.
Side Effects
Guggulutiktaka Ghritam Side Effects:
There are no known side effects with this medicine. However it is best to use this product under medical supervision. Self medication with this medicine is discouraged.
People with diabetes, high cholesterol, heart diseases and high BP should excise precaution.
In very high dose, it may cause diarrhoea and indigestion.
Principle

In this herbal ghee, the herbs are infused in the medium of ghee along with herb water decotion. Then the solid waste herb materials are filtered out. Thus, this herbal ghee contains oil soluble and water soluble phyto-active principles of medicinal herbs.
Contents
Panchatikta Guggulu Ghrita Ingredients:
Nimba – neem – 480 g
Patola – Trichosanthes dioica – 480 g
Vyaghri – Solanum xanthocarpum – 480 g
Guduchi – Tinospora cordifolia – 480 g
Vasa – Adhatoda vasica – 480 g
water for decoction – 12.288 liters boiled and reduced to 3.072 liters
Ghrita – ghee – 768 ml
12 grams of each of
Patha – Cyclea peltata / Cissampelos pariera
Vidanga – Embelia ribes
Suradaru – Cedrus deodara
Gajopakulya – Piper chaba
Yavakshara – Hordeum vulgare
Sarjikshara
Nagara – Zingiber officinalis
Nisha – Turmeric
Mishreya – Anethum sowa
Chavya – Piper chaba
Kushta – Saussurea lappa
Tejovati – Zanthoxylum alatum
Maricha – Black pepper
Vatsaka – Holarrhena antidysenterica
Deepyaka – Trachyspermum ammi
Agni – Plumbago zeylanica
Rohini – Picrorrhiza kurroa
Arushkara – Purified Semecarpus anacardium
Vacha – Acorus calamus
Kanamoola – Piper longum – root
Yukta – Pluchea lanceolata
Manjishta – Rubia cordifolia
Ativisha – Aconitum heterophyllum
Vishani – Aconitum species
Yavani – Trachyspermum ammi
Shuddha Guggulu – Purified Commiphora mukul – 240 g
The above combination is heated till herbal ghee is prepared.
Reference

Ashtangahrudayam Chiktisasthana 21/57-60
Shelf life and Manufacturer
Shelf life: 2 years from the date of manufacture.
Manufacturer: Arya Vaidya Sala, Kottakkal.
Presentation: Jar pack of 150 grams