Narasimha Rasayanam is a very famous Ayurvedic medicine, in herbal butter form.This medicine has butter as its base. It is used for preparatory procedure for Panchakarma and also as medicine for the treatment of weakness, weight gain, hair growth and rejuvenation. It is also known as Narasimha Rasayana, Narasimha Rasayan
Uses
Narasimha Rasayanam benefits:
It is widely used as medicine and also in preparatory procedure called snehakarma for the treatment of weight gain, to improve muscle mass and strength, improves hair growth, improves intelligence, and rejuvenation. It helps to relieve from being tired all the time.
It is useful to grow beard in men.
It is useful in premature ejaculation.
It can be used as a supplement for gym goers.
Effect on Tridosha – Calms Pitta, Kapha and Vata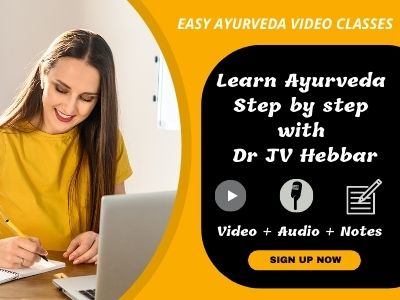 Dose
Narasimha Rasayana dosage:
As medicine – quarter to half teaspoon with water, usually before food, once or twice a day, or as directed by Ayurvedic doctor.
For Panchakarma preparation – Snehana procedure, the dose depends on the disease status and the judgement of Ayurvedic doctor.
It is usually administered with warm water, honey or milk.
Narsingh Rasayan With western medicines
Seek your doctor's advice if you are taking this product along with other western (allopathic/modern) medicines. Some Ayurvedic herbs can interact with modern medicine.
If both Ayurvedic and allopathic medicines are advised together, then it is best to take allopathic medicine first, wait for 30 minutes and then, after a gap of 15 – 30 minutes, take Ayurvedic medicine or as directed by the physician.
Can this be used while taking Homeopathic medicine?
Yes. This product does not react with homeopathic medicine.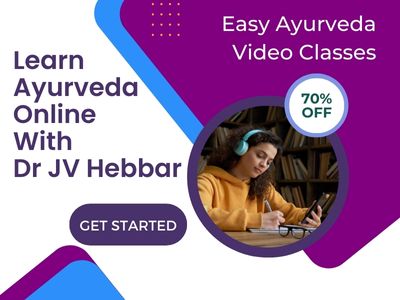 With supplements like multivitamin tablets, Omega 3 fatty acids etc?
Yes. Generally, this product goes well with most of the dietary supplements. However, if you are taking more than one product per day, please consult your doctor for an opinion.
Side effects
Narasimha Rasayana Side Effects:
There are no known side effects with this medicine. However it is best to use this product under medical supervision. Self medication with this medicine is discouraged.
People with diabetes, high cholesterol, heart diseases and high BP should excise precaution.
In very high dose, it may cause diarrhoea and indigestion.
In some people with highly oily skin, it may cause or worsen acne. In them, it is best to take it in lower dose.

Some people worry that, because it contains Bhilava, it can cause excess burning sensation. The coolness of butter nullifies the hotness of Bhilava (Marking nut).
Principle:
In this herbal ghee, the herbs are infused in the medium of ghee along with herb water decotion. Then the solid waste herb materials are filtered out. Thus, this herbal ghee contains oil soluble and water soluble phyto-active principles of medicinal herbs.
Traditional benefits
Benefits of Narasimha Rasayan as explained in the Actual Sanskrit Verse:
One becomes able to eat, drink and follow lifestyle of his own choice.
His body becomes strong and devoid of diseases.
The body becomes strong as a wild buffalo.
He will get speed and power of a horse.
He will have good sexual strength.
Sthira Anga – stable firm body.
Hairs will become lengthy, shining and strong.
His speech, intelligence and memory will improve just by its usage for a month time.
Body becomes as shining, pure and bright as the gold subjected high intensity fire.
Like the monsters fear God Narasimha Swamy, the diseases fear the person taking this Rasayana.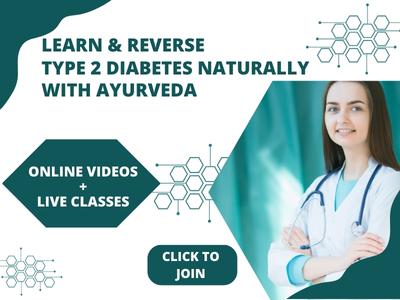 Contents
Narasimha Rasayana Ingredients:
1 part of each of
Gayatri – Khadira – (Acacia catechu)
Shikhi (Plumbago zeylanica)
Shimshapa (Dalbergia sissoo)
Asana (Pterocarpus marsupium)
Shiva – Haritaki, one among Triphala (Terminalia chebula)
Vella – Vidanga (Embelia ribes)
Akshaka (Terminalia bellirica)
Arushkara – Bhilava – (purified Semecarpus anacardium)
Ayas – Iron plates – 8 parts
water for decoction – 16 times,
boiled and reduced to 4 parts.
This is filtered. Thus Kashaya (decoction) is prepared.
Ksheera – milk equal to decoction
Bharnga niryasa – (Elcipta alba) – 2 times of decoction
Vara kashaya (Haritaki, Vibhitaki and Amla)
Haiyangaveena – Butter
Diet to follow
Have more of cooked beans, cereals, pumpkin seed, carrot, dates, sesame seed, chickpeas, peanuts, pecans, walnuts, pistachios, roasted almonds, roasted cashews, or sunflower seeds, raisins, peaches, or prunes, spinach, bread,
Sunflower seed, almond, pine nuts, peanuts, spinach, taro root, flaxseed oil, soyabean, pistachio.
Broccoli, carrots, chard, mustard and turnip greens, mangoes, nuts, papaya, pumpkin, red peppers
Narasimha Rasayanam Uses, Dose, Ingredients, Side Effects
Shloka- Sanskrit verse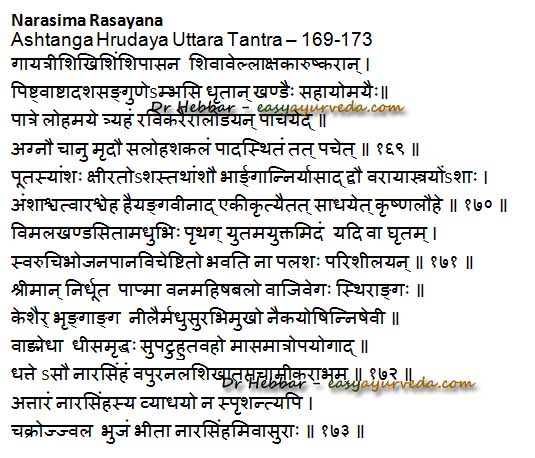 The above combination is heated till herbal butter is prepared.

Reference
Ashtanga Hrudaya Uttara tantra 39/170 – 172
Shelf life and manufacturer

Shelf life: 3 years from the date of manufacture.
Manufacturer: Arya Vaidya Sala, Kottakkal, Nagarjuna – Naarasimha Rasaayanam
Presentation: Jar pack of 200 gram
Can it be taken if someone has gastritis?
Yes. it has calming effect over stomach and intestines.
How long to take?
It can be taken for a period of 1 – 2 months time. For long term use, it is best to take this for 1 or 2 months, then give a gap of one month and then continue again. This way, it can be continued for 5 – 6 months time, based on your doctor's advice.
Research: A theoretical analysis on usage of Narasimh rasayan along with other anti ageing medicines for radio-protective activity was conducted by Baliga MS et al. (1)
Asthma, pregnancy, obesity
During Asthma and obesity, it is best to avoid this medicine, especially in a dose higher than a teaspoon a day. Consult your doctor for its usage during pregnancy.
Use of Shatavari kashaya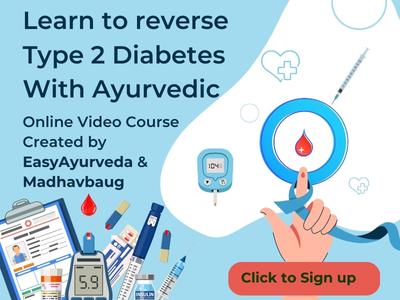 Some versions of Ashtanga Hrudayam mentions Piarvyaha kashaya in place of Varaya Kashaya.
Pivari is a synonym of Shatavari – Asparagus racemosus.
So, some manufacturers use Shatavari kashaya in place of Triphala decoction.
If Shatavari is used, then the potency of the product will be slightly cooler compared to that of Triphala decoction. However, this would not change the overall benefits of the product by a great extent.