Dadhika Ghrita is an Ayurvedic medicine, in herbal ghee form.This medicine has ghee as its base. It is used for preparatory procedure for Panchakarma and also as medicine. Dadihika or Dadhi refers to curds. This herbal ghee has curds as main ingredient.
Benefits
It is widely used as medicine and also in preparatory procedure called snehakarma for the treatment of epilepsy, toxic conditions, dysuria, Ascites, malabsorption syndrome, bloating, etc. This is prescribed for gulma and is especially efficacious in vata based gulma, colic, catches, asthma, piles, grahani, loss of appetite and vaginal ailments.
Effect on Tridosha – Calms Vata and Pitta


>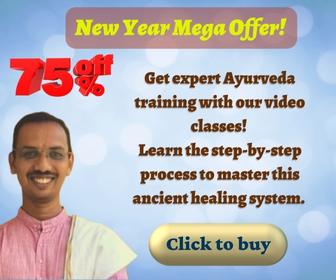 Dosage

As medicine – quarter to half teaspoon with water, usually before food, once or twice a day, or as directed by Ayurvedic doctor.
For Panchakarma preparation – Snehana procedure, the dose depends on the disease status and the judgement of Ayurvedic doctor.
It is usually administered with warm water.
With western medicines
Seek your doctor's advice if you are taking this product along with other western (allopathic/modern) medicines. Some Ayurvedic herbs can interact with modern medicine.
If both Ayurvedic and allopathic medicines are advised together, then it is best to take allopathic medicine first, wait for 30 minutes and then, after a gap of 15 – 30 minutes, take Ayurvedic medicine or as directed by the physician.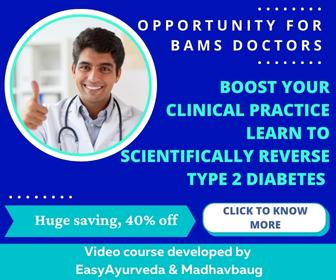 Can this be used while taking Homeopathic medicine?
Yes. This product does not react with homeopathic medicine.
With supplements like multivitamin tablets, Omega 3 fatty acids etc?
Yes. Generally, this product goes well with most of the dietary supplements. However, if you are taking more than one product per day, please consult your doctor for an opinion.
Side Effects

There are no known side effects with this medicine. However it is best to use this product under medical supervision. Self medication with this medicine is discouraged.
People with diabetes, high cholesterol, heart diseases and high BP should excise precaution.
In very high dose, it may cause diarrhoea and indigestion.
Principle:
In this herbal ghee, the herbs are infused in the medium of ghee along with herb water decotion. Then the solid waste herb materials are filtered out. Thus, this herbal ghee contains oil soluble and water soluble phyto-active principles of medicinal herbs.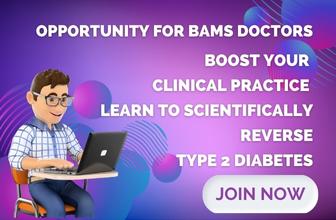 Shloka Sanskrit Verse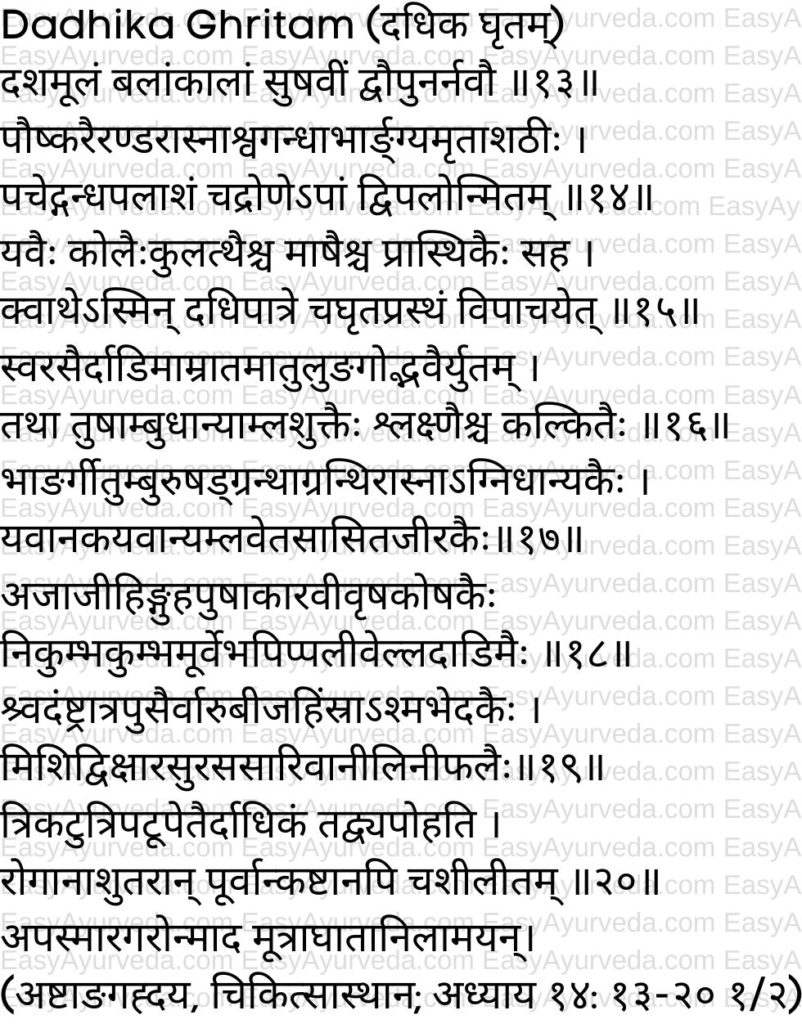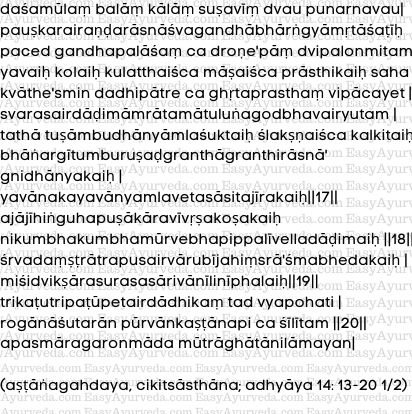 Ingredients
96 g of each of
Dashamoola – group of ten roots,
Bala
Kala
Sushavi,
Shweta and Rakta Punarnava
Paushkara
Eranda
Rasna
Ashwagandha
Bharngi
Amruta
Shati
Gandhapalasha
Yava
Kola
Kulattha
Masha
water for decoction 12.288 liters boiled and reduced to 3.072 liters.
Dadhi – Butter – 3.072 liters
Ghrita – Ghee – 768 ml
Dadima swarasa – Pomegranate juice – 768 ml
Aamraata swarasa – pondias pinnata – 768 ml
Matulunga swarasa- Lemon juice – 768 ml
Tushambu – 768 ml
Dhanyamla – Sour gruel – 768 ml
2.4 g of each of –
Bharngi – Clerodendron serratum
Tumburu – Zanthoxylum alatum
Shadgrantha – Acorus calamus
Granthi – Piper longum
Rasna – Pluchea lanceolata
Dhanyaka – Coriander
Agni – Plumbago zeylanica
Yavaanaka – Trachyspermum roxburghianum
Yavani – Trachyspermum ammi
Amlavetasa – Solena amplexicaulis
Ajaji – Cuminum cyminum
Hingu – Asa foetida
Hapusha – Juniperus communis
Karavi – Carum roxburghianum
Vrishaka  -Adhatoda vasica
Ooshaka – Grewia asiatica 
Nikumbha – Baliospermum montanum
Kumbha – Operculina turpethum
Murva – Marsdenia tenacissima
Ibhapippali – Scindapsus officinalis
Vella – Embelia ribes
Dadima – Pomegranate
Swadamshtra – Tribulus terrestris
Trapusha – Cucumis sativus
Ervaru beeja – Cucumis melo
Himsra – Capparis spinosa
Ashmabhedaka – Aerva lanata
Mishi – Anethum graveolens
Yavakshara – Horedum vulgare
Svarjikakshara
Surasa – Holy basil
Sariva – Hemidesmus indicus
Niliniphala – Indigofera tinctoria
Trikatu- Pepper, long pepper and ginger
three types of salt – Saindhava, Sauvarchala, Vida lavana
The above combination is heated till herbal ghee is prepared.
Reference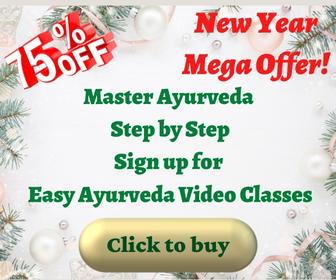 Ashtangahrudayam chikitsasthana 14/13-20