Simhanada Guggulu is an Ayurvedic medicine in tablet form. This tablet has Guggulu (commiphora mukul) as its base. It is a very versatile medicine used in gout, skin disease, etc.
Uses
Simhanada Guggulu benefits: Simhanada uses scale to a wide variety of diseases like – skin condition, abscess, gout, respiratory condition, abdominal colic, anemia.
It is also used as an rejuvenation medicine and anti aging Ayurvedic medicine.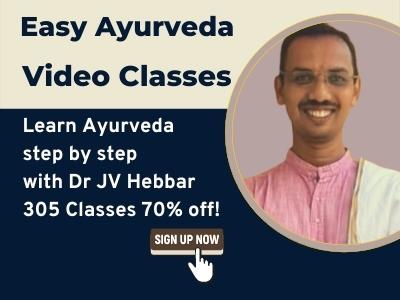 Patient is advised to take rice while taking this medicine. It is also advised to have massage with oil or ghee while taking this medicine.
Effect on Tridosha – Calms Vata, Pitta and Kapha.
Dose
1 – 2 tablets 2 – 3 times a day, before or after food or as directed by Ayurvedic doctor. It is is usually advised for 2 – 3 months.
With western medicines
Seek your doctor's advice if you are taking this product along with other western (allopathic/modern) medicines. Some Ayurvedic herbs can interact with modern medicine.
If both Ayurvedic and allopathic medicines are advised together, then it is best to take allopathic medicine first, wait for 30 minutes and then, after a gap of 15 – 30 minutes, take Ayurvedic medicine or as directed by the physician.
Can this be used while taking Homeopathic medicine?
Yes. This product does not react with homeopathic medicine.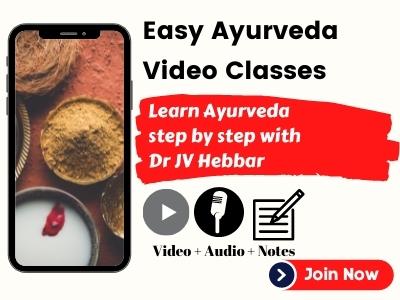 With supplements like multivitamin tablets, Omega 3 fatty acids etc?
Yes. Generally, this product goes well with most of the dietary supplements. However, if you are taking more than one product per day, please consult your doctor for an opinion.
Side effects
Simhanada Guggulu Side Effects:
There are no known side effects with this medicine. However it is best to use this product under medical supervision. Self medication with this medicine is discouraged.
Very high dose than prescribed may lead to stomach irritation.
Shloka – Sanskrit Verse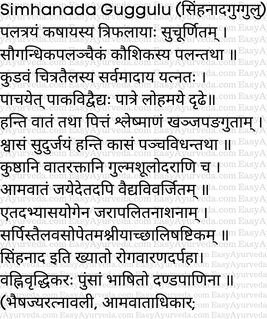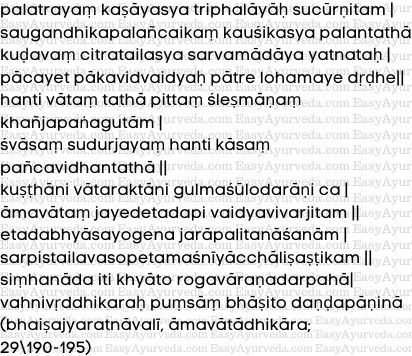 Contents
Simhanada Guggulu Ingredients:
Triphala
Haritaki – Terminalia chebula – Fruit rind – 48 grams
Vibhitaki – Terminalia bellirica – Fruit rind – 48 grams
Amla – Emblica officinalis – Fruit – 48 grams
Water for decoction – 576 ml
reduced to – 144 ml
Shuddha Gandhaka – Purified Sulphur – 48 grams
Guggulu – Purified Commiphora mukul – 48 grams
Chitra taila – Castor oil – Ricinus communis – 30 grams
Read – An Ancient Way Of Using Triphala As An Anti Ageing Remedy
Method of Preparation
Decoction of triphala is prepared, added with castor oil and heated. Purified gandhaka and guggulu are added and stirred continuously till it forms semisolid consistency. Then it is rolled into pills, dried and packed in a tightly closed containers.
Synonyms
Simhanada guggulu, Simhanada guggul, Simhanad guggulu
Reference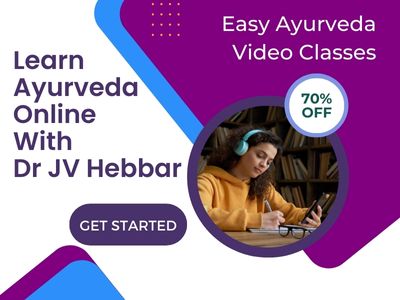 Bhaishajya Ratnavali – Amavata adhikara 130 – 135