Vidaryadi Kashayam is a very famous Ayurvedic medicine in liquid form. It is also known as Vidaryadi kashaya, etc. It is used in respiratory conditions.
Uses
Vidaryadi Kashayam benefits:
It is widely used in the Ayurvedic treatment for myalgia, inflammatory conditions, bronchitis, asthma, cold and cough. It is a good cardiac tonic, and is nourishing.
Good for avoiding complications and for speedy recovery after delivery.
Doctors also use this for the treatment of
hyperthyroidism.
Indications
Doctors also this for treating:
Post injury recovery time – such as after an accident
Neurological conditions.
>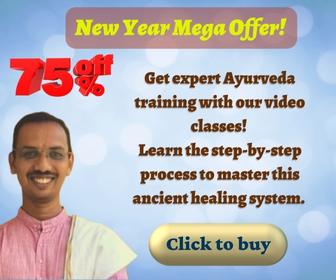 Effect on Tridosha – Calms Vata and Pitta
Contents
Vidaryadi Kashayam Ingredients:
This kashayam is prepared from the Vidaryadi Gana explained in Ashtanga Hrudayam
Vidari – Pueraria tuberosa
Panchangula – Ricinus communis
Vrishchikali – Gymnema sylvestre
Vrischiva – Boerhaavia diffusa
Devahva – Cedrus deodara
Mashaparni – Teramnus labialis Spreng
Mudgaparni – Phaseolus trilobus
Kandukari – Mucuna pruriens
Abheeru – Crotalaria verrucosa / Asparagus racemosus
Veera – Roscoea purpurea Royle / Ipomoea mauritiana Jacq./ paniculata R. Br
Jeevanti – Holostemma ada-kodien Schultes
Jeevaka – Malaxis acuminata D.Don / Microstylis wallichii Lindl. (Reference)
Rishabhaka – Manilkara hexandra (Roxb.) Dubard / Mimusoops hexandra Roxb.
Brihati – Solanum indicum Linn.
Prishnaparni – Uraria picta
Shalaparni – Desmodium gangeticum
Gokshura – Tribulus terrestris
kantakari – Solanum xanthocarpum
Shweta Sariva – Cordia wallichii / dichotoma / myxa Linn./ latifolia Roxb.
Tripadi – Hamsaraja – Adiantum philippense Linn. / lunulatum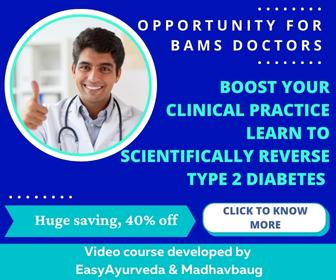 It is added with 8 parts of water, boiled and reduced to quarter part, filtered.

Manufacturers:
Nagarjuna – Vidaaryaadi Kashaayam
Reference
Ashtangahrudayam Sutrasthana 15/9 – 10
Note: Same Vidaryari Group of herbs is used to prepare Ghrita preparation called as Vidaryadi Ghritham.
Shloka, Sanskrit Verse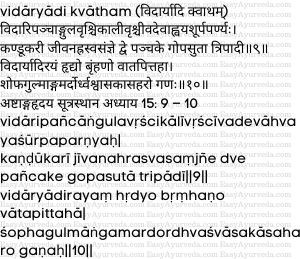 Dosage
Vidaryadi Kashayam dose:
The dose is 12 – 24 ml, before food, at about 6 – 7 am and 6 – 7 pm or as directed by Ayurvedic doctor.
It is usually advised to add equal amount of water to the kashayam.
It is also available in Tablet form, called Vidaryadi Kwatham tablet / Vidaryadi kashayam tablet.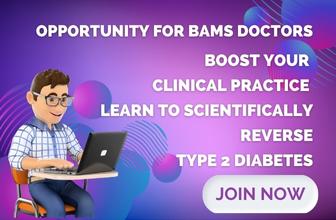 Vidaryadi Kashayam tablet is the same medicine in tablet form. Its dose is 2 tablets 2 times a day after food.
Vidaryadi Kwatha churna is the herbal coarse powder of the above herbs.
With western medicines
Seek your doctor's advice if you are taking this product along with other western (allopathic/modern) medicines. Some Ayurvedic herbs can interact with modern medicine.
If both Ayurvedic and allopathic medicines are advised together, then it is best to take allopathic medicine first, wait for 30 minutes and then, after a gap of 15 – 30 minutes, take Ayurvedic medicine or as directed by the physician.
Can this be used while taking Homeopathic medicine?
Yes. This product does not react with homeopathic medicine.
With supplements like multivitamin tablets, Omega 3 fatty acids etc?
Yes. Generally, this product goes well with most of the dietary supplements. However, if you are taking more than one product per day, please consult your doctor for an opinion.
Adjuvant
Saindhava lavana – Rock salt in case of digestive problems.
Vayu gulika in case of abdominal colic and gastritis
And Gritha for the purpose of noiurishment.
Side Effects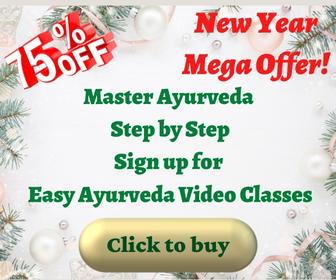 There are no known side effects with this medicine. However it is best to use this product under medical supervision. Self medication with this medicine is discouraged.