Triphala Guggul is a very famous Ayurvedic medicine in tablet form. It is also known as Triphala Guggulu tablets, Triphala Gulgulu etc. This tablet has Guggulu (commiphora mukul) as its base.It is widely used in the Ayurvedic treatment for weight loss.
Uses
Triphala Guggul benefits:
It is widely used in the Ayurvedic treatment of weight loss, piles, fistula and inflammatory conditions.
Traditional indications
Fistula in ano – Bhagandhara
Abdominal tumor, distension – Gulma
Oedema, swelling, inflammatory conditions – Shotha
Hemorrhoids – Arsha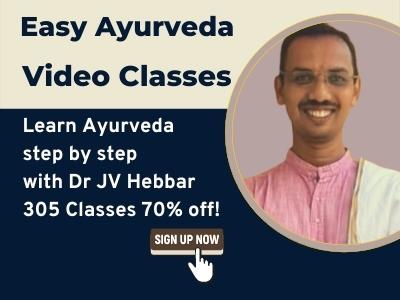 Effect on Tridosha – Balances all the three Doshas.
Triphala guggul for weight loss:
In Ayurvedic practice, it is widely used for weight loss treatment, since it has the Triphala advantage, which helps to control cholesterol.
Dose
Triphala Guggul dosage:
1 – 2 tablets 2 – 3 times a day, before or after food or as directed by Ayurvedic doctor.
How long to continue?
It can be continued for a period of 3 – 4 months time, under doctor's advice.
With western medicines
Seek your doctor's advice if you are taking this product along with other western (allopathic/modern) medicines. Some Ayurvedic herbs can interact with modern medicine.
If both Ayurvedic and allopathic medicines are advised together, then it is best to take allopathic medicine first, wait for 30 minutes and then, after a gap of 15 – 30 minutes, take Ayurvedic medicine or as directed by the physician.
Can this be used while taking Homeopathic medicine?
Yes. This product does not react with homeopathic medicine.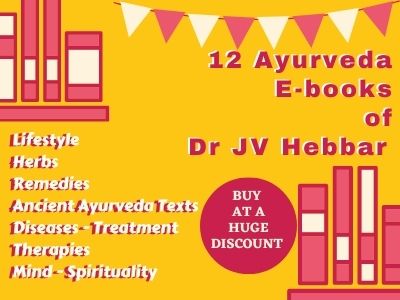 With supplements like multivitamin tablets, Omega 3 fatty acids etc?
Yes. Generally, this product goes well with most of the dietary supplements. However, if you are taking more than one product per day, please consult your doctor for an opinion.
Side effects
Triphala Guggul Side Effects:
There are no known side effects with this medicine.
Very high dose than prescribed may lead to stomach irritation.
Store in a cool dry place, away from sunlight.
Keep out of reach and sight of children.
Seek your doctor's advice for its usage during pregnancy.
This product can be safely used during lactation period and in children for a limited period of few weeks time.
Contents
Triphala Guggul Ingredients: 
Haritaki – Terminalia chebula – Fruit rind – 48 g
Vibhitaki – Terminalia bellirica – Fruit rind – 48 g
Amalaki – Emblica officinalis – Fruit – 48 g
Krishna – Piper longum – Long pepper – Dry fruits – 48 g
Guggulu – Purified Commiphora mukul – 5 X 48 grams = 240 g
Method of Preparation
Ingredients from Haritaki to Krishna is powdered and weighed separately. Crushed purified guggulu is added with powdered ingredients and pounded well till it forms semi solid consistency. Ghee can be added at regular interval to facilitate smooth pounding. When required consistency is obtained, it is rolled into pills, dried and packed in a tightly closed container.
Shloka- Sanskrit verse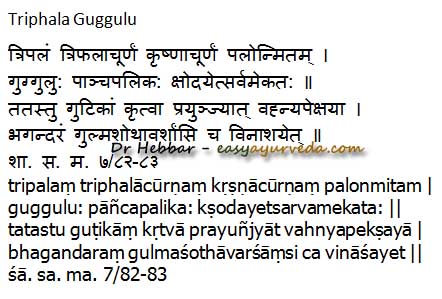 Reference
Sharangdhara Samhita madhyamakhanda 7/82-83
Triphala Guggulu DS tablet is the same medicine in double strength. Dose is usually 1 tablet 2 times a day after food.
Divya Triphala Guggul is the same product manufactured by Ramdev pharmacy.
Thriphala Gulgulu Gulika manufactured by Nagarjuna pharmacy.
How does it work in hemorrhoids?
Hemorrhoids patients often suffer from constipation. Triphala helps to relieve constipation, soothes the mucous layer and Guggulu helps in shrinking the size of the pile mass and to relieve inflammation.
Shelf life
5 years from the date of manufacturing.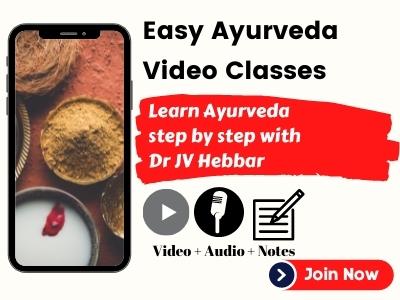 Proprietary Ayurvedic medicines with Triphala Gulgulu as ingredient:
Farid DS Tablet – Manufactured by Akshay Pharma Remedies. It is the anti-obesity medicine. Useful to reduce belly fat and weight.