Vasarishtam is a famous Ayurvedic liquid medicine. Its main ingredient is Vasaka – Malabar nut. It is a ptoent mucolytic and anti asthmatic. Hence Vasakasava is used in many respiratory conditions. It is also known by the terms – Vasakasavam, Vasakasav, Vasakarishta, Vasarishta, vasarista, Vasakadyarishtam etc.
Uses
Vasarishtam uses:
It is used in the treatment of cold, cough, bronchitis, inflammation and bleeding diseases- haemoptysis and raktapitta.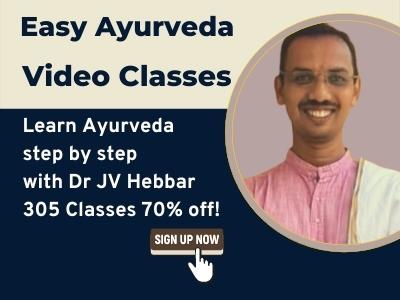 Doctors also use this for the treatment of
eosinophilia, allergic rhinitis, cold, cough etc.
It is useful to promote strength of bones and joints.
It acts as an excellent anti inflammatory and analgesic mediicne.
It is used for the treatment of ankle pain, ankle twitch, slipped disc, sprain, back spasm, backache, back injury, stiffness of muscles, Coccyx pain
Partially useful in (other medications might be required)
Avascular necrosis
Sensory-neural hearing loss
Hypothyroidism
Ankylosing spondylitis
Pain related to SLE
Diet
Avoid deep fried foods, heavy-to-digest non veg foods, fast foods and aerated drinks, smoking and excess alcohol. These can irritate stomach and intestinal lining. These also may increase Tridosha.
Contents
Vasarishtam ingredients:
Vasaka plant – Malabar nut is cut into coarse powder – 9.6 kg added to 24.576 liters of water, boiled and reduced to 6.144 liters. Filtered. Thus Vasa Kashaya is obtained. This is added with
Jaggery – 4.8 kg
Dhataki – Woodfordia fruticosa – 384 g
Cinnamon – 48 g
Cardamom – 48 g
Patra – Cinnamomum tamala – 48 g
Nagakeshara – Mesua ferrea – 48 g
Kankola – Piper cubeba – 48 g
Trikatu – Pepper, long pepper and ginger – 48 g
Hribera – Pavonia odorata – 48 g
These ingredients are kept closed in an air tight container for fifteen days, during which fermentation takes place. After 15 days, the contents are filtered to obtain Vasarishtam, Ccllected in air tight container.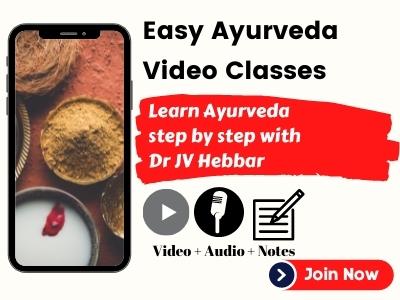 Reference, Manufacturer
Vasakasava reference: Gada Nigraha Prayoga Khanda, Asava Adhikara 152 – 154

Manufactured by:
Nagarjuna – Vaashaarishtam
Shloka, Sanskrit Verse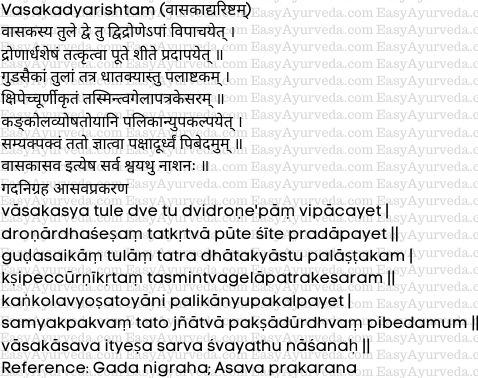 Dosage and pathya
Vasarishtam dose: 12 – 24 ml once or twice daily, or as directed by Ayurvedic Physician.
Pathya: Sour food is to be strictly avoided.
With western medicines
Seek your doctor's advice if you are taking this product along with other western (allopathic/modern) medicines. Some Ayurvedic herbs can interact with modern medicine.
If both Ayurvedic and allopathic medicines are advised together, then it is best to take allopathic medicine first, wait for 30 minutes and then, after a gap of 15 – 30 minutes, take Ayurvedic medicine or as directed by the physician.
Can this be used while taking Homeopathic medicine?
Yes. This product does not react with homeopathic medicine.
With supplements like multivitamin tablets, Omega 3 fatty acids etc?
Yes. Generally, this product goes well with most of the dietary supplements. However, if you are taking more than one product per day, please consult your doctor for an opinion.
Side effects
Vasarishta side effects: There are no known side effects with this product. Higher doses is best avoided. Better to use this product only under medical supervision.