Lohasava is an Ayurvedic medicine for Anemia. It is a liquid Ayurvedic medicine. It contains naturally processed Iron.
Lohasava contains 4 – 10 % of self generated alcohol in it. This self generated alcohol and the water present in the product acts as a media to deliver water and alcohol soluble the active herbal components to the body.
Reference
Sharangdhara Samhita ma. 10/34-38
Dose
12 – 24 ml. one or two times a day, usually advised after food.
If needed, it can be mixed with equal quantity of water.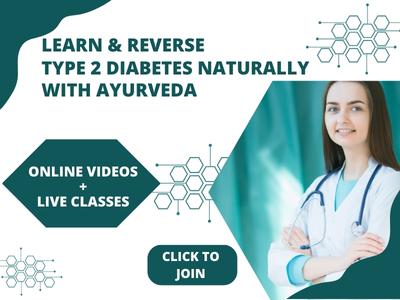 With western medicines
Seek your doctor's advice if you are taking this product along with other western (allopathic/modern) medicines. Some Ayurvedic herbs can interact with modern medicine.
If both Ayurvedic and allopathic medicines are advised together, then it is best to take allopathic medicine first, wait for 30 minutes and then, after a gap of 15 – 30 minutes, take Ayurvedic medicine or as directed by the physician.
Can this be used while taking Homeopathic medicine?
Yes. This product does not react with homeopathic medicine.
With supplements like multivitamin tablets, Omega 3 fatty acids etc?
Yes. Generally, this product goes well with most of the dietary supplements. However, if you are taking more than one product per day, please consult your doctor for an opinion.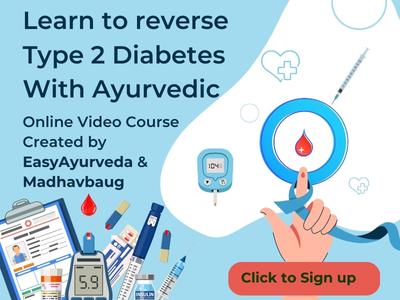 Uses
It is used as Ayurvedic medicine for Anemia. Apart from anemia, lohasava is also used in the treatment of swelling, inflammation, liver and spleen conditions, itching, diabetes, gulma, ascites, piles, asthma, anorexia,cough, fistula, grahani and certain digestive diseases. Increase digestion quickly. Gradually improves pallor.
Watch video
Doctors also prescribe Lohasav for the treatment of
Blemishes, dark circles
Acne
Hair loss, excess hair fall, early grey hairs due to malnutrition.
Traditional uses of Lohasava:
Very useful to improve digestion strength and metabolism – Vahnikaram param
Useful medicine for anemia – Pandu
Useful in many inflammatory conditions – Shvayathu
Useful in abdominal tumors, distension – Gulma
Useful to relieve abdominal colic. – Jatara Ruja
Relieves pain and inflammation of piles – Arshas Ruja
Used extensively in treatment of many skin disorders – Kushta
Useful in splenomegaly – Pleeha
Useful in pruritis, itching – Kandu
Useful in cough, cold – Kasa
Useful in wheezing, asthma – Shvasa
Useful in fistula in ano – Bhagandhara
Useful in anorexia – Arochaka
Malabsorption syndrome, IBS – Grahani
Cardiac disorder, arrhythmia – Hrudroga
Side effects
Lohasava contains Iron.
In some people, it can cause constipation.
Accidental overdose in children below 6 may cause fatal poisoning symptoms. Lohasava should always be taken under medical supervision and preferably after food.
High dose in adults may cause gastritis and vomiting.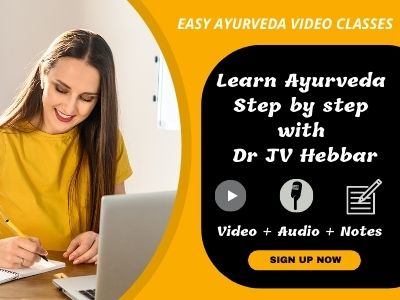 Ingredients
Shodhita Loha (Purified, herbal processed Iron) – 192 g
Shunti – Ginger – Rhizome – 192 g
Black pepper – Piper nigrum – Fruit – 192 g
Long pepper – Piper longum – Fruit – 192 g
Haritaki (Terminalia chebula) – Fruit rind – 192 g
Vibhitaki (Terminalia bellierica) – Fruit rind – 192 g
Amla – Indian Gooseberry – Emblica officinalis – Fruit – 192 g
Yavani (Trachyspermum ammi) – Fruit – 192 g
Vidanga (Embelia ribes) – Fruit – 192 g
Mustaka (Cyperus rotundus) – Rhizome – 192 g
Chitra – Eranda (Ricinus communis) – Root – 192 g
Dhataki (Woodfordia fruticosa) – Flower – 960 g
Honey – 3.072 kg
Jaggery – 4.8 kg
Water – 24.576 liters
Method of manufacturing
All the herbs are taken in coarse powder form. First, jaggery is mixed with water, dissolved and filtered for waste particles. It is added with rest of the ingredients, and kept for fermentation, in a clean air tight vessel. After fermentation completion, the contents are filtered and the obtained liquid is Lohasava.
Shloka- Sanskrit verse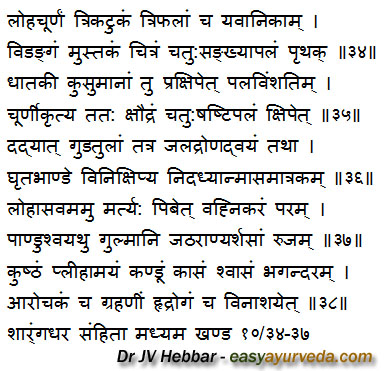 Safe for kids?
It is safe to use this medicine in lower dose, in children above 5 years of age.
Accidental over-dosage in children may lead to sever side effects. Hence, must be avoided.
Pregnancy and lactation –
During pregnancy it is best to take only under medical supervision. Self medication during pregnancy should be avoided.
It can be taken during lactation period, under doctor's advice, for a short period of time.
Manufacturers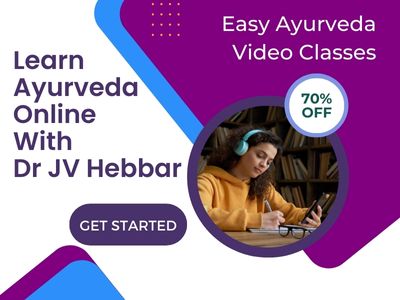 Kerala Ayurveda Ltd., Zandu, Sandu, Dabur, Baidyanath, Arya Vaidya Sala, AVP, Nagarjuna – Lohaasavam
Expiry date: 10 years from the date of manufacture.
Storage: Store in a cool place in tightly closed amber coloured bottle, protect from light and moisture.