Balarishta is a liquid Ayurvedic medicine used mainly in neurological conditions. vata imbalance. Balarista contains 5 – 10 % of self generated alcohol in it. This self generated alcohol and the water present in the product acts as a media to deliver water and alcohol soluble the active herbal components to the body.

Reference
Bhaishajya Ratnavali Vatavyadhi 569 – 572
Uses
It is used in the treatment of Vata imbalance diseases such as neuralgia, hemiplegia, paraplegia, arthritis, spondylosis etc.
It is also a very good nervine tonic.
It improves strength of nerves, muscles and bones.

Traditional description of health benefits
Improves strength – Balavardhana
Improves body nourishment – Pushtivardhana
Improves digestion strength. – Agnivardhana
Post viral fever, when the patient complains of body, muscle and joint pains
Bursitis,
Bursitis trochanterica,
Shoulder dislocation pain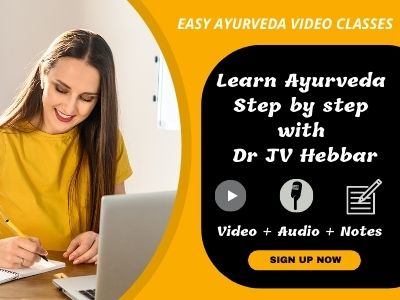 It is useful to promote strength of bones and joints.
It acts as an excellent anti inflammatory and analgesic medicine.
It is used for the treatment of ankle pain, ankle twitch, slipped disc, sprain, back spasm, backache, back injury, stiffness of muscles, Coccyx pain
Partially useful in (other medications might be required)
Avascular necrosis
Sensory-neural hearing loss
Hypothyroidism
Ankylosing spondylitis
Pain related to SLE
Diet
Avoid deep fried foods, heavy-to-digest non veg foods, fast foods and aerated drinks, smoking and excess alcohol. These can irritate stomach and intestinal lining. These also may increase Tridosha.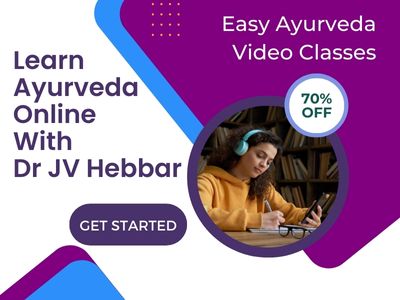 Dose
12 – 24 ml. one or two times a day, usually advised after food. If needed, it can be mixed with equal quantity of water.
With western medicines
Seek your doctor's advice if you are taking this product along with other western (allopathic/modern) medicines. Some Ayurvedic herbs can interact with modern medicine.
If both Ayurvedic and allopathic medicines are advised together, then it is best to take allopathic medicine first, wait for 30 minutes and then, after a gap of 15 – 30 minutes, take Ayurvedic medicine or as directed by the physician.
Can this be used while taking Homeopathic medicine?
Yes. This product does not react with homeopathic medicine.
With supplements like multivitamin tablets, Omega 3 fatty acids etc?
Yes. Generally, this product goes well with most of the dietary supplements. However, if you are taking more than one product per day, please consult your doctor for an opinion.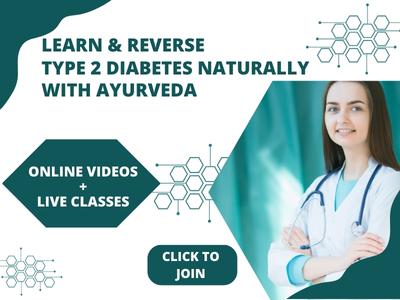 Watch video
Side effects
Large dose of Balarishta or taking balarista before food on empty stomach may cause stomach irritation and stomach upset.
How long to use?
Based on doctor's prescription, this medicine can be used for 2 weeks to 4 months.
Safe for kids?
It is safe to use this medicine in lower dose, in children above 5 years of age.
Pregnancy and lactation –
During pregnancy, it is best to avoid this / take this only under medical supervision.
During lactation period, it can be taken in lower doses, based on doctor's advice.
Ingredients
Bala (Sida cordifolia) – root / whole plant – 4.8 kg
Ashwagandha (Withania somnifera) – root – 4.8 kg
water for decoction – 49.152 liters, boiled and reduced to 12.288 liters.
Jaggery – 14.400 kg
Dhataki (Woodfordia fruticosa) – flower – 768 g
Payasya (Ipomea digitata) – root /whole plant – 96 g
Eranda (Ricinus communis) – root – 96 g
Rasna (Pluchea lanceolata) – root – 48 g
Cardamom – 48 g
Prasarini (Paederia foetida) – root – 48 g
Clove (Syzgyium aromaticum) – flower bud – 48 g
Usheera (Vetiveria zizanioides) – 48 g
Gokshura (Tribulus terrestris) – whole plant / fruit – 48 g
Shloka- Sanskrit verse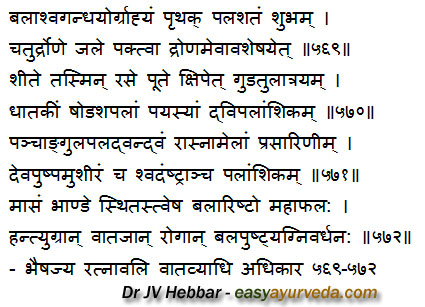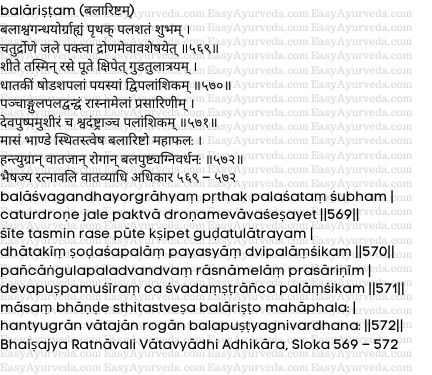 Method of manufacturing:
Coarse powders of Bala and Ashwagandha are added to water, boiled and filtered. To this Kashayam, jaggery is added, filtered for impurities. Rest of the ingredients are added and kept closed in an air tight container for a month time. After fermentation, the liquid is filtered and stored in air tight container.
Manufacturers: Dabur, Baidyanath, Arya Vaidya Sala, AVP,
Nagarjuna – Balaarishtam
Expiry date: 10 years from the date of manufacture.
Storage: Store in a cool place in tightly closed amber coloured bottle, protect from light and moisture.
For gym goers
This product can be taken by people going to gym regularly. It helps to strengthen joints, nerves, muscles and tendons. It accelerates the injury healing process due to potent anti inflammatory, anti oxidant, anti stress and analgesic properties.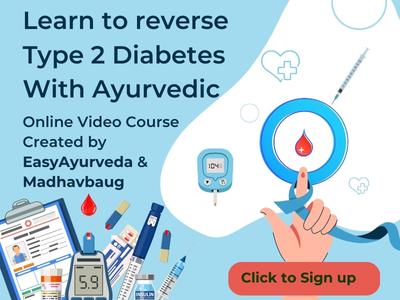 Is Balarisht useful in muscle cramps?
Balarishta is useful to improve muscle strength. It is also useful in relieving pain and inflammation. Being a very good nervine tonic, it is useful in muscle cramps.