Aravindasavam is a liquid Ayurvedic medicine used in children to improve digestion, body weight and strength. It is also used as a general tonic for all childhood complaints.

Reference
Bhaishajya ratnavali, Balaroga context 185 – 189
Uses
Aravindasavam is used children's problems like child does not eat well, lack of proper body weight, lack of strength.
It is also used in treating Grahadosha – psychological problems of children like – crying without reason, throwing tantrums etc.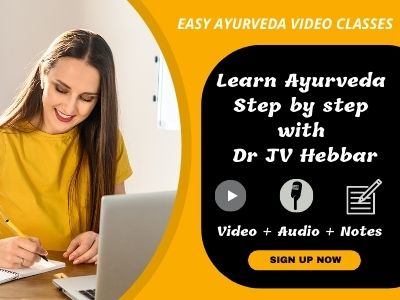 Dose
3 – 12 ml once or twice a day, after food with equal quantity of water or as directed by Ayurvedic expert.
With western medicines
Seek your doctor's advice if you are taking this product along with other western (allopathic/modern) medicines. Some Ayurvedic herbs can interact with modern medicine.
If both Ayurvedic and allopathic medicines are advised together, then it is best to take allopathic medicine first, wait for 30 minutes and then, after a gap of 15 – 30 minutes, take Ayurvedic medicine or as directed by the physician.
Can this be used while taking Homeopathic medicine?
Yes. This product does not react with homeopathic medicine.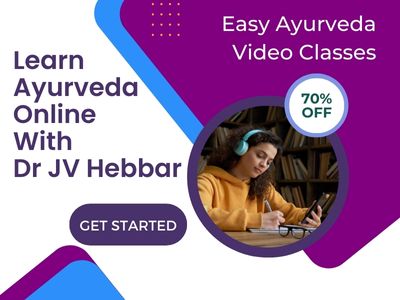 With supplements like multivitamin tablets, Omega 3 fatty acids etc?
Yes. Generally, this product goes well with most of the dietary supplements. However, if you are taking more than one product per day, please consult your doctor for an opinion.
Side effects
High dose may cause gastric irritation. It is better to avoid giving this before food.
In some children, this is known to cause loose stools – 2 – 3 times in a day.

How long to use?
Based on doctor's prescription, this medicine can be used for several months.
From which month we can give Arvindasav to new born baby and how much per day?
Aravindasava is used as medicine, only when there is requirement. No need to give it on a daily basis.
It is best to use it in babies above 1 year, only under medical prescription

Ingredients
Aravinda (lotus – Nelumbo nucifera) – Flower – 48 g
Usheera (Vetivera zizanioides) – Root – 48 g
Kashmari (Gmelina arborea) – Fruit – 48 g
Utpala (Nymphaea stellata) – Flower – 48 g
Manjishta (Rubia cordifolia) – Root – 48 g
Bala (Sida cordifolia) – Root – 48 g
Jatamansi (Nardostachys jatamansi) – Rhizome – 48 g
Ela – Cardamom – Seed – 48 g
Ambuda – Musta (Cyperus rotundus) – Rhizome – 48 g
Sariva (Hemidesmus indicus) – Root – 48 g
Shiva – Haritaki (Terminalia chebula) – Fruit – 48 g
Vibhitaki (Terminalia bellirica) – Fruit rind – 48 g
Vacha (Acorus calamus) – Rhizome – 48 g
Amalaki – Amla – Fruit – 48 g
Shati (Hedychium spicatum) – Rhizome – 48 g
Shyama – Trivrit (Ipomoea turpethum) – Root – 48 g
Neelini – Indigofera tinctoria – Root – 48 g
Patola (Trichosanthes dioica) – Leaf / Plant – 48 g
Parpata (Fumaria parviflora) – Whole plant – 48 g
Arjuna (Terminalia arjuna) – Stem Bark – 48 g
Madhuka (Madhuca indica) – Flower – 48 g
Yashti madhu (Licorice) – Root – 48 g
Mura (Selinium tenuifolium) – Root – 48 g
Draksha – Dry grapes – Fruit – 960 g
Dhataki (Woodfordia fruticosa) – Flower – 768 g
water – 24.576 liters
Sugar – 4.8 kg
Honey – 2.4 kg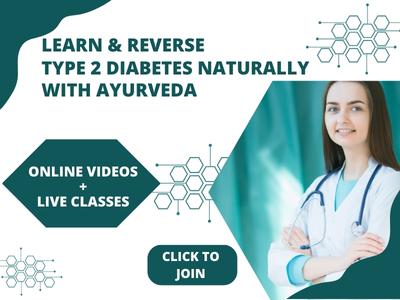 Method of manufacturing – sugar is dissolved in water, filtered. To it, coarse powder of rest of the ingredients and honey are added and mixed well. Kept sealed in a mud pot for 1 month for fermentation. It is then filtered and stored in air tight container.
Shloka- Sanskrit verse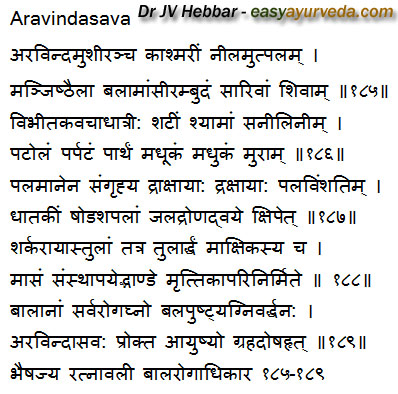 Traditional reference of product description: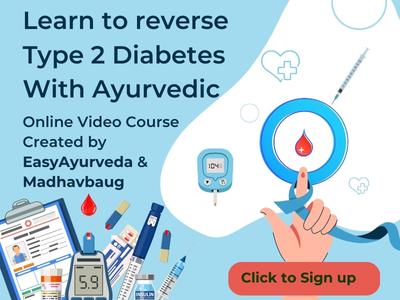 Expiry date of Aravindasavam: 10 years from the date of manufacture.
Storage: Store in a cool place in tightly closed amber coloured bottle, protect from light and moisture.

Manufactured By:
Nagarjuna – Aravindaasavam