Amritarishta is also known as Amrutarishta, Amritarishtam etc.
It is a liquid Ayurvedic medicine.
Amritarishta contains about 5 – 8 % of self generated natural alcohol in it. This self generated alcohol and the water present in the product acts as a media to deliver water and alcohol soluble the active herbal components to the body.
It is used in the treatment of all types of fever.
Uses
It is one of the widely used medicine in the treatment of chronic fevers, malaria, indigestion etc.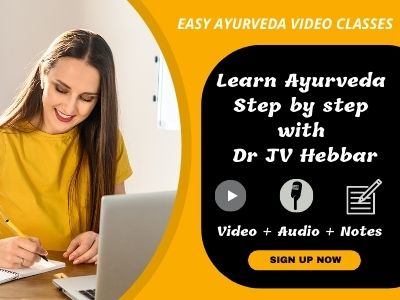 Doctors also use this for the treatment of-
Improving immunity in children and adults
Seasonal cold and cough
Dosage
12 – 24 ml. one or two times a day, usually advised after food.
If needed, equal quantity of water can be added before consumption.
With western medicines
Seek your doctor's advice if you are taking this product along with other western (allopathic/modern) medicines. Some Ayurvedic herbs can interact with modern medicine.
If both Ayurvedic and allopathic medicines are advised together, then it is best to take allopathic medicine first, wait for 30 minutes and then, after a gap of 15 – 30 minutes, take Ayurvedic medicine or as directed by the physician.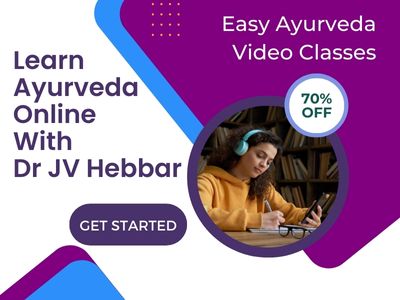 Can this be used while taking Homeopathic medicine?
Yes. This product does not react with homeopathic medicine.
With supplements like multivitamin tablets, Omega 3 fatty acids etc?
Yes. Generally, this product goes well with most of the dietary supplements. However, if you are taking more than one product per day, please consult your doctor for an opinion.
Watch Video
Adjuvants:
Usually advised along with other Ayurvedic medicines for fever such as
Vishamajwarantakam, Brihajjvarankusam, Sudarshana Churna, Sudarshana ghanavati, Mahasudarshana Churna, Vettumaran Gulika,etc. etc.
How long to use?
Based on doctor's prescription, this medicine can be used for 4 – 8 weeks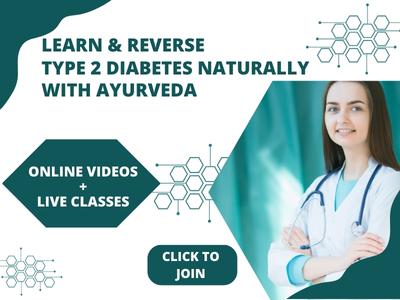 Ingredients
Amrita (Giloya – Indian tinospora) – Stem – 4.8 kg
Bilva (Bael – Aegle marmelos) – Stem bark / root – 480 g
Shyonaka (Oroxylum indicum) – Stem bark / root – 480 g
Gambhari (Gmelina arborea) – Stem bark / root – 480 g
Patala (Stereospermum suaveolens) – Stem bark / root – 480 g
Agnimantha (Premna mucronata) – Stem bark / root – 480 g
Shalaparni (Desmodium gangeticum) – Root / whole plant – 480 g
Prishnaparni (Uraria picta) – Root / whole plant – 480 g
Brihati (Solanum melongena var. Indicum) – Root / whole plant – 480 g
Kantakari (Solanum surattense) – Root / whole plant – 480 g
Gokshura – Tribulus terrestris – Root / whole plant – 480 g
water for decoction – 49.152 liters
Boiled and reduced to 12.288 liters
Guda – Jaggery – 14.4 kg
Prakshepa Dravya –
Ajaji – Shweta Jiraka – Cuminum cyminum – Fruit – 768 g
Raktapushpaka – Parpataka (Fumaria parviflora) – whole plant – 96 g
Saptacchada (Saptaparna) – Alstonia scholaris – Stem bark – 48 g
Shunti – Ginger – rhizome – 48 g
Maricha – Black pepper -Fruit – 48 g
Pippali – Long pepper fruit – 48 g
Nagakeshara (Mesua ferrea) – Stamen – 48 g
Abda – Musta (Cyperus rotundus) – 48 g
Katuki (Picrorrhriza kurroa) – Rhizome – 48 g
Prativisha – Ativisha (Aconitum heterophyllum) -Root – 48 g
Vatsabeeja – Indrayava (Holarrhena antidysenterica) – Seed – 48 g

Method of manufacturing:
The first 11 ingredients are taken in coarse powder form added with specified water, boiled and reduced to a quarter part and filtered. To this Kashayam, jaggery is powdered and added, filtered once.
To this, rest of the ingredients are added and top is sealed and kept for fermentation for one month.
After a month time, the contents are filtered and the clear liquid is preserved in air tight container and used.
Sanskrit verse Shloka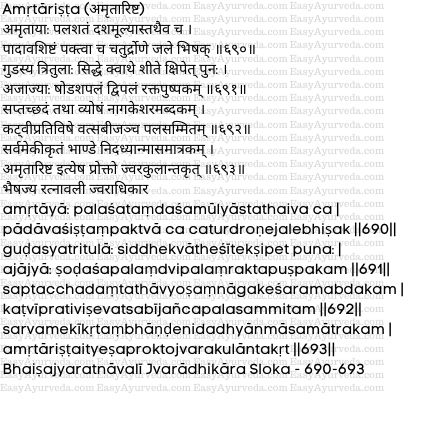 Traditional Reference
Bhaishaj Ratnavali Jvaradhikara – 1257-1260 – By Ambika Datta Shastri.
1239-1242 shloka. Author prof siddhanand mishra, chaukamba surabharati prakashan, reprint2007, pg no. 204
Side Effects
Amritarisht side effects
A very high dose of 50 ml or more may cause stomach irritation.
Safe for kids?
Safe in lower doses for kids above 3 years of age. Accidental over-dosage should be strictly avoided.
Pregnancy and lactation:
Best to avoid during pregnancy, however can be taken after consulting doctor. Can be taken during lactation period, after consulting doctor.
How long does it take to start showing results?
Depends on the dosage and other products suggested with this. Usually 1 – 2 weeks time.
Can this product be taken along with Allopathic medicines (English medicines)?
It may react with some medicines. Consult your doctor for the right advice. When English and Ayurvedic medicines are advised together, it is best to take English medicine first, give a gap of half an hour and then take Ayurvedic medicines.
Can it be used in people with diabetes?
Yes. But an eye should be kept on the blood sugar level. Your doctor should help you in this regard. This product can alter blood sugar levels.
It is sold in plastic bottles. Is it fine?
If the quality of the bottle material is very good, it should not be problem, if stored for a short period of time.
Can this be taken without consulting a doctor?
No. In many cases, this product alone might not work. More often this is given in combination with a few Ayurvedic medicines. Your Ayurveda practitioner will be the best judge to decide on those things.
Can one take non vegetarian food while taking this medicine?
Yes, unless your practitioner has asked to avoid it.
Is there any Pathya (diet rules to be followed while taking this product?
No product specific diet is mentioned. If the practitioner has advised diet control based on disease, one has to follow that.
Avoid excess spicy foods, junk foods, aerated drinks, frozen and canned foods
Can this be taken while taking multivitamin tablets?
Yes, generally. Your consulting doctor will be good judge on this topic.
Does it cause weight gain?
Since most of the ingredients are bitter, cleansing and detoxifying in nature, this product does not cause weight gain.
Using Amritarishtam for dengue:
Amritarishta is a commonly prescribed medicine for fever, including dengue. It is effective in controlling the body temperature and improving immunity. But it is not a direct medicine to treat or cure dengue.
Is it useful in improving platelet count?
It is not directly useful to improve platelet count.
Expiry, Storage, Manufacturer
Expiry date: 10 years from the date of manufacture.
Storage: Store in a cool place in tightly closed amber coloured bottle, protect from light and moisture.
Manufacturers: Nagarjuna Ayurvedic Group – Amruthaarishtam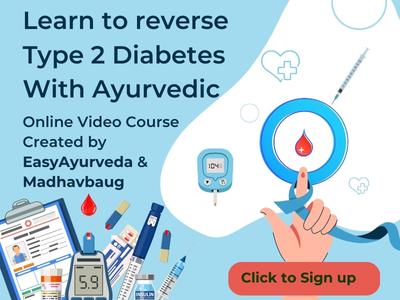 Is it useful in sinusitis, cold and cough?
Because it contains potent anti inflammatory ingredients like Giloy and Dashamoola, it is used as a co-medicine for treating sinusitis, cold and cough.