Varuni tailam is an Ayurvedic herbal oil, used orally for the treatment of parkinson's disease, tremors of hands, neck etc. It is manufactured by SNA Aushadha Shala.
Benefits
Benefits of Varuni tailam:
Hastakampa – tremors and shivering of hands
Manya Shirakampa – tremors of head and neck
Application on feet
Oil application over feet
Precaution if you apply this oil over feet:
If you apply this oil on feet, make sure to wash off thoroughly with water or wipe off with cloth. The oil can make you slippery while walking.
After applying, make sure there are no oil spills on the floor. This can make the floor slippery.
Ingredients
Ingredients of Varuni Tailam:
Varuni = Indravaruni – Colocynth – Citrullus colocynthis
Auttara Moola
Water
Tilataila – sesame oil
Dose
Dose:
5 – 10 ml of oil is administered along with food once or twice a day as directed by Ayurvedic doctor.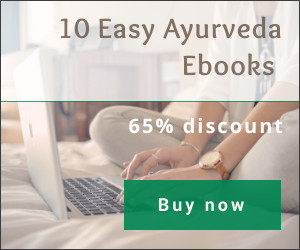 Effect on Tridosha
Balances Vata Dosha.
Side effects
Side effects:
There are no known side effects with the medicine.
It is best to avoid this medicine during pregnancy.
Consult your doctor before using it during lactation and in children.
Store in a cool dry place.
Keep out of reach and sight of children.
Sanskrit verse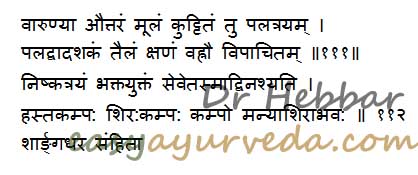 Reference, manufacturer
Reference: ts reference is found in Sharangdhara Samhita.
Manufacturer: SNA Aushadha Shala
During pregnancy, lactation
If you were using this oil before pregnancy without any allergic reaction, you can continue using this oil even during pregnancy.
If you have not used this product before and wish to use it during pregnancy, better to consult a doctor because it can cause skin allergy in some rare cases.
It is generally considered as safe to use during lactation, however consult your doctor for the right advice.
Can this product be applied after steam therapy?
No. Oil is best applied before steam therapy. This is as per basic Ayurvedic principles.