Vasakasav is a fermented, liquid Ayurveda medicine used for treating different types of inflammation and swollen conditions.
Vasakasavam contains about 5 – 7 % of self generated natural alcohol in it. This self generated alcohol and the water present in the product acts as a media to deliver water and alcohol soluble the active herbal components to the body.
Ingredients
Vasakasava ingredients:
Vasa – Adhatoda vasica – 2 Tula – 9.6 kg
Water – 2 Drona – 24.576 liters
Guda – Jaggery – 1 Tula – 4.8 kg
Dhataki – Woodfordia fruticosa – 8 Pala – 384 g
48 g of each of
Tvak – Cinnamon
Ela – Cardamom
Patra – Cinnamomum tamala
Kamkola – Piper cubeba
Vyosha – Trikatu – Pepper, long pepper and ginger
Toya – Pavonia odorata
Naming exception
Usually, the fermented liquids that are manufactured without the involvement of heating process are suffixed with asava. But Vasakasava is an exception for this rule.
Method of preparation
Method of manufacturing:
The coarse powder of Vasa is added with said amount of water, boiled in a wide mouthed vessel to a quarter part. Filtered. To this Kashayam, jaggery is added, heated and mixed well.
Filtered again.
Fine powder of rest of the ingredients is added inside a vessel smeared inside with ghee.
The vessel is sealed and kept for fermentation for 15 days.
After confirming completion of fermentation, it is filtered and stored in clean air tight container.
Uses, dose, duration of use
Indication:
Shvayathu – Edema -All diseases involving swelling, edema and inflammation.

Dosage: 12 – 24 ml. one or two times a day, usually advised after food.
If needed, equal quantity of water can be added before consumption.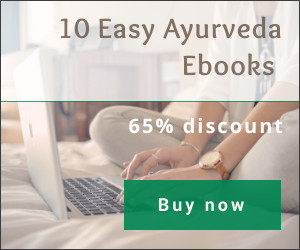 How long to use?
Based on doctor's prescription, this medicine can be used for several months.
Sanskrit verse, reference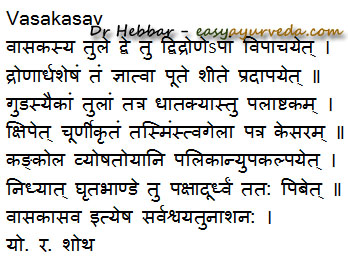 Reference: Yogaratnakara Shotha Roga Chikitsa
Side effects, shelf life, manufacturer
Vasakasav side effects:
High dose may cause burning sensation, stomach disturbances.
It can be administered during lactation and in children in lower doses for limited period of time.
Seek medical guidance for its use during pregnancy.

Shelf life: 10 years from the date of manufacturing.
Manufacturer: Sandu