Virechana Gulika is an Ayurvedic medicine,in tablet form, used for the purpose of Virechana – a purgative Panchakarma treatment. This product is formulated based on Kerala Ayurvedic principles, manufactured by Arya Vaidya Sala, Kottakkal.
Benefits
Virechana Gulika benefits:
It helps to relieve constipation. It is used in Virechana panchakarma therapy.
It helps to relieve constipation, bloating and excess gas build-up.
Dose, adjuvants
Virechana Gulika Dose: the dose of this tablet is based on the expertise and judgement by the doctor.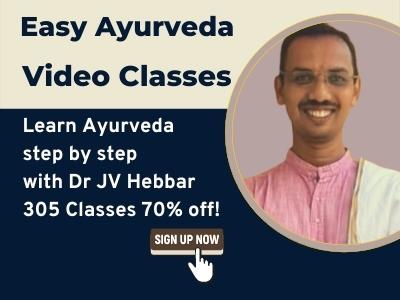 Adjuvant-
Jaggery
Lukewarm water or fresh ginger juice extract.
Cold water may continue to be taken until the purge has been satisfactory.
When satisfied, take hot water or take a meal of rice with butter milk.
With western medicines
Seek your doctor's advice if you are taking this product along with other western (allopathic/modern) medicines. Some Ayurvedic herbs can interact with modern medicine.
If both Ayurvedic and allopathic medicines are advised together, then it is best to take allopathic medicine first, wait for 30 minutes and then, after a gap of 15 – 30 minutes, take Ayurvedic medicine or as directed by the physician.
Can this be used while taking Homeopathic medicine?
Yes. This product does not react with homeopathic medicine.
With supplements like multivitamin tablets, Omega 3 fatty acids etc?
Yes. Generally, this product goes well with most of the dietary supplements. However, if you are taking more than one product per day, please consult your doctor for an opinion.
Sanskrit verse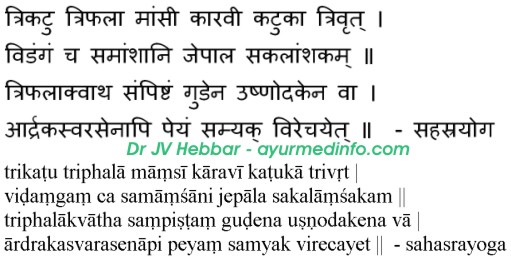 Ingredients, method of preparation
Virechana Gutika ingredients:
1 part each of
Trikatu – pepper, long pepper and ginger
Triphala
Mamsi – Nardostachys jatamansi
Jatamamsi – Nardostachys jatamansi
Karavi – Black Cumin – Nigella sativa
Katuki – Picrorhiza kurroa
Trivrit – Operculina turpethum
Vidanga – False black pepper – Embelia ribes
Jaipala beeja – seed of Croton tiglium – 1/16th part of the above total.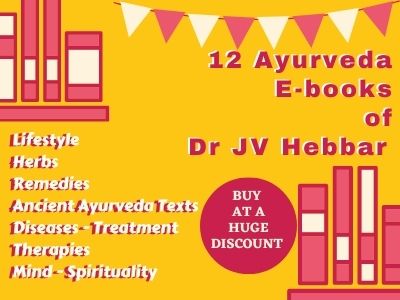 The powder of above herbs is pounded with Triphala kashaya and pills are prepared.
The pills are administered along with jaggery, lukewarm water or fresh ginger juice extract.
Side effects and precaution
Side effects:
This product may cause severe diarrhoea with abdominal twitching pain.
This product should only be used under strict medical supervision.
This should be avoided in children, pregnant and lactating mothers.
Keep out of reach and sight of children.
Store in cool dry place.
Stick to the dosage prescribed by the doctor. Do not overdose.
Manufacturer, shelf life, package
Manufacturers:
Asoka Pharmaceuticals, Arya Vaidya Sala – Kottakkal
Shelf life:
3 years from the date of manufacture.
Presentation:
Bottle of 100 tablets (Kottakkal)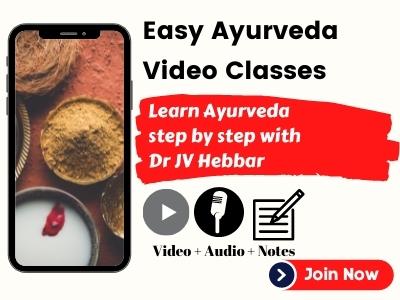 Read more about constipation: