Suryaprabha gulika is an Ayurvedic medicine in tablet form, used in fever and respiratory conditions. This product should be used carefully. This product is formulated based on Kerala Ayurvedic principles.
Uses
Suryaprabha Gulika uses:
It is used in Ayurvedic treatment of
Shoola – abdominal colic pain
Kasa – cough, cold
Shwasa – asthma, bronchitis
Mahajwara – chronic fever, recurrent fever
Dose
Surya Prabha Dose: 1 tablets two or three times a day, after food or as directed by Ayurvedic doctor.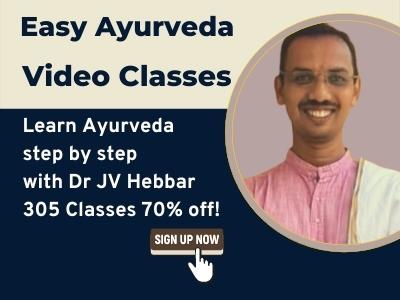 With western medicines
Seek your doctor's advice if you are taking this product along with other western (allopathic/modern) medicines. Some Ayurvedic herbs can interact with modern medicine.
If both Ayurvedic and allopathic medicines are advised together, then it is best to take allopathic medicine first, wait for 30 minutes and then, after a gap of 15 – 30 minutes, take Ayurvedic medicine or as directed by the physician.
Can this be used while taking Homeopathic medicine?
Yes. This product does not react with homeopathic medicine.
With supplements like multivitamin tablets, Omega 3 fatty acids etc?
Yes. Generally, this product goes well with most of the dietary supplements. However, if you are taking more than one product per day, please consult your doctor for an opinion.
Sanskrit verse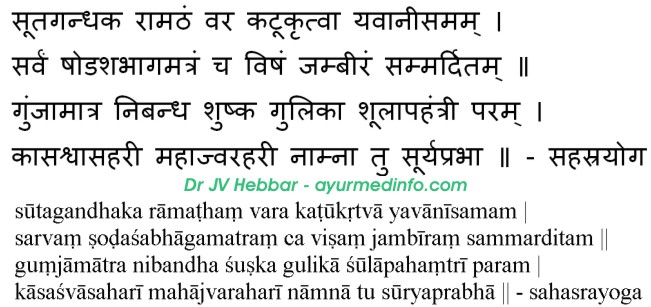 Ingredients
Suryaprabha Gulika ingredients:
Suta – Purified and processed Mercury – 1 part
Shuddha Gandhaka – Herbal purified Sulphur – 1 part
Ramatha – Asa foetida – 1 part
Vara – Triphala – 1 part
Katu – Trikatu – pepper, long pepper and ginger – 1 part
yavani – Trachyspermum ammi – 1 part
Visha – Aconitum ferox – 1/16th part of the above total.
The pills of 125 mg size are prepared after pounding with lemon juice.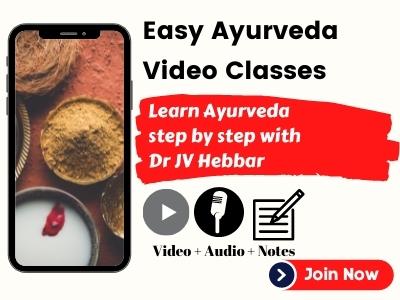 Watch Video
Side effects, manufacturers
Side effects:
This product should always be taken only after medical consultation.
It is best to avoid in children, pregnant and lactating mothers.
Keep out of reach and sight of children.
Store in cool dry place.
Stick to the dosage prescribed by the doctor. Do not overdose.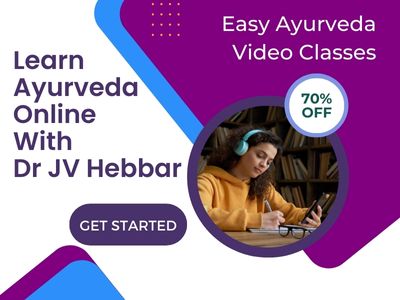 Manufacturers:
Amrutha Arya Drugs, Oushadhi, Nagarjuna – Sooryaprabha Gulika