Chitrakadi Vati is a tablet, used in Ayurvedic treatment of anorexia and indigestion. It improves digestion power. It is one of the widely used Ayurvedic tablet.
Uses
Chitrakadi Vati Benefits: It is used in Ayurvedic treatment of anorexia, indigestion and 'ama' conditions.
It is used in preparatory procedure of Panchakarma, wherein patient's digestion power needs improvement.
It is useful in poor digestion and loose motion (Watery stools)
Effect on Tridosha – balances Vata and kapha. Improves Pitta.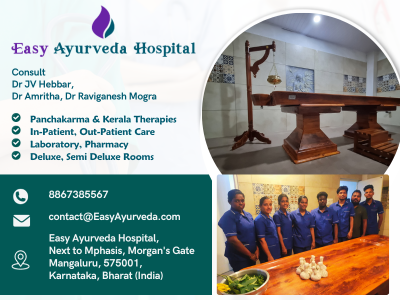 Dose
Chitrakadi Gutika dosage: (500 mg tablet) – 1 – 2 tablets 1 – 2 times a day, before or after food or as directed by Ayurvedic doctor.
With western medicines
Seek your doctor's advice if you are taking this product along with other western (allopathic/modern) medicines. Some Ayurvedic herbs can interact with modern medicine.
If both Ayurvedic and allopathic medicines are advised together, then it is best to take allopathic medicine first, wait for 30 minutes and then, after a gap of 15 – 30 minutes, take Ayurvedic medicine or as directed by the physician.
Can this be used while taking Homeopathic medicine?
Yes. This product does not react with homeopathic medicine.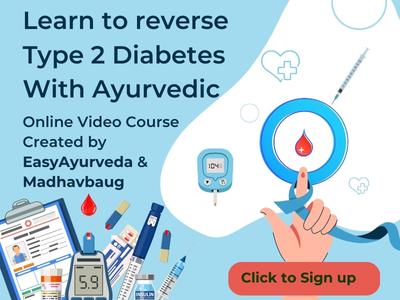 With supplements like multivitamin tablets, Omega 3 fatty acids etc?
Yes. Generally, this product goes well with most of the dietary supplements. However, if you are taking more than one product per day, please consult your doctor for an opinion.
Side Effects

It might not be suitable for people with gastritis.
People with high BP should take this medicine only under medical care, since this medicine contains salt as ingredient.
Over-dosage may cause slight burning sensation in abdomen. Keep out of reach and sight of children. Store in cool dry place.
Contents
Chitrakadi Vati ingredients, how to make:
10 g fine powder of each of
Chitraka – Lead Wort (root) – Plumbago zeylanica
Pippalimoola – Long pepper root – Piper longum
Yava Kshara – Kshara of Barley – Hordeum vulgare
Swarjika Kshara
Sauvarchala Lavana – Sochal salt
Saindhava Lavana – Rock salt
Vida Lavana – Vida salt
Samudra Lavana – Common salt,
Audbhida Lavana
Shunti – Ginger Rhizome – Zingiber officinalis
Maricha – Black pepper – Piper nigrum
Pippali – Long pepper fruit – Piper longum
Hingu – Asa foetida
Ajamoda – Ajowan (fruit) – Trachyspermum roxburghianum
Chavya – Java Long Pepper – Piper chaba
Matulunga Swarasa – Lemon juice OR Dadima rasa – Pomegranate juice – Quantity Sufficient.
The fine powder of above ingredient is triturated with lemon juice or pomegranate juice and a paste is prepared. This is rolled into tablet form, dried and preserved.
Shloka- Sanskrit Verse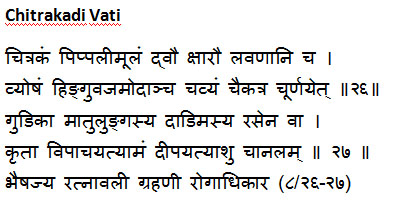 Reference and Manufacturers
Charaka Samhita Chikitsa Sthana 15/96-97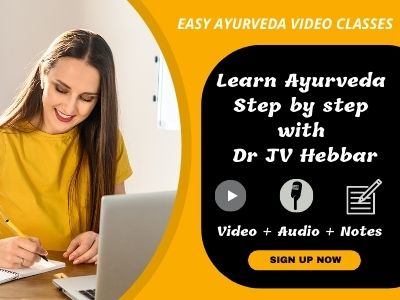 Chitrakadi Bati Manufacturers: Baidyanath, Dabur, Kottakkal Arya Vaidya Sala.
Divya Pharmacy calls this same product as Divya Chitrakadi Vati.
Expiry Date
Two years from the date of manufacture. Once after opening the container, it is better to empty it before an year.

Pregnancy,Lactation and Children
It is best avoided during pregnancy, due to strong herbs. Can be used during lactation period, for a limited period of time.
Can be used in a very small dose, for a small period of time.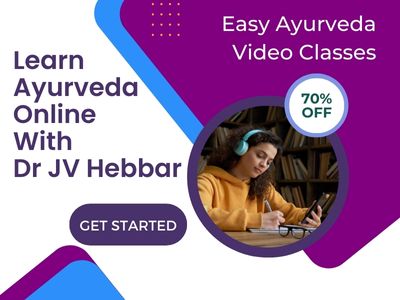 Can this be used during periods?
This product contains many hot ingredients such as leadwort, black pepper, long pepper fruit, ginger etc. Due to hotness, it can worsen bleeding. If you experience increased periods, then consider reducing the dose of this medicine during periods.