Chandraprabha Vati is a tablet, used in Ayurvedic treatment of diabetes, diseases of urinary track, and many other disease conditions. It is widely used in Ayurvedic practice, across India.
Benefits
Chandraprabha Vati uses:
It is used in Ayurvedic treatment of urinary tract infection, difficulty in urination, urinary calculi.
It helps to relieve constipation, bloating, abdominal colic pain, low back pain.
It is useful in treating cold, cough, rhinitis, bronchitis, asthma and such other respiratory diseases.
It is used to treat eczema, dermatitis, pruritus and allergic skin conditions.
It is useful to treat piles, liver, spleen diseases, anaemia and fistula.
It helps to relieve teeth problems like caries, eye infections.
It is used to treat semen defects and gynaecological problems.
It helps to relieve indigestion, improves strength, it is a natural aphrodisiac and anti aging Ayurvedic medicine.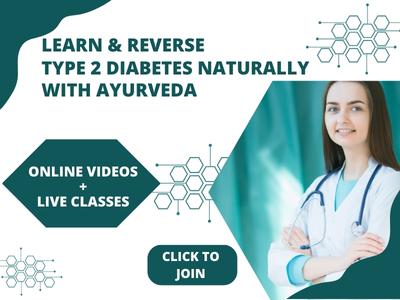 Watch Video
Other Uses

Proteinurea
Sarvaroga Pranashini – Useful in all disorders.
It acts as Yogavahi – acts as catalyst for other herbal ingredients to deliver swift therapeutic action.
Traditional Indications
Urinary tract disorders, diabetes – Prameha
Dysuria, difficulty to pass urine – Mutrakrichra
Urinary obstruction – Mutraghata
Urinary calculi – Ashmari
Constipation – Vibandha
Bloating, gaseous distension of abdomen – Anaha
Abdominal colic – Shoola
Urinary tract disorders, diabetes – Meha
Tumor, fibroid – Granthi
Cancer – Arbuda
Orchitis – Andavruddhi
Anemia, initial stages of liver disorders – Pandu
Jaundice – Kamala
Liver cirrhosis – Haleemaka
Hernia – Antravruddhi
Low back ache – Kati shoola
Asthma, respiratory disorders involving difficulty in breathing – Shwasa
Cold, cough – Kasa
Eczema – Vicharchika
Skin diseases – Kushta
Hemorrhoids – Arsha
Itching – Kandu
Splenomegaly, enlarged spleen – Pleehodara
Fistula in ano – Bhagandhara
Teeth disorders – Dantaroga
Eye disorders – Netraroga
Painful periods, menorrhagia – Artavaruja
Semen, sperm anomalies – Shukra Dosha
Low digestion strength – Mandagni
Anorexia, lack of interest in food – Aruchi
Balances Vata, Pitta and Kapha Dosha
Aphrodisiac – Vrushya
Anti aging, rejuvenative – Rasayani
Doctors also prescribe Chandrprabha bati for:
Premature ejaculation, Nightfall problem
prostate enlargement (BPH)
High serum creatinine
Proteinurea
Prostatitis, prostate inflammation, infection.
Chronic Kidney Disorder (CKD)
Low glomerular filtration rate (GFR)
Endometriosis, blocked fallopian tube, unexplained male and female infertility
Dhat Rog, Dhat syndrome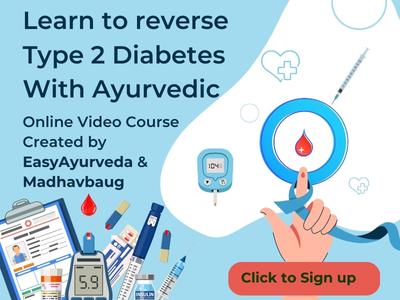 Effect on Tridosha – balances Vata, Pitta and Kapha.
Dose
Chandraprabha Gulika dosage: (500 mg tablet) – 1 – 2 tablets 1 – 2 times a day, before or after food or as directed by Ayurvedic doctor.
How long can Chandraprabha tablet be taken?
It is usually prescribed for a period of 1 – 2 months time, with gradual decrease in dosage, as per the suggestion of your doctor.
With western medicines
Seek your doctor's advice if you are taking this product along with other western (allopathic/modern) medicines. Some Ayurvedic herbs can interact with modern medicine.
If both Ayurvedic and allopathic medicines are advised together, then it is best to take allopathic medicine first, wait for 30 minutes and then, after a gap of 15 – 30 minutes, take Ayurvedic medicine or as directed by the physician.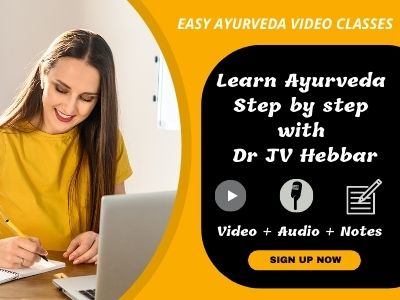 Can this be used while taking Homeopathic medicine?
Yes. This product does not react with homeopathic medicine.
With supplements like multivitamin tablets, Omega 3 fatty acids etc?
Yes. Generally, this product goes well with most of the dietary supplements. However, if you are taking more than one product per day, please consult your doctor for an opinion.
Contents, Ingredients
Chandraprabha tablet-ingredients, how to make:
3 g fine powder of each of
Chandraprabha – Karpura – Camphor – Cinnamomum camphora
Vacha – Acorus calamus
Musta – Nut grass (root) – Cyperus rotundus
Bhunimba – The Creat (whole plant) – Andrographis paniculata
Amruta – Indian Tinospora (stem) – Tinospora cordifolia
Daruka – Himalayan cedar (bark) – Cedrus deodara
Haridra – Turmeric rhizome – Curcuma longa
Ativisha – Aconitum heterophyllum
Darvi – Tree Turmeric (stem) – Berberis aristata
Pippalimoola – Long pepper root – Piper longum
Chitraka – Lead Wort (root) – Plumbago zeylanica
Dhanyaka – Coriander – Coriandrum sativum
Haritaki – Chebulic Myrobalan fruit rind – Terminalia chebula
Vibhitaki – Belliric Myrobalan fruit rind – Terminalia bellirica
Amalaki – Indian gooseberry fruit – Emblica officinalis Gaertn.
Chavya – Java Long Pepper – Piper chaba
Vidanga – False black pepper – Embelia ribes
Gajapippali – Java Long Pepper (fruit) – Piper chaba
Shunti – Ginger Rhizome – Zingiber officinalis
Maricha – Black pepper – Piper nigrum
Pippali – Long pepper fruit – Piper longum
Makshika Dhatu Bhasma – Purified Copper Iron Sulphate
Yava Kshara – Kshara of Barley – Hordeum vulgare
Swarjika Kshara
Saindhava Lavana – Rock salt
Sauvarchala Lavana – Sochal salt
Vida Lavana – Vida salt
12 g fine powder of each of
Trivrit – Operculina turpethum
Danti – Baliospermum montanum
Patra – Cinnamomum tamala
Twak – Cinnamon – Cinnamomum zeylanicum
Ela – Cardamom – Elettaria cardamomum
Vamshalochana – bambusa bambos
Loha Bhasma – Iron Bhasma – 24 g
48 g fine powder of each of
Sita – Sugar
Shilajatu – Asphaltum – 96 g
Guggulu – Indian bedelium – Commiphora mukul – 96 g
The name Chandraprabha is given due to –
Chandra refers to moon, this tablet is as calming and effective as the aura of moon.
With the word Chandraprabha, 3 herbs are considered.
Karpoora – Camphor – Cinnamomum camphora (as per Kashiram, Gudardha Deepika commentary on Sharangdhara Samhita). Camphor is the most commonly used ingredient.
Kapoor Kachur – Shati – Hedychium spicatum (as per Rasendra Sara Sangraha, by Kirhna Gopala Bhatta)
Bakuchi – Psoralea corylifolia (as per Vaidyaka Shabda Sindhu)
Shloka, Sanskrit Verse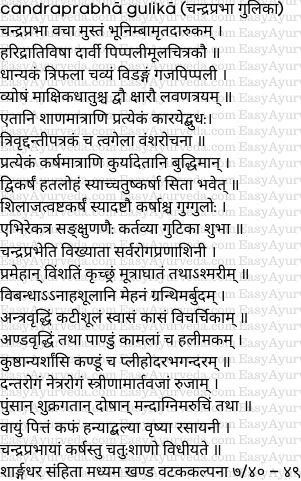 Reference, Manufacturers
Sharangdhara Samhita Madhyama Khanda 7/40 – 49, Bhaishajyaratnavali.
Manufacturer of this Ayurvedic medicine in India: Baidyanath, Dabur, AVN, Kottakkal Arya Vaidya Sala., Sri Sri Tattva Pharmacy.
Divya Pharmacy calls this same product as Divya Chandraprabha Vati.
Nagarjuna – Chandraprabha Gulika
Side Effects
People with high BP should take this medicine only under medical care, since this medicine contains salt as ingredient.
Over-dosage may cause slight burning sensation in abdomen. Keep out of reach and sight of children. Store in cool dry place.
Expiry date
Five years from the date of manufacture. Once after opening the container, it is better to empty it before an year
As ingredient in proprietary Ayurvedic medicines:
Chandraprabha Bati is used as ingredient in many other Ayurvedic medicines such as Glucova tablet, used in the treatment of Non Insulin Dependent Diabetes Mellitus.
Calcurosin Capsule – useful for the treatment of urinary calculi.
Questions
Does it contain gluten?
No.
Can it cause weight loss?
Yes, it is useful in losing weight, especially when associated with PCOD.
Can it be taken along with coconut water?
Yes. if it causes burning sensation, then it can be taken along with coconut water.
Is it useful in liver problems?
Yes. Though urinary tract and reproductive systems are the main functional areas for this medicine, it is also useful in digestion and liver related issues as well.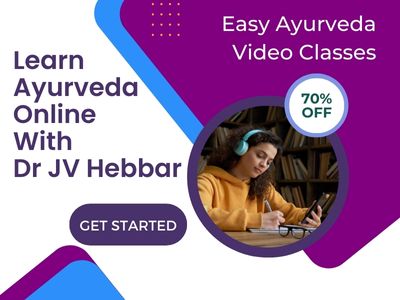 Can it be taken along with water?
Yes.