Shankha Dravaka is obtained by processing Shankha (Conch) with salts and Ksharas. They are usually present in liquid form. They have a very special method of preparation.

Benefits and Synonyms
It is used in the treatment of ascites.
Excellent in grahani, controls indigestion and acidity quickly.
>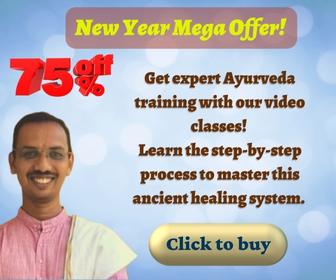 It acts as natural diuretic.
Used in Ayurvedic treatment of excess gaseous distension of abdomen, liver and spleen related disorders.
Synonym: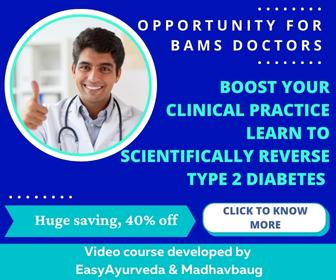 Sankha bhasmam.
Dosage and Adjuvant
5 drops once or twice a day with warm water or milk, before or after food, as advised by Ayurvedic doctor.
Adjuvant:
Honey or ghee.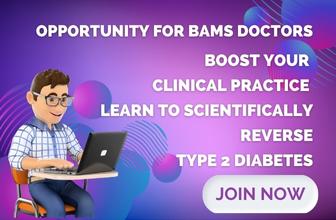 With western medicines
Seek your doctor's advice if you are taking this product along with other western (allopathic/modern) medicines. Some Ayurvedic herbs can interact with modern medicine.
If both Ayurvedic and allopathic medicines are advised together, then it is best to take allopathic medicine first, wait for 30 minutes and then, after a gap of 15 – 30 minutes, take Ayurvedic medicine or as directed by the physician.
Can this be used while taking Homeopathic medicine?
Yes. This product does not react with homeopathic medicine.
With supplements like multivitamin tablets, Omega 3 fatty acids etc?
Yes. Generally, this product goes well with most of the dietary supplements. However, if you are taking more than one product per day, please consult your doctor for an opinion.
Pathya
Pathya is to be according to ailment.
How long to use?
This medicine can be used for a period of 1 – 2 months only.
Side Effects
Since it contains a variety of salts, this might not be an ideal medicine for people with hypertension.
Since it has kshara as ingredient, this might affect the quality and quantity of sperm on long term use.
Shloka Sanskrit Verse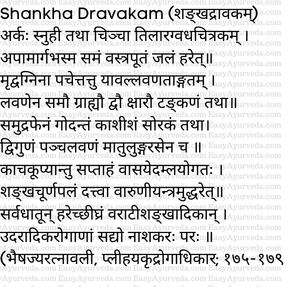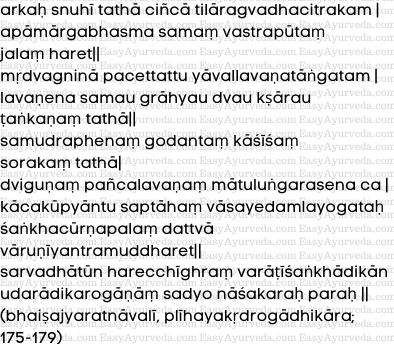 Contents
Shankha Dravaka ingredients:
48 g of each of
Bhasma (ash) of Arka – Calotropis procera
Bhasma (ash) of Snuhi – Euphorbia neriifolia L.
Bhasma (ash) of Chincha – Tamarind – Tamarindus indica
Bhasma (ash) of Tila – sesame seed – sesamum indicum
Bhasma (ash) of Aragwadha – Cassia fistula
Bhasma (ash) of Chitraka – Lead Wort (root) – Plumbago zeylanica
Bhasma (ash) of Apamarga – Achyarnthes aspera
Yava Kshara – Kshara of Barley – Hordeum vulgare
Swarjika Kshara
Tankana – Purified Borax
Samudraphena
Godanti – purified gypsum
Kaseesa – Green vitriol
Soraka
Saindhava – Rock salt
Samudra Lavana – Table salt
Vida Lavana – Vida salt
Sauvarchala Lavana – Sochal salt
Audbhida Lavana
Matulunga swarasa – Citrus medica – juice extract
Shankha Churna – Conch powder 48 g
The above group of ingredients is subjected to process of distillation at very high temperature to get drops, called Shankha Dravaka.
Expiry date
Can be kept for a very long time. Upto 10 years.
Reference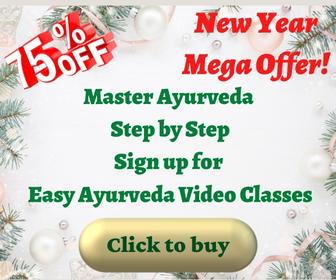 Bheshaj Ratnavali Pleeha Yakrut Rogadhikara 193-197