Shadbindu Tail is an Ayurvedic herbal oil used in Nasya treatment. Few drops of oil are instilled into nostrils, useful to relieve headache, baldness and hair fall.
Benefits
Shadbindu Tail uses:
It is useful in Ayurvedic treatment of headache, dizziness, sneezing, cold, cough, migraine, teeth weakness.
It improves vision and immunity.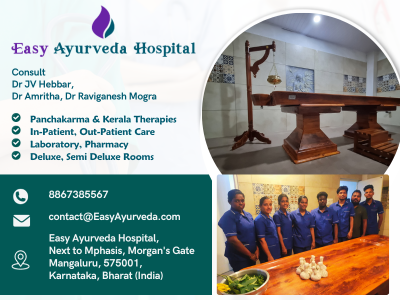 Indications
All types of Shiro rogas
Prevents falling of hair, hair thinning
Gives strength to the hair roots and teeth useful in the treatment of alopecia.
Improves strength of teeth. Prevents early teeth fall.
Improves vision, eyesight.
Gives strength to the shoulders and thus useful in cervical spondylosis, neck stiffness, pain and shoulder stiffness.
Improves strength of eyes and shoulders.
Its Its hair and eye strengthening benefit is directly attributed to Bhringaraja – Eclipta alba.
Mode Of Usage
It is used for Nasya Ayurvedic treatment. 2 – 6 drops of the oil are instilled into each nostril, after massage and hot treatment to face.
Duration
It is used from a few days to several weeks based on the prescription of Ayurvedic doctor.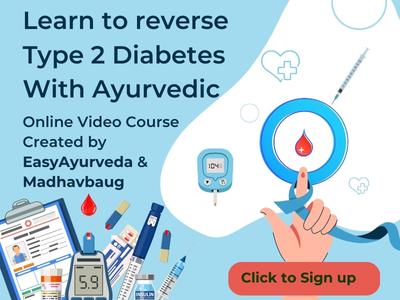 Is Sadbindu tel useful in blocked nose?
It is useful in nose blockage. But the oil needs to be warmed a little in hot water bed, before using for Nasya.
Depending on the nature of nose blockage, other oral medicines might also be required along with this.
Side Effects
There are no apparent side effects with this medicine. However, Nasya treatment should only be undergone under the guidance of an able Ayurvedic doctor.
In sensitive people, it may cause nasal irritation and excessive secretions. Most of it is tolerable and symptoms are relieved within a week time.
Do not use this product for self medication.
Keep out of sight and reach of children. store in cool dry place, away from direct sunlight.
Shloka Sanskrit Verse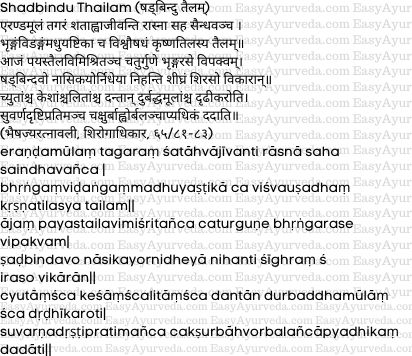 Contents
Shadbindu Oil ingredients and how to make:
Taila – Sesame oil – Sesamum indicum – 768 ml
Aja Ksheera – Goat milk – 3.072 liters
Bhringaja – Eclipta alba – juice extract – 3.072 liters
Paste prepared from fine powders of 19 g of each of –
Eranda – Castor – Ricinus communis
Tagara – Indian valerian (root) – Valeriana wallichi
Shatahva – Indian Dill – Anethum sowa
Jivanti – Leptadenia reticulata
Rasna – Pluchea lanceolata / Vanda roxburghi
Saindhava – Rock salt
Bhringa – Cinnamon – Cinnamomum zeylanicum
Vidanga – False black pepper – Embelia ribes
Yashti – Licorice – Glycyrrhiza glabra
Vishwaushadha – Ginger – Zingiber officinalis
The above set of ingredients is heated till only oil remains, filtered.

Reference
 Bheshaj Ratnavali  Shirorogadhikara 49 – 51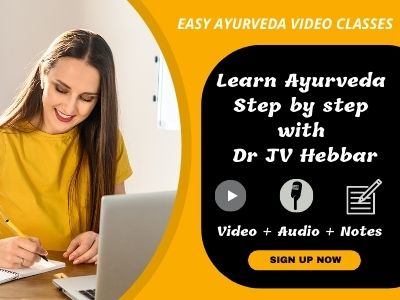 Method of preparation
To the sesame oil, all the ingredients should be added and heated on moderate fire till only oil part remain. Taila p?ka should be completed within two days.
Shelf life
Three years from the date of manufacture. Once opened, it is best to empty the oil within 1 year.
Other Uses
Use of Shadbindu tail after nasal surgery such as septoplasty, turbinoplasty, correction of deviated nasal septum (DNS) etc:
Shadbindu oil – 2 drops to each nostril, in the morning is very useful in post operative care.
It is useful to prevent further infection, allergic attacks, rhinitis etc.
But this should be used after the surgical wounds have healed completely. Around 1 month after surgery.
Is Sadbindu tail useful in tonsillitis?
Its nasya – nasal drops are not directly useful in tonsillitis. Oral gargle with salt water + turmeric is more useful. Read about Ayurvedic treatment for tonsillitis
Manufacturers
Baidyanath Ayurved Bhavan
Dabur
Divya Pharmacy calls the same oil as Divya Shadbindu Tail (oil)
During pregnancy, lactation
If you were using this oil before pregnancy without any allergic reaction, you can continue using this oil even during pregnancy.
If you have not used this product before and wish to use it during pregnancy, better to consult a doctor because it can cause skin allergy in some rare cases.
It is generally considered as safe to use during lactation, however consult your doctor for the right advice.
Can Shadbindu oil be applied after steam therapy?
Yes. As per Ayurveda, during nasya procedure, first oil massage is given over face and neck and then mild steam therapy is given over face and neck, avoiding eyes.
After that, nasal oils are instilled.
Difference between Shadbindu and Anu taila
Shadbindu taila is primarily advised for the treatment of headache, whereas Anu taila is mentioned and explained in the context of healthy daily routine. This hints that Shadbindu taila is used primarily for therapeutic purposes and Anu oil is used for both for health maintenance and therapeutic purposes.
While many diseases such as headache, early hair fall, teeth instability etc are mentioned as indications for Shadbindu taila, only strength promoting benefits are enlisted for Anu taila.
Both the nasal oils contain sesame oil as base.
Both contain goat milk. Goat milk is lighter to digest when compared to cow milk and has soothing effect over nasal mucosa. Its nasal mucosal absorption capacity is better when compared to cow milk. This could be the reason why both contain goat milk.
Common herbs in both Shadbindu and anu oils –
Cinnamon, Vidanga – Embelia ribes – false black pepper Licorice

Extra herbs in Shadbindu taila – ginger, rock salt, Rasna, Shatapushpa, Eranda moola, Tagara (Valerian root), Dill, Jivanti, Rasna and rock salt.

Number of ingredients is more in Anu taila than in Shadbindu taila.
When compared to anu taila, the nature of herbs in Shadbindu is stronger. Herbs like Tagara (Valerian root), castor root, Rasna are used therapeutically, but usually not used on a daily basis in a healthy individual.

Method of preparation: During preparation, Anu oil cooking happens for 10 times. Hence, it is more refined product when compared to Shadbindu tail, which is processed for only one time.

Dosage –
Shad Bindu literally means six drops. It hints that the most common dosage of this oil is six drops. However, its dose can be increased on decreased based on patient's strength, disease intensity etc.
Anu oil is used in a variety of doses, starting from 2 drops, which is commonly administered in healthy people, its dose can go as high as 10 drops.

Position of head during Nasya procedure: