Mahanarayan Oil is a very famous herbal oil used in Ayurvedic treatment of arthritis, paralysis, and eye diseases. This oil is used for external application, orally and for many Ayurvedic therapies.
Benefits
Mahanarayan Oil Uses:
It is used in Ayurvedic treatment of Facial palsy, Hearing loss, Deafness, Paraplegia, tremors, Neck rigidity/Torticollis, Lock jaw, wasting of hands and legs, insanity, Oligospermia, Female Infertility, Teeth & tongue ailments, bloating, Headache, Glossal palsy, Dental Pain, Mania/Psychosis, Hump-back/Kyphosis, Fever.
Bursitis,
Bursitis trochanterica,
Shoulder dislocation pain
Post viral fever, when the patient complains of body, muscle and joint pains
It is used in anti aging treatment.
It helps to relieve emaciation, tendon tear, fractures and all types of arthritis.
It is useful to strengthen bones and joints in case of weak bones due to osteo-porosis, osteo arthritis.
Useful in intercostal neuropathy
Read related: OsteoArthritis: Symptoms, Prevention, Lifestyle tips, Ayurvedic treatment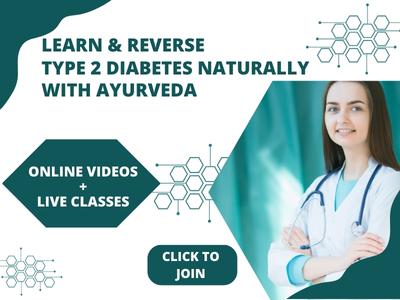 Effect on Tridosha – Balances Vata and Pitta
Application on feet
Oil application over feet
Precaution if you apply this oil over feet:
If you apply this oil on feet, make sure to wash off thoroughly with water or wipe off with cloth. The oil can make you slippery while walking.
After applying, make sure there are no oil spills on the floor. This can make the floor slippery.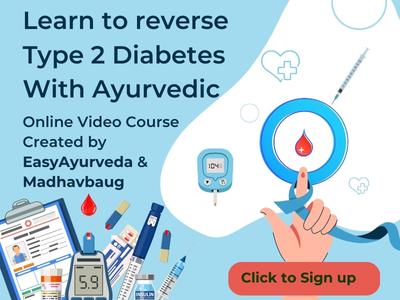 Mode Of Usage
How to use Mahanarayan Tail?
It is used to external application. On the painful area, apply a few drops of the oil and do gentle massage. It is used in many Ayurvedic treatments such as Anuvasana basti, Janubasti, Nasya etc. It is also given orally in a dose of 3 – 5 ml, once or two times  a day, before food with warm water or milk, but this requires doctor's prescription.
Side Effects and Precautions

There are no known side effects on external application of this oil.
Oral administration, Nasya and other therapies should strictly be done under medical supervision.
Keep out of sight and reach of children. store in cool dry place, away from direct sunlight.
Duration
How long to use Mahanarayana Thailam?
For external use, it can be used for a long period of time.
Oral usage is done usually for not more than 3 – 4 months.
It can be used as a general body massage oil for a very long time.
Contents
Mahanarayana Tailam ingredients:
960 g of each of coarse powder of –
Bilva – Bael (root) – Aegle marmelos
Ashwagandha – Winter Cherry / Indian ginseng – Withania somnifera
Brihati – Indian Nightshade (root) – Solanum indicum
Swadamshtra – Tribulus terrestris
Shyonaka – Oroxylum indicum
Bala – Country mallow (root) – Sida cordifolia
Paribhadra – Erythrina variegate
Kshudra – Solanum xanthocarpum
Kathila – Boerhaavia diffusa
Atibala – Abutilon indicum
Agnimantha – Premna corymbosa / mucronata Root
Prasarini – Paederia foetida
Patala – Trumpet (root) – Sterospermum suaveolens
Water for decoction – 98.304 liters, boiled and reduced to 24.576 liters.
Taila – Oil of Sesamum indicum – 6.144 kg
Ajadugdha – Goat milk – 6.144 liters
Shatavari – Asparagus racemosus – juice extract – 6.144 liters
Paste prepared with 96 g of fine powder of each of –
Rasna- Pluchea lanceolata
Ashwagandha – Winter Cherry / Indian ginseng (root) – Withania somnifera
Mishi – Indian Dill (fruit) 0 Anethum sowa / Peucedanum graveolens
Daru – Himalayan Cedar (bark) – Cedrus deodara
Kushta – Saussurea lappa
Shalaparni – Desmodium gangeticum
Prishniparni – Root – Uraria picta
Mudgaparni – Phaseolus trilobus
Mashaparni – Teramnus labialis Spreng.
Agaru – Aquilaria agallocha
Nagakeshara – Mesua ferrea
Saindhava – Rock Salt
Mamsi – Nardostachys jatamansi
Haridra – Turmeric Rhizome – Curcuma Longa
Daruharidra – Tree turmeric (stem) – Berberis aristata
Shaileya – Parmelia perlata
Chandana – Pterocarpus santalinus
Pushkara – Inula racemosa
Ela – Cardamom – Elettaria cardamomum
Manjishta – Indian Madder (root) – Rubia cordifolia
Yashtimadhu – Licorice – Glycyrrhiza glabra
Tagara – Indian Valerian (root) – Valeriana wallichi
Abda – Nut grass (root) – Cyperus rotundus
Patra – Cinnamomum tamala
Bhringaraja – Eclipta alba
Jivaka – Malaxis acuminata D.Don / Microstylis wallichii Lindl.
Rishabhaka – Manilkara hexandra (Roxb.) Dubard / Mimusoops hexandra Roxb.
Meda – Polygonatum cirrhifolium
Mahameda – Polygonatum verticillatum
Kakoli – Fritillaria roylei
Ksheera Kakolii – Lilium polyphyllum
Riddhi – Habenaria intermedia
Vriddhi – Habenaria intermedia
Ambu – Pavonia odorata
Vacha – Sweet flag (rhizome) – Acorus calamus
Sthauneya – Clerodendrum infortunatum Linn./ viscosum Vent. Gaertn.
Vrishchikali – Boerhavia erecta
Choraka – Angelica glauca
Karpoora – Camphor – Cinnamomum camphora – 48 g
Kashmeera – Saffron – Crocus sativus – 48 g
Mrigamada – Musk – 48 g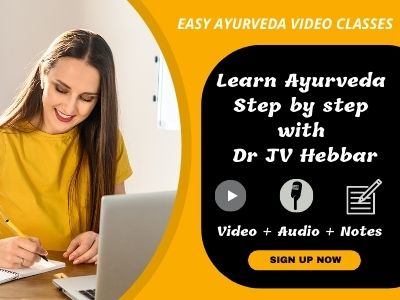 Reference and Expiry Date
Bhaishajya Ratnavali Vatavyadhi Rogadhikara – 151 – 162

Shelf life / expiry date – Three years from the date of manufacture. Once opened, it is best to empty the oil within 1 year.
Can it be used on hair?
It is advised for applying on head and scalp for treating migraine, headache, depression etc. It is safe to apply on hair.
But it is not a good choice of a hair oil. So unless prescribed, it is not wise to apply this daily.
How to use Mahanarayan oil for self massaging?
Take 3 tablespoon of oil in a bowl. Apply this allover the body with palm, with gentle pressure. Leave it on body for 15-30 minutes, then take hot water bath. Do this at least 2 – 3 times a week.
Mahanarayan oil is very costly. Can I use sesame oil for daily massage?
If you find it costly, then 50 % of this oil + 50 % of sesame oil can be mixed and used for daily massage.
Between Mahanarayan and Kottamchukkadi, which is good to balance Vata?
Mahanarayan oil is better for Vata balance.
Proprietary Ayurvedic medicines with Mahanayarana taila as ingredient:
Flexofen Liniment – manufactured by Prakruti Pharmaceuticals. It is used in the treatment of musculo-skeletal disorders, arthritis, tendonitis etc.
Flexy Liniment – manufactured by Green Remedies
Does it improve blood circulation in leg and cure deep vein thrombosis?
Oil massage with Mahanarayana taila is very useful to improve blood circulation in legs. But this massage cannot be said to cure the deep vein thrombosis.
Sanskrit Shloka verse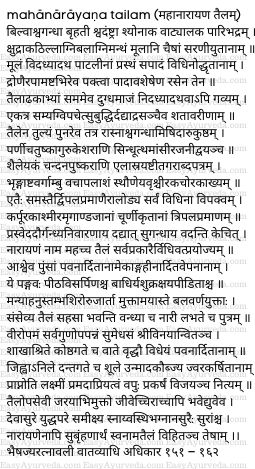 Manufacturers

Nagarjuna – Mahaanaaraayana Thailam
During pregnancy, lactation
If you were using this oil before pregnancy without any allergic reaction, you can continue using this oil even during pregnancy.
If you have not used this product before and wish to use it during pregnancy, better to consult a doctor because it can cause skin allergy in some rare cases.
It is generally considered as safe to use during lactation, however consult your doctor for the right advice.
Can this product be applied after steam therapy?
No. Oil is best applied before steam therapy. This is as per basic Ayurvedic principles.
Allergy reaction
What if someone is allergic to Mahanarayana taila?
Before I answer this, let me make it very clear that any person can show an allergic reaction to any Ayurvedic oils. It is more common than people assume. It is good to test any herbal oil over a small skin area before using it on a daily basis. The testing can be done by applying the oil over a small area of the forearm and marking the area with a pen on the skin. The area can be a coin size. If the applied area shows rashes / allergic reaction / itching or pain, it can be assumed that you are allergic to the oil.

Coming back to the question, the first assessment to be done is, if the person is allergic to sesame oil. If that is the case, then all herbal oils with sesame oil base will not be suitable for the client.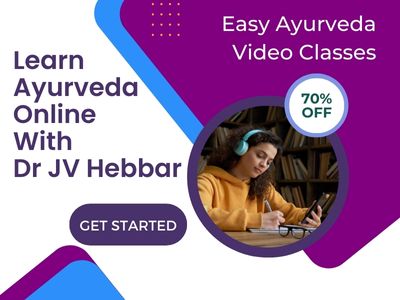 If the client is allergic to Mahanarayana taila specifically, then Dhanvantharam taila or Balaswagandhadi taila can be the substitutes.
Read: 15 Ayurvedic Massage Oil Choices Based On Your Dosha