Maha Vishagarbha Taila is an herbal oil used in Ayurvedic treatment of Vata imbalance, neuro-muscular conditions. It is used for external application.
Benefits
Maha Visagarbha taila Uses:
It is used in Ayurvedic treatment of Disease due to Vata Dosha, Sciatica, Tetanus, Stiffness and tightness in back and limbs, Tinnitis and lack of tactile sensation.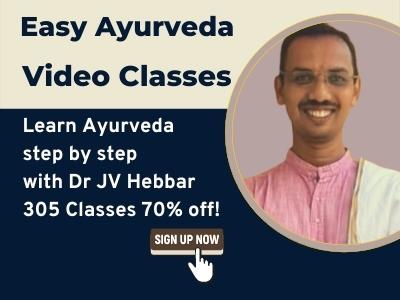 Effect on Tridosha – Balances Vata
Application on feet
Oil application over feet
Precaution if you apply this oil over feet:
If you apply this oil on feet, make sure to wash off thoroughly with water or wipe off with cloth. The oil can make you slippery while walking.
After applying, make sure there are no oil spills on the floor. This can make the floor slippery.
Mode Of Usage
How to use Maha Vishagarbha thailam?
It is used to external application.
It is used in many Ayurvedic treatments such as Janubasti, Katibasti etc.
Side Effects and Precautions

There are no known side effects on external application of this oil.
However, this oil should not be used in pregnant and children.
Accidental oral intake may cause toxic substance. Rush to your doctor immediately.
Keep out of sight and reach of children. store in cool dry place, away from direct sunlight.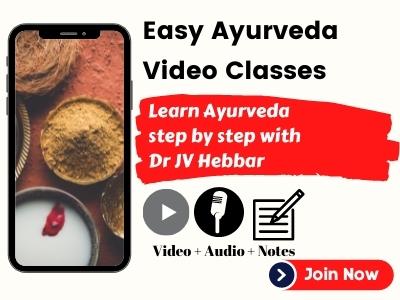 How long to use ?
For external use, it can be used for a long period of time.
Shloka Sanskrit Verse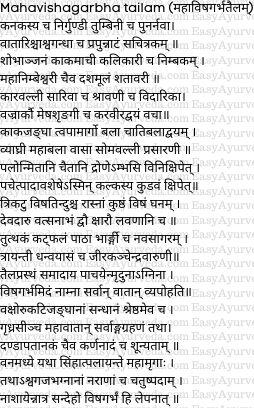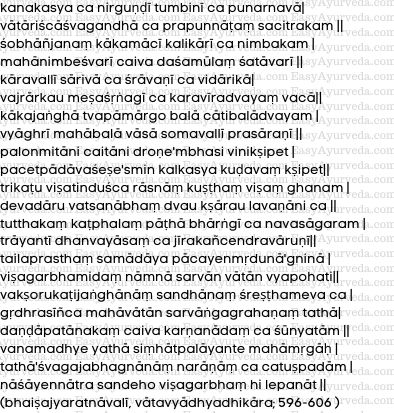 Contents
Maha Vishagarbha thaila ingredients:
Taila – Oil of Sesamum indicum – 768 ml
Coarse powder of 48 g of each of
Kanaka – Datura metel
Nirgundi – Vitex negundo
Tumbini – Lagenaria siceraria
Punarnava – Spreading Hogweed (spreading hogweed) – Boerhaavia diffusa
Vatari – Castor root – Ricinus communis
Ashwagandha – Winter Cherry / Indian ginseng (root) – Withania somnifera
Chakramarda – Cassia tora
Chitraka – Plumbago zeylanica
Shobhanjana – Drum Stick (flowers) – Moringa oliefera
Kakamachi – Solanum indicum
Langali – Gloriosa superba
Nimba – Neem – Azadirachta indica
Mahanimba – Melia azadirach
Ishwari – Aristolochia indica
Bilva – Bael (root) – Aegle marmelos
Shyonaka – Oroxylum indicum
Gambhari – Coomb teak (root) – Gmelina arborea
Patala – Trumpet (root) – Sterospermum suaveolens
Agnimantha – Premna corymbosa / mucronata Root
Shalaparni – Root – Desmodium gangeticum
Prishniparni – Root – Uraria picta
Brihati – Indian Nightshade (root) – Solanum indicum
Kantakari – Yellow berried night shade (whole plant) – Solanum xanthocarpum
Gokshura – Small caltrops (whole plant) – Tribulus terrestrs
Shatavari – Asparagus racemosus
Karavella – Bitter gourd – Momordica charantia Linn.
Sariva – Indian Sarsaparilla (root) – Hemidesmus indicus
Mundi – Sphaeranthus indicus
Vidari – Pueraria tuberosa
Vajra – Euphorbia neriifolia L.
Arka – Calotropis procera
Meshasrungi – Gymnema sylvestre
Shveta and Peeta Karavira – nerium indicum
Vacha – Sweet flag (rhizome) – Acorus calamus
Kakajangha – Peristrophe paniculata
Apamarga – Prickly Chaff Flower – Achyranthes aspera
Bala – Country mallow (root) – Sida cordifolia
Atibala – Abutilon indicum
Nagabala – Sida cordata
Vyaghri – Solanum xanthocarpum
Mahabala – Sida rhombifolia
Vasa – Malabar nut tree (whole plant) – Adhatoda vasica
Somavalli – Sarcostemma acidum
Prasarini – Paederia foetida
Water for decoction – 12.288 liters, boiled and reduced to 3.072 liters
192 g of paste prepared from following fine powder herbs –
Shunti – Ginger (rhizome) – Zingiber officinalis
Maricha – Black pepper – Piper nigrum
Pippali – Long pepper – Piper longum
Vishamushti – Strychnos nux voica
Rasna- Pluchea lanceolata
Kushta – Saussurea lappa
Ativisha – Aconitum heterophyllum
Ghana – Nut grass (root) – Cyperus rotundus
Devadaru – Himalayan Cedar (bark / heart wood) – Cedrus deodara
Vatsanabha – Aconitum ferox
Yavakshara – Kshara of Barley – Hordeum vulgare
Svarjika Kshara
Saindhava – Rock Salt
Sauvarchala Lavana – Sochal salt
Vida Lavana
Audhbida Lavana
Samudra Lavana – table salt
katphala – Myrica nagi
Pata – Cyclea peltata
Bharngi – Clerodendron serratum (root)
Navasadara – Ammonium chloride
Dhanvayasa – Alhagi pseudalhagi
Jiraka – Cumin seed – Cuminum cyminum
Indravaruni – Citrullus colocynthis
Reference
Bhaishajya Ratnavali Vatavyadhi Rogadhikara – 414-423
Shelf life
Three years from the date of manufacture. Once opened, it is best to empty the oil within 1 year.
During pregnancy, lactation
If you were using this oil before pregnancy without any allergic reaction, you can continue using this oil even during pregnancy.
If you have not used this product before and wish to use it during pregnancy, better to consult a doctor because it can cause skin allergy in some rare cases.
It is generally considered as safe to use during lactation, however consult your doctor for the right advice.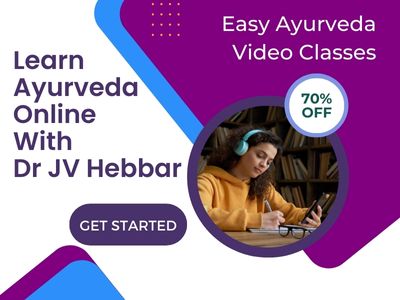 Can this product be applied after steam therapy?
No. Oil is best applied before steam therapy. This is as per basic Ayurvedic principles.