Dhanwantharam Thailam is an Ayurvedic oil. It is used in the treatment of Vata diseases such as Rheumatoid arthritis and osteo arthritis, spondylosis, headache and neuro-muscular conditions. This oil is based on Kerala Ayurveda practice.
Effect on Tridosha:
Effective on Vata and Kapha mixed Vata condition.
Benefits
Dhanwantharam Tailam uses:
It is used to treat rheumatoid arthritis, osteo-arthritis, neck pain and back ache due to spondylosis,
It is useful in treatment of neurological conditions such as Neuritis, Neuralgia, paralysis, facial palsy, etc.
Useful in intercostal neuropathy
Post viral fever, when the patient complains of body, muscle and joint pains
Bursitis,
Bursitis trochanterica,
Shoulder dislocation pain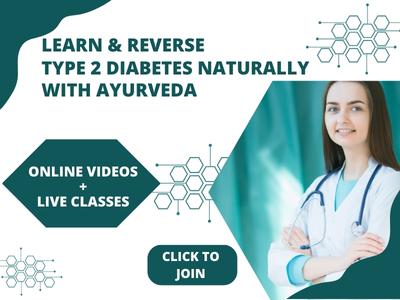 Application on feet
Dhanwantaram oil over feet
Precaution if you apply this oil over feet:
If you apply this oil on feet, make sure to wash off thoroughly with water or wipe off with cloth. The oil can make you slippery while walking.
After applying, make sure there are no oil spills on the floor. This can make the floor slippery.
Mode of Usage
It is used for massage.
It is used in Ayurvedic treatment like Dhara, Basti treatment etc.
101 times processed oil, called Dhanwantharam 101 -is used for oral administration.
Dose for oral intake is – 5 – 20 drops once or twice a day, before food, with warm water or warm milk, as directed by Ayurvedic doctor.
This oil is used for massage for ladies, after delivery, to improve body strength.
It is also used as massage oil for babies.
Internal use is advised to relieve fever, bloating and urinary diseases.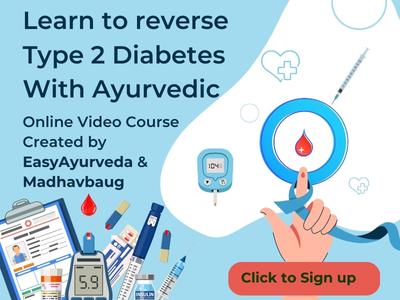 Side Effects
No side effects are known with this oil, on external administration.
Oil's oral intake should only be done strictly under medical supervision.
Principle
In this herbal oil, the herbs are infused in the medium of sesame oil along with herb water decotion. Then the solid waste herb materials are filtered out. Thus, this oil contains oil soluble and water soluble phyto-active principles of medicinal herbs.
Contents
Dhanwantharam Tailam ingredients:
Bala moola – Sida cordifolia – Root – 4.608 kg
Water for decoction – 36.864 liters, boiled and reduced to 4.608 liters
Paya – Cow milk – 4.608 liters
768 grams of total of
Yava – Barley – Hordeum vulgare – Seed
Kola – Zyziphus jujuba – Fruit
Kulattha – Horse gram – Dolichos biflorus – Seed
Dashamoola – group of ten roots
Bilva – Aegle marmelos – Stem bark
Agnimantha – Premna mucronata – Stem bark
Shyonaka – Oroxylum indicum – Stem bark
Patala – Stereospermum suaveolens – Stem bark
Gambhari – Gmelina arborea – Stem bark
Brihati – Solanum indicum – Root
Kantakari – Solanum xanthocarpum – Root
Gokshura – Tribulus terrestris – Fruit
Shalaparni – Desmodium gangeticum – Plant
Prishnaparni – Uraria picta – Plant
Water for decoction – 6.144 liters, boiled and reduced to 768 ml.
Taila – Oil of Sesamum indicum

Paste made of 6 grams of each of –

Meda – Polygonatum cirrhifolium – Root
Mahameda – Polygonatum verticillatum – Root
Daru – Cedrus deodara – Heartwood
Manjishta – Rubia cordifolia – Root
Kakoli – Fritillaria roylei – Root
Ksheera kakoli – Lilium polyphyllum – Root
Chandana – Pterocarpus santalinus – Heartwood
Sariva – Hemidesmus indicus – Root
Kushta – Saussurea lappa – Root
Tagara – Valeriana wallichi – Root/Rhizome
Jeevaka – Malaxis acuminata – Root tuber
Rishabhaka – Manilkara hexandra – Root tuber
Saindhava Lavana – Rock salt
Kalanusari – Valeriana wallichi – Rhizome
Shaileya – Convolvulus pluricaulis – Plant
Vacha – Acorus calamus – Rhizome
Agaru – Aquilaria agallocha – Heartwood
Punarnava – Boerhaavia diffusa – Root
Ashwagandha – Withania somnifera – Root
Shatavari – Asparagus racemosus – Root tuber
Ksheerashukla – Ipomoea mauritiana – Root tuber
Yashti – Licorice – Glycyrrhiza glabra – Root
Haritaki – Terminalia chebula – Fruit rind
Vibhitaki – Terminalia bellirica – Fruit rind
Amla – Emblica officinalis – Fruit
Shatahva – Asparagus – Anethum sowa – Fruit
Mashaparni – Teramnus labialis – Plant
Mudgaparni – Phaseolus trilobus – Plant
Ela – Cardamom – Elettaria cardamomum – Seed
Twak – Cinnamon – Cinnamomum camphora – Stem bark
Patra – Cinnamomum tamala – Leaves
Method of Preparation
Coarse powder of bala is boiled with specific quantity of water till it reduces to one eighth part to prepare bala decoction and filtered. Decoction of ingredients from Yava to Prishnaparni is prepared separately. Ingredients from Meda to Patra is mixed with sufficient quantity of water to prepare homogeneous paste.
Murchita sesame oil is heated by adding milk, paste and decoction with continuous stirring. Heating is stopped on appearance of froth over the oil and absence of moisture content. To confirm the absence of moisture, the oil is exposed to fire and checked for absence of crackling sound. It is filtered, cooled and stored in tightly closed container.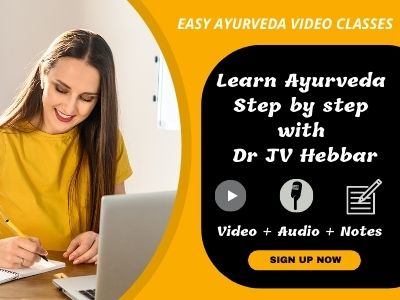 This Taila when prepared with Avartana process is known as Dhanvantara Taila Avartana, wherein, the oil making is repeated for 101 times.
Reference and Expiry Date
Sahasrayoga Tailayoga Prakarana 1, Astanga Hridayam.
Expiry date: 3 years from the date of manufacture. Once you open the seal, it is better to use it within an year.
Sanskrit Shloka verse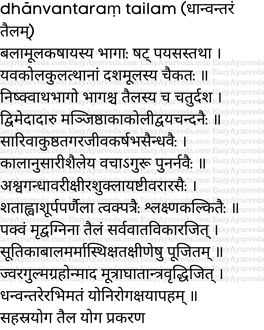 Manufacturers
Arya Vaidya Sala – Kottakkal, Pankajakasthuri, AVN.
Nagarjuna – Dhaanwantharam Thailam.
Nagarjuna pharmacy also manufactures Dhaanwantharam Kuzhampu.
During pregnancy, lactation
If you were using this oil before pregnancy without any allergic reaction, you can continue using this oil even during pregnancy.
If you have not used this product before and wish to use it during pregnancy, better to consult a doctor because it can cause skin allergy in some rare cases.
It is generally considered as safe to use during lactation, however consult your doctor for the right advice.
Can this product be applied after steam therapy?
No. Oil is best applied before steam therapy. This is as per basic Ayurvedic principles.
Dhanvantharam Sevyam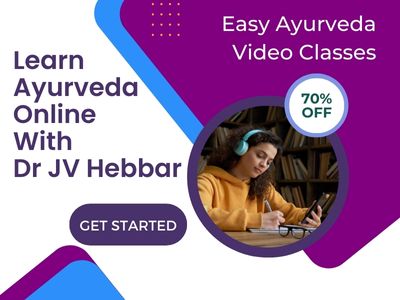 Dhanwantaram Sevyam is the same tailam is cooked in Mrudu Paka – that is, the heating is stopped just before the moisture is totally evaporated from the herbal pastes in the cooking pan. This is a softer version of the oil and is milder and safer for enema therapy (Basti Chikitsa).
Taila Avartana – Repeated processing