Varanadi Ghrita is an Ayurvedic medicine, in herbal ghee form. This herbal ghee is made from Varanadi group of herbs, mentioned in Ashtanga Hrudayam. It is used for preparatory procedure for Panchakarma and also as medicine, used in the treatment of arthritis, headache etc.
Uses
Varanadi Ghrita benefits:
It is used as medicine and also in preparatory procedure called snehakarma for the treatment of many diseases.
It is mainly indicated in Hernia, all Udararogas and flatulence. It is excellent for reducing phlegm, fat deposition, metabolic disorders, rheumatoid arthritis, headache and inflammatory conditions.
Post viral fever, when the patient complains of body, muscle and joint pains
Bursitis,
Bursitis trochanterica,
Shoulder dislocation pain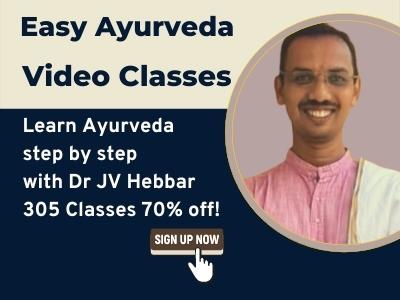 Effect on Tridosha – Calms Vata and Pitta
It is useful to promote strength of bones and joints.
It acts as an excellent anti inflammatory and analgesic medicine.
It is used for the treatment of ankle pain, ankle twitch, slipped disc, sprain, back spasm, backache, back injury, stiffness of muscles, Coccyx pain
Partially useful in (other medications might be required)
Avascular necrosis
Sensory-neural hearing loss
Hypothyroidism
Ankylosing spondylitis
Pain related to SLE
Diet
Avoid deep fried foods, heavy-to-digest non veg foods, fast foods and aerated drinks, smoking and excess alcohol. These can irritate stomach and intestinal lining. These also may increase Tridosha.
Dose and pathya
Varanadi Ghritham dosage:
As medicine – quarter to half teaspoon with water, usually before food, once or twice a day, or as directed by Ayurvedic doctor.
For Panchakarma preparation – Snehana procedure, the dose depends on the disease status and the judgement of Ayurvedic doctor.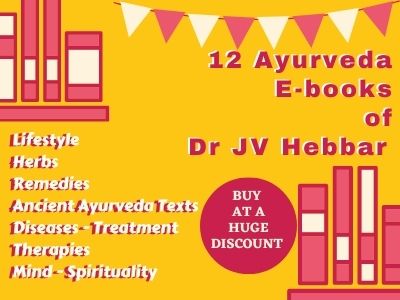 Pathya:
Exposure to cold and cold water bathe are contraindicated.
With western medicines
Seek your doctor's advice if you are taking this product along with other western (allopathic/modern) medicines. Some Ayurvedic herbs can interact with modern medicine.
If both Ayurvedic and allopathic medicines are advised together, then it is best to take allopathic medicine first, wait for 30 minutes and then, after a gap of 15 – 30 minutes, take Ayurvedic medicine or as directed by the physician.
Can this be used while taking Homeopathic medicine?
Yes. This product does not react with homeopathic medicine.
With supplements like multivitamin tablets, Omega 3 fatty acids etc?
Yes. Generally, this product goes well with most of the dietary supplements. However, if you are taking more than one product per day, please consult your doctor for an opinion.
Side Effects

There are no known side effects with this medicine. However it is best to use this product under medical supervision. Self medication with this medicine is discouraged.
People with diabetes, high cholesterol, heart diseases and high BP should exercise precaution.
In very high dose, it may cause diarrhoea and indigestion.
Principle
In this herbal ghee, the herbs are infused in the medium of ghee along with herb water decotion. Then the solid waste herb materials are filtered out. Thus, this herbal ghee contains oil soluble and water soluble phyto-active principles of medicinal herbs.
Contents
Varanadi Ghrita Ingredients:
Varana (Crataeva religiosa),
Sairyaka (Strobilanthes ciliatus),
Shatavari (Asparagus racemosus),
Dahana (Plumbago zeylanica),
Morata (Chenomorpha fragrans),
Bilwa (Aegle marmelos),
Vishanika (Aristolochia bracteolate),
Brihati (Solanum melongena),
Bhadra (Aerua lanata),
Karanja (Pongamia glabra),
Pootikaranja (Holoptelia integrifolia),
Jaya (Premna corymbosa),
Pathya (Terminalia chebula),
Bahalapallava (Moringa olifera / drum stick),
Darbha (Desmostachya bipinnata)
Rujakara (Semicarpus anacardium).
Ghee – Clarified butter
water
All the ingredients are heated till Ghrita is prepared.
Reference
Ashtanga Hrudaya Sutrasthana 15/21-22 – Varunadi Gana of Vagbhata Acharya
Shloka, Sanskrit Verse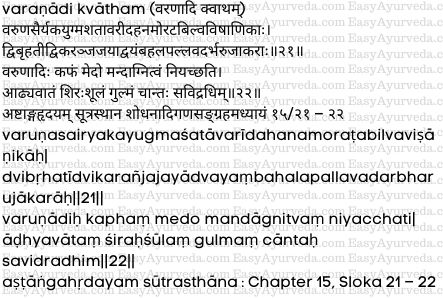 Manufacturers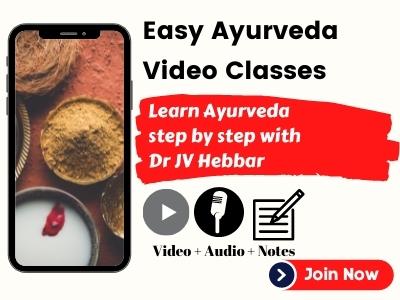 Nagarjuna – Varanaadi Ghrutham