Anthrakutharam Gulika is an Ayurvedic tablet used in bloating, constipation and such other abdominal conditions. This Ayurvedic medicine is based on Kerala Ayurvedic tradition.
Benefits

In Sanskrit, Anthra means intestines. Hence this medicine is used in most of the diseases related with intestines such as bloating,  abdominal colic, constipation, indigestion, hernia and piles.
It is used for treating spasmoidic pain.
In women, it is used for treatment menstrual cramps.
Dose

1 – 2 tablets (125 – 250 mg) once or two times a day after food or before food, or as directed by Ayurvedic doctor.
It is traditionally administered along jaggery, hot water, or ginger juice.
Eat rice with curd to stop purging.
With western medicines
Seek your doctor's advice if you are taking this product along with other western (allopathic/modern) medicines. Some Ayurvedic herbs can interact with modern medicine.
If both Ayurvedic and allopathic medicines are advised together, then it is best to take allopathic medicine first, wait for 30 minutes and then, after a gap of 15 – 30 minutes, take Ayurvedic medicine or as directed by the physician.
Can this be used while taking Homeopathic medicine?
Yes. This product does not react with homeopathic medicine.
With supplements like multivitamin tablets, Omega 3 fatty acids etc?
Yes. Generally, this product goes well with most of the dietary supplements. However, if you are taking more than one product per day, please consult your doctor for an opinion.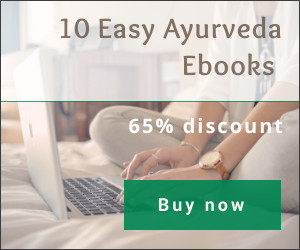 Effect on Tridosha – Balances Vata at the level of intestines.
Side Effects

This medicine should strictly be taken under medical supervision.
Traditional reference of this medicine contains herbal processed cinnabar as an ingredient. But many companies skip this ingredient due to heavy metal toxicity awareness. Watch for HgS or Cinnabar or Hingula in the label.
Children and pregnant ladies should take this medicine under strict medical supervision.
It contains another ingredient called Yava kshara – Men seeking treatment for oligospermia should take precaution while taking this medicine. Because the medicines containing Kshara ingredient causes depletion in sperm quantity and quality.
People with hypertension should take extra precaution while taking this medicine.
Overdose may cause severe diarrhoea.
Ingredients

Hingula – Herbal processed Cinnabar
Abhaya – Terminalia chebula
Hingu – Asa foetida
Saindhava Lavana – Rock salt
Tankana – Purified borax
Vacha – Acorus calamus
Yavakshara – Kshara of Hordeum vulgare
Kuberaksha beeja – Caesalpinia crista
Lashuna – Garlic – Alium sativum
Jayapala – Purified Croton tiglium
Juice of Nirgundi – Vitex negundo
Reference and Manufacturer
Reference: Sahasrayoga, Vati Prakarana
Companies that manufacure this product:
AVN Ayurveda Formulations Pvt Ltd – Manufactures this product excluding the Cinnabar.