Mahamasha thailam is one of the powerful Ayurveda oil, widely used for many neurological conditions. Masha means black gram, which is the main ingredient of this oil. It is used both for external and internal administration. It contains a non veg ingredient.
Uses
Mahamasha thailam benefits:
It is used in Ayurvedic treatment of Paralysis, Palsy, facial palsy.
It is used to treat deafness, tinnitus. For this, it is either used to instill a few drops directly into ear or by internal administration.
It helps to relieve stiffness and pain in locked jaw.
It relieves headache, eye diseases.
It is helpful to relieve pain of multiple joint aches and pains pertaining to hands, legs, head, neck.
It is used in lumbar and cervical spondylosis treatment.
It is also used to relieve pain due to blunt injuries, and in treatment of rheumatoid and osteo arthritis.
It is used in Duchenne's Muscular Dystrophy, and such other neurological problems.
It is used to relieve headache and migraine.
It is one of the best massage oils to relieve tiredness and for elderly people.
It is administered orally and as nasya oil in treating frozen shoulder.
In hypertension, it is applied over forehead and head with gentle massage.
Useful in intercostal neuropathy
Post viral fever, when the patient complains of body, muscle and joint pains
Bursitis,
Bursitis trochanterica,
Shoulder dislocation pain
Diabetic neuropathy, freezing of feet, lack of stability while walking & dizziness.
Varicose veins, osteo arthritis
Application on feet
Oil application over feet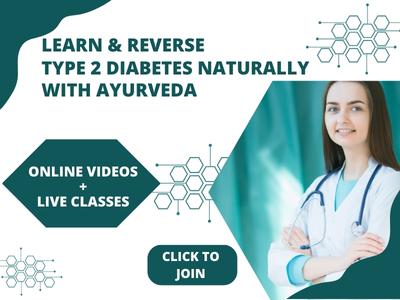 Precaution if you apply this oil over feet:
If you apply this oil on feet, make sure to wash off thoroughly with water or wipe off with cloth. The oil can make you slippery while walking.
After applying, make sure there are no oil spills on the floor. This can make the floor slippery.
Synonyms
Mahamash oil, Mahamash tail, Mahamasha tailam
Mode of Usage
For internal administration: Please look into the label of the oil. If the label contains instruction like 'Used for external application only' then the oil is not good for internal administration.
If the oil is prepared as per the formula and without use of preservatives, it is good for internal administration.
Internally, it is used for oral administration and also for Basti Panchakarma therapy (Oil Suppository treatment).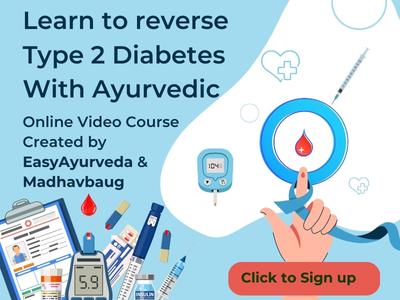 Dosage
For oral administration the usual dosage is – 5 – 10 drops once or two times a day before food with hot water or as directed by Ayurvedic doctor.
Externally it is used in all types of oil treatments like Massage, Dhara treatment, Shirovasti etc.
Side effects

There are no known side effects with this oil. People with diabetes, hypercholestrolemia and high BP should exercise precaution while taking orally.
Principle
In this herbal oil, the herbs are infused in the medium of sesame oil along with herb water decotion. Then the solid waste herb materials are filtered out. Thus, this oil contains oil soluble and water soluble phyto-active principles of medicinal herbs.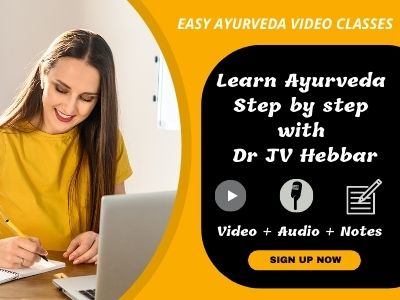 In case of shaky hands, Parkinson's disease:
It is used for massage and also as nasal drops – Nasya therapy.
Manufacturer
AVN Ayurveda Formulations Pvt. Ltd
Vaidyaratnam Oushadhalaya
Nagarjuna – Mahaamaasha Thailam
Usage in proprietary Ayurvedic medicines:
Mahamash tel is used as oil base to prepare liniments and herbal pain relieving oils such as Dazzle oil
Contents, Ingredients, Reference
Mahamasha thailam ingredients: 
Masha (black gram) – Phasleolus Mungo – 1.536 kg
Dashamoola – group of ten herbs – together – 2.4 kg. They are –
Bilva – Aegle marmelos
Agnimantha – Premna mucronata
Shyonaka – Oroxylum indicum
Gambhari – Gmelina arborea
Patala – Stereospermum suaveolens
Shalaparni – Desmodium gangeticum
Prinshnaparni – Urarica picta
Gokshura – Tribulus terrestris
Brihati – Solanum indicum
Kantakari – Solanum xanthocarpum
Chaga mamsa – goat meat – 1.44 kg
water – 12.288 liters
The above mixture is boiled together and reduced to 3.072 liters.  Some companies boil goat meat and rest herbal mixture separately and then add both together.
This kashayam is added with
Tila taila – oil of Sesamum indicum – 768 ml
Cow milk – 3.072 liters
Paste made with 12 grams of each of fine powders of following herbs –
Atmagupta – Mucuna pruriens
Urubaka – Castor root – Ricinus communis
Shatahva  – Anethum sowa
Lavana Traya – group of three salts – Rock salt, sochal salt, common salt.
Jeevaneeya group of herbs
Manjishta – Rubia cordifolia
Chavya – Piper chaba
Chitraka – Plumbago zeylanica
Katphala – Myrica nagi
Vyosha – Trikatu – Pepper, long pepper and ginger
Rasna – Pluchea lanceolata
Madhuka – Licorice – GLycyrrhiza glabra
Saindhava – rock salt
Devadaru – Cedrus deodara
Amruta – Tinospora cordifolia
Kushta – Saussurea lappa
Vajigandha – Ashwagandha – Withania somnifera
Vacha – Acorus calamus
Shati – Hedychium spicatum
All these are boiled together to prepare herbal oil.
Reference: Bhaishajya Ratnavali – Vatavyadhi Prakarana – 26/570-577
Shloka, Sanskrit Verse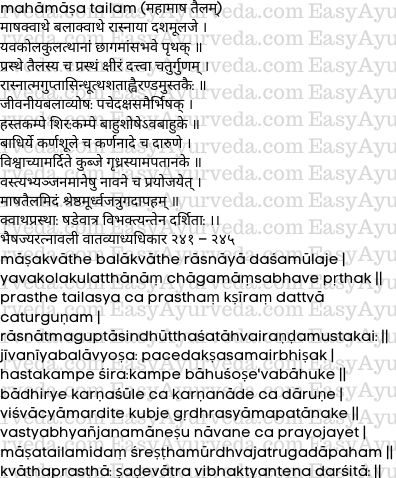 During pregnancy, lactation
If you were using this oil before pregnancy without any allergic reaction, you can continue using this oil even during pregnancy.
If you have not used this product before and wish to use it during pregnancy, better to consult a doctor because it can cause skin allergy in some rare cases.
It is generally considered as safe to use during lactation, however consult your doctor for the right advice.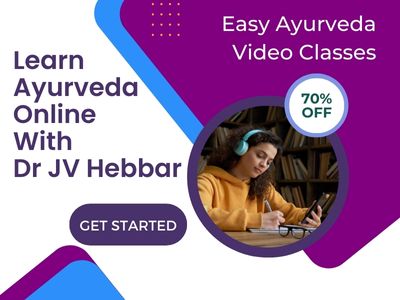 Can this product be applied after steam therapy?
No. Oil is best applied before steam therapy. This is as per basic Ayurvedic principles.