Gandha Thailam is a famous Ayurvedic medicine used in treatment of Arthritis, fractured bones and weak bones. It is taken internally. Gandha Thailam capsules are also available, which helps in easy oral administration.
Uses
Gandha Thailam Benefits:
It is mainly targeted towards improving bone mass and strength.
It is useful in the treatment of arthritis, osteoporosis, Fracture,
Joint dislocation such shoulder dislocation
It helps to improve strength of bones, joints and ligaments.
It is also used in the treatment of ligament injuries.
Useful in improving hair growth. Because it supports the Asthi Dhatu – bone tissue, Hair is related with Asthi, hence it is useful to promote hair growth.
Useful in sacroilitis and sciatica, sprained muscles, ligaments
It is used for treating torn ligaments such as ACL
Useful in lumbar and cervical spondylosis, slipped disc, calcaneal spur,
Road traffic accidental injuries.
Post viral fever, when the patient complains of body, muscle and joint pains
Bursitis,
Bursitis trochanterica,
Crushed bone injury
Effect on Dosha:
Balances Vata and Pitta.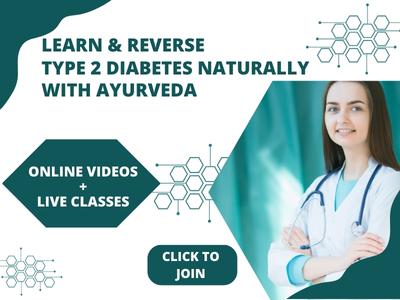 Dosage
Gandha Thaila Dose:
5 – 10 drops once or twice a day, usually administered before food with warm milk or warm water or suitable Kashayam, or as directed by Ayurvedic doctor.
Dosage of Gandha Thailam capsule is – usually 2 capsules 2 times a day before food.
With western medicines
Seek your doctor's advice if you are taking this product along with other western (allopathic/modern) medicines. Some Ayurvedic herbs can interact with modern medicine.
If both Ayurvedic and allopathic medicines are advised together, then it is best to take allopathic medicine first, wait for 30 minutes and then, after a gap of 15 – 30 minutes, take Ayurvedic medicine or as directed by the physician.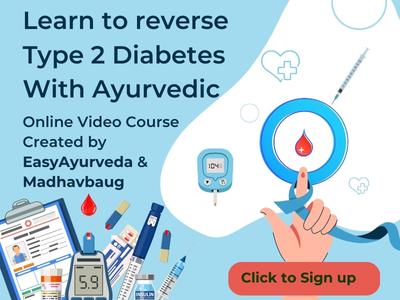 Can this be used while taking Homeopathic medicine?
Yes. This product does not react with homeopathic medicine.
With supplements like multivitamin tablets, Omega 3 fatty acids etc?
Yes. Generally, this product goes well with most of the dietary supplements. However, if you are taking more than one product per day, please consult your doctor for an opinion.
Principle
In this herbal oil, the herbs are infused in the medium of sesame oil along with herb water decotion. Then the solid waste herb materials are filtered out. Thus, this oil contains oil soluble and water soluble phyto-active principles of medicinal herbs.
Method of preparation
Sesame seeds are tied into a bundle in a cloth, allowed to stay in flowing water for seven days. Then it is soaked in milk and decoction of madhuka (Licorice – Glycyrrhiza glabra) daily and dried in shade. This is continued for seven days. Once again it is soaked in milk, removed from its husk and powdered, it is then mixed with fine power of herbs – from (Nalada to Eladi Gana herbs listed above), and macerated with milk.
Then herbal oil is cooed with above drugs, added with paste of group of herbs (from Shaileya to Durva listed above), milk and oil.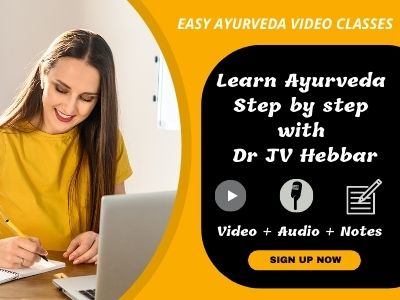 Reference
Ashtanga Hrudayam Uttara Sthana 27/36 – 41 – Bhanga Pratishedha Adhyaya
Contents
Gandha Tailam Ingredients:
Sesame seeds – Sesamum indicum
Cow Milk
Madhuka – Licorice – Glyzyrrhiza glabra
Nalada – Vetiveria zizanioides
Valaka – Coleus vettiveroides
Lohitayashtika – Robia cordifolia
Nakha – Naguna (?)
Mishi – Anethum sowa
Plava – Cyperus rotundus
Kushta – Saussurea lappa
Balatraya -Bala – Sida cordifolia
Atibala – Abutilon indicum
Mahabala – Grewia populifolia
Aguru – Aquilaria agallocha
Kumkuma – Crocus sativus
Chandana – Sandalwood – Santalum album
Sariva – Hemidesmus indicus
Sarala – Pinus roxburghii
Sarjarasa – Vateria indica
Maradaru – Cedrus deodara
Padmakadi Gana – Group of herbs explained as Padmakadi Gana
Eladi Gana – Group of herbs explained as Eladi group
Shaileya – Parmelia perlata
Rasna – Pluchea lanceolata
Amshumati – Desmodium gangeticum
Kaseruka – Scirpus grossus
Kalanusari – Polyalthia longifolia
Nata – Lobelia nicotianaefolia
Patra – Cinnamomum tamala
Rodhra – Symolocos racemosa
Ksheerashukla – Kakoli – Roscoea purpurea
Durva – Cynodon dactylon
Shloka Sanskrit Verse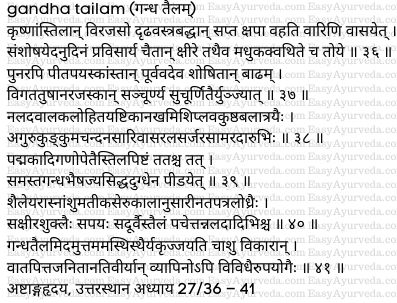 Manufacturer
AVN Ayurveda Formulations Pvt. Ltd. – This company also manufactures a soft gel capsule called as Zeotone capsule which is used for strengthening bone and osteoporosis.
AVP, Kottakkal
Nagarjuna – Gandha Thailam
Questions
Q: Does Gandha tailam help in dental caries and to regrow enamel?
Gandha tailam is traditionally used in treating fractures, osteo arthritic joints etc. – It improves Asthi dhatu (bone tissue).
Teeth is also a product of Asthi dhatu. Hence, oil pulling (or gargling) with Gandha tailam for 10 minutes per day, in the morning should be helpful in improving tooth decay and regrow enamel.
Along with this, oral intake of Gandha tailam – 5 drops, once or twice a day, for 2 months time is also equally beneficial.
Does it increase Vitamin D in the body?
No. It does not supplement body with Vitamin D.
Can patients with peptic ulcers use this medicine for arthritis?
Yes. it does not worsen peptic ulcers or gastritis. For them, it is best to take this medicine after food.
Before food or after food?
This medicine can be used before or after food. Usually the gap between meals and this medicine is 15 minutes.
Is it used for external application?
No. It is used for oral administration.
Does it increase cholesterol?
No. It can be taken by people with high blood cholesterol levels.
Does it promote hair growth?
It improves the strength of bone tissue. Hair is told as a by-product of bone tissue so it is useful to promote hair strength and growth.
Can Gandha Thailam be used for stiffness of fingers?
During pregnancy, lactation
If you were using this oil before pregnancy without any allergic reaction, you can continue using this oil even during pregnancy.
If you have not used this product before and wish to use it during pregnancy, better to consult a doctor because it can cause skin allergy in some rare cases.
It is generally considered as safe to use during lactation, however consult your doctor for the right advice.
Can this product be applied after steam therapy?
No. Oil is best applied before steam therapy. This is as per basic Ayurvedic principles.
Differences – Yogaraja guggulu
What is the difference between Gandha tailam and Yogaraj guggulu? They both are used for treating arthritis, weak bones and joints.
Gandha tailam is specific to build back the eroded bones, joints and ligaments. It also soothes down the nerve irritation and hence relieves pain associated with arthritis, knee joint and backache.
Yogaraja guggulu largely helps in pain and swelling reduction. To a lesser extent, it also rejuvenates the discs, reduces nerve irritation and improves joint movement by relieving stiffness.
Some doctors prescribe Gandha tailam along with Yogaraja guggulu to counter neck pain, stiffness and at the same time to rejuvenate the discs and reverse spondylosis changes.
Read more about Yograj Guggul here
Research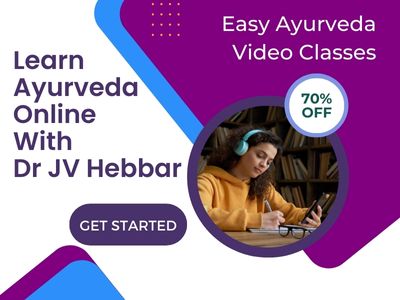 A clinical research has been conducted on Gandha thailam. For this study, 51 subjects suffering with osteoporosis were administered with gandha tailam oil. The research study revealed that Gandha tailam improved Bone Mineral Density, and reduced serum osteocalcin, indicating that Gandha tailam acts as an inhibitor of bone resorption. It helps to retain the bulk of the bone mass, denying the bone degeneration.(1)