Eladi Thailam is an Ayurvedic hair oil used for skin conditions. This oil is formulated based on the Kerala Ayurveda principles. This oil is prepared with sesame oil base. But some companies do manufacture this in coconut oil base. Called as Eladi Keratailam, Eladi keram or Eladi coconut oil.
Benefits
Eladi Keram Uses
It is used in hair treatment for skin diseases like allergic dermatitis, ring worm infection, urticaria.
It is useful in scabies, erysipelas and cattarh.
It is also used to improve skin complexion and texture.
It is used for external application for skin detox treatment.
It is used in defective teeth, diseases of gums and mouth, ear ache and boils.
Doctors also use this for the treatment of
Dry skin
Eczema scars, Acne scars.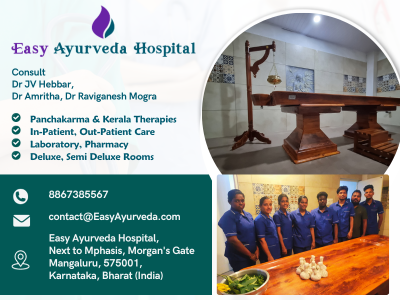 Application on feet
Oil application over feet
Precaution if you apply this oil over feet:
If you apply this oil on feet, make sure to wash off thoroughly with water or wipe off with cloth. The oil can make you slippery while walking.
After applying, make sure there are no oil spills on the floor. This can make the floor slippery.
Dark circles
Eladi oil is also useful in dark circles under eyes. Take a few drops of the oil onto the finger tips of index and middle fingers and apply gently beneath the eyes over the dark circles. Leave it on for 30 minutes, then wash off with plain water. Do this once or twice a day.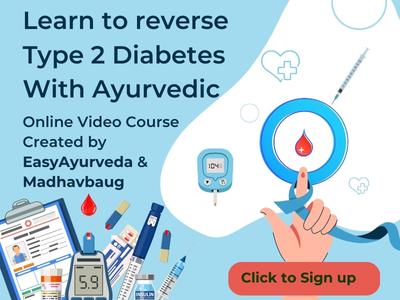 Effect on Dosha – Balances Vata and Kapha.

Synonyms
Eladi Tailam, Eladi coconut oil, Eladi keratailam, Eladi kerathailam, Eladi Velichenna, Eladi Keram
How to use
It is only used for external application only It is not used for internal administration.
For skin diseases, it is applied over the affected area and left as such for minimum half an hour, before it is washed of.
For skin detox and to improve skin texture and complexion, it is used as a massage oil over face, and whole body.
Contact to the eyes is generally avoided.
Excellent for application on head in chronic catarrh.
This oil can be applied once or twice a day. If you are concerned about the oil being sticky and causing discomfort, consider applying the oil 1 hour before bath. In the evening, it can be applied, left on the skin surface and then washed off after 1 hour.
Principle
In this herbal oil, the herbs are infused in the medium of sesame oil along with herb water decotion. Then the solid waste herb materials are filtered out. Thus, this oil contains oil soluble and water soluble phyto-active principles of medicinal herbs.
Making an oil mix –
Some doctors mix this oil along with other oils such as Nalpamraradi tailam, Manjishtadi tailam etc. This is very fine to do.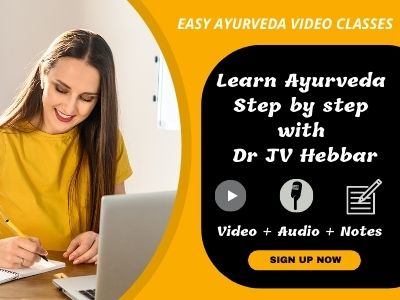 Content
Eladi Thailam Thailam Ingredients:
Tila taila – Oil of Sesamum indicum / coconut oil
Paste of
Ela – cardamom – Elettaria cardamomum
Sthoola Ela – Amomum subulatum
Turushka – Hydnocarpus laurifolia
Kushta – Saussurea lappa
Phalini – Callicarpa macrophylla
Mamsi – Nardostachys jatamansi
Jaladhyamaka- Coleus zeylanicus
Sprikka – Anisomeles malabarica
Choraka – Angelica archagelica
Chochapatra – Cinnamomum zeylanicum
Tagara – Valeriana wallichii
Sthauneya – Taxus baccata
Jati- Myristica fragrans
Rasa – Commiphora myrrha
Shukti – Ostrea edulis
Vyaghranakha – Capparis sepiaria
Marahva – Cedrus deodara
Aguru- Aquilaria agallocha
Shrivasaka – Pinus longifolia
Kumkuma – Saffron – Crocus sativus
Chanda – Costus speciosus
Guggulu – Commiphora mukul
Devadhupa – Shorea robusta
Khapura – Boswellia serrata
Punnaga – Calophyllum inophyllum
Nagahva – Mesua ferrea
Eladi Thailam Thailam References:
Sahasra yoga – Tailayoga Prakarana
Eladi Thailam – Indications, ingredients etc
Shloka- Sanskrit Verse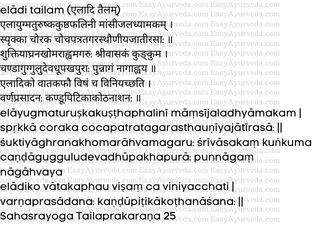 एलायुग्म तुरुष्कर कुष्ठ फलिनि मांसी जलध्यामकम् ।
स्पृक्काचोरक चोचपत्र तगर स्थौणीय जातीरसा: ॥
शुक्तिव्याघ्रनखोमराह्वमगुरु: श्रीवासकं कुङ्कुम ।
चंडा गुग्गुलु देवधूपखपुरा: पुन्नाग नागाह्वय ॥
ऎलादिकोवात कफौ विषं च विनियच्छाति ।
वर्णप्रसादन: कण्डू पिटिका कोठनाशन: ॥
elāyugma turuṣkara kuṣṭha phalini māṃsī jaladhyāmakam |
spṛkkācoraka cocapatra tagara sthauṇīya jātīrasā: ||
śuktivyāghranakhomarāhvamaguru: śrīvāsakaṃ kuṅkuma |
caṃḍā guggulu devadhūpakhapurā: punnāga nāgāhvaya ||
ऎlādikovāta kaphau viṣaṃ ca viniyacchāti |
varṇaprasādana: kaṇḍū piṭikā koṭhanāśana: ||
Astanga Hridayam.
Manufacturer
AVN Ayurveda Formulations Pvt. Ltd,
Nagarjuna – Ealaadi Thailam
Vaidyaratnam Aushadhalaya, Kottakkal.
Baby massage oil
Eladi tailam as baby massage oil –
Eladi oil or Nalpamaradi oil are good for babies to improve skin complexion.
Before starting to use it daily, Apply a few drops of eladi oil over arm area of the baby and watch for 5 minutes for any allergic reactions such as red rashes, itching, burning sensation etc. if there are any allergic symptoms, it is best to avoid it. If there are no such symptoms, it is good to continue that product. This rule applies to all herbal oils for massage for babies.
Side effects
If you have naturally oily skin, applying excess of this oil can lead to increased oiliness. Hence, it is best to use this oil in small quantities.
In case of oily skin associated with open skin pores, it may worsen the condition, especially during winter. Seek your doctor's advice.

During pregnancy, lactation
If you were using this oil before pregnancy without any allergic reaction, you can continue using this oil even during pregnancy.
If you have not used this product before and wish to use it during pregnancy, better to consult a doctor because it can cause skin allergy in some rare cases.
It is generally considered as safe to use during lactation, however consult your doctor for the right advice.
Can this product be applied after steam therapy?
No. Oil is best applied before steam therapy. This is as per basic Ayurvedic principles.
Research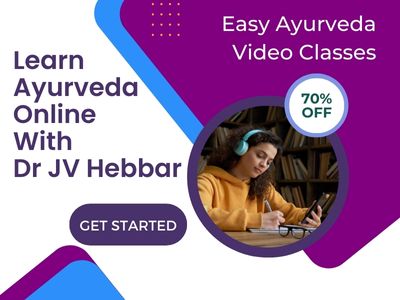 A randomised, controlled, double blind pilot study has been conducted by Middlesex University to test the efficacy of Eladi oil on acne vulgaris.
Standardised lesion counting and acne grading were conducted in accordance with the guidelines of US FDA and with reference to the Leeds Acne Grading Technique.
The treatment group showed 42% improvement on the Investigators Global Assessment scale, a 60% reduction in inflammatory lesions, a 59% reduction in non-inflammatory lesions, and a 59% reduction in combined lesion count (1).