Narayana Churna is an Ayurvedic medicine, in herbal powder form. It is used in the Ayurvedic treatment for abdominal diseases like bloating, constipation and also in respiratory diseases.
Benefits

It is used in the Ayurvedic treatment of Ascites, Abdominal distension, bloating, Constipation, Piles, Anemia, cough, chronic respiratory diseases like Asthma and bronchitis, heart diseases, digestive diseases like sprue, anorexia, fever.
It is also used in the treatment of poisonous conditions such as toxic insect bite, eating poisonous tubers, synthetic poisons etc.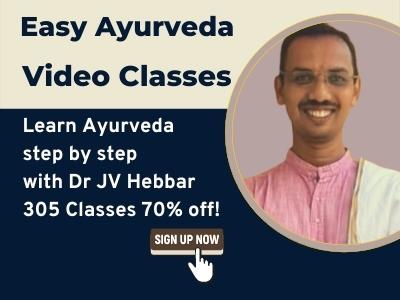 Synonyms

Narayana churna, Narayana churnam, Narayana Churan, Narayana choornam, Narayana Choorna
Effect on Tridosha – Calms Vata, Pitta and Kapha.

Dose
1 – 3 grams.
It is administered along with buttermilk for people with ascites.
It is administered with Badara kashaya (Decoction of jujube) for treatment of abdominal distention.
It is given with wine for treating bloating and Vata diseases
It is given with watery portion of curds for treating constipation
It is given along with pomegranate juice for treating piles
To treat anal itch, it is given along with cocum juice
To treat indigestion, it is given with warm water
It is given with Jambuphala (Zizypus mauritiana)decoction in gulma
It is given with tamarind decoction in gripping pain.
It is mainly used for the purpose of a panchakarma procedure called as Virechana (Purgation therapy)
With western medicines
Seek your doctor's advice if you are taking this product along with other western (allopathic/modern) medicines. Some Ayurvedic herbs can interact with modern medicine.
If both Ayurvedic and allopathic medicines are advised together, then it is best to take allopathic medicine first, wait for 30 minutes and then, after a gap of 15 – 30 minutes, take Ayurvedic medicine or as directed by the physician.
Can this be used while taking Homeopathic medicine?
Yes. This product does not react with homeopathic medicine.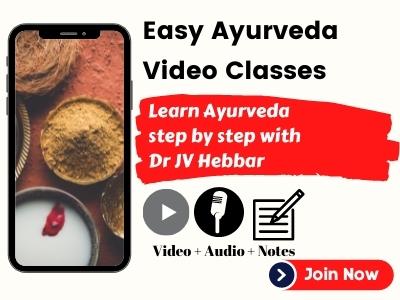 With supplements like multivitamin tablets, Omega 3 fatty acids etc?
Yes. Generally, this product goes well with most of the dietary supplements. However, if you are taking more than one product per day, please consult your doctor for an opinion.
Side Effects
People with sensitive stomach and gastritis should exercise caution.
Special care is needed while administering this medicine to children and diabetic people.
It is best avoided in people with hypertension since it contains salt as ingredient.
Special care is required while administering this medicine in men undergoing treatment for infertility. Because it contains Kshara as an ingredient. (Click to know why)
Shloka Sanskrit Verse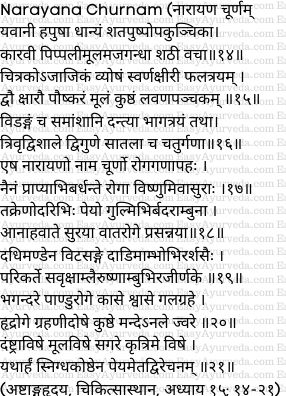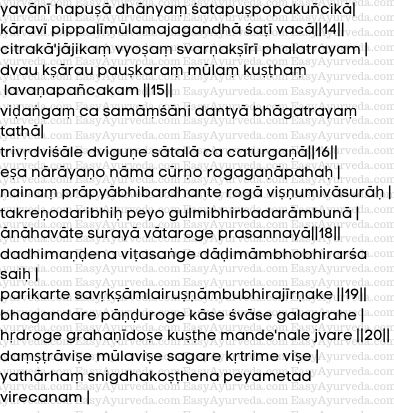 Ingredients

10 g of each of
Yavani – Trachyspermum ammi
Hapusha – Sphaeranthus indicus
Dhanyaka – Coriander
Shatahva – Anethum sowa
Upakunchika – Nigella sativa
Karavi – Black cumin
Pippali moola – Long pepper root – Piper longum
Ajagandha – Cleome gynandra
Shati – Hedychium spicatum
Vacha – Acorus calamus
Chitraka – Pumbago zeylanica
Ajajika – white cumin
Trikatu – Ginger, pepper and long pepper
Swarna Kshiri – Panicum sumatrense
Triphala,
Yavakshara – Hordeum vulgare
Svarji Kshara
Paushkara moola – Inula racemosa
Kushta – Saussurea lappa
Sauvarchala Lavana – Sochal salt
Saidhanava lavana – Rock salt
Vida lavana – Bida salt
Samudra Lavana – common salt
Audbhida Lavana
Vidanga – Embelia ribes
Danti – Baliospermum montanum – 30 g
Trivrit – Operculina turpethum – 20 g
Vishala – Red Indravaruni – Cucumis trigonus – 20 g
Saatala (Saptala) – Ophiorrhiza mungos – 40 grams
Reference

Ashtanga Hrudayam Chikitsasthana 15/14 – 29
Note:
This product is to be taken under strict medical supervision.
Manufacturer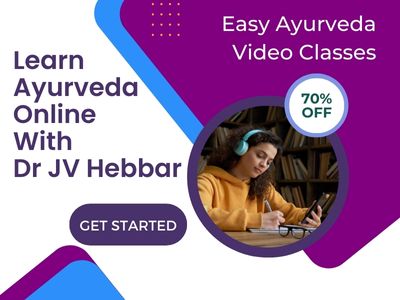 Baidyanath
Dabur