Dashamoola Katutraya Kashayam is a very famous Ayurvedic medicine in liquid form. It is widely used in the treatment of respiratory conditions. This medicine is formulated based on Kerala Ayurveda practice.
Benefits

It is used in the Ayurvedic treatment of Asthma, bronchitis, Cough and related chest pain. It has anti inflammatory and broncho-dilatory effect.
Dosage
Dasamula Kadutraya Kashayam dose:
The dose is 12 – 24 ml, before food, at about 6 am and 6pm or as directed by Ayurvedic doctor.
It is usually advised to add equal amount of water to the kashayam.
It is advised to have a little honey after taking / along this medicine.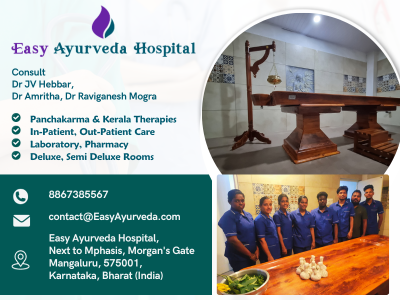 Dose of Kashayam tablet is – 2 tablets 2 times a day before food or as directed by Doctor.
With western medicines
Seek your doctor's advice if you are taking this product along with other western (allopathic/modern) medicines. Some Ayurvedic herbs can interact with modern medicine.
If both Ayurvedic and allopathic medicines are advised together, then it is best to take allopathic medicine first, wait for 30 minutes and then, after a gap of 15 – 30 minutes, take Ayurvedic medicine or as directed by the physician.
Can this be used while taking Homeopathic medicine?
Yes. This product does not react with homeopathic medicine.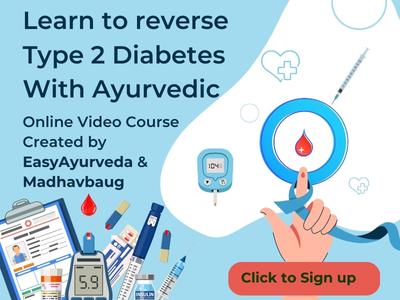 With supplements like multivitamin tablets, Omega 3 fatty acids etc?
Yes. Generally, this product goes well with most of the dietary supplements. However, if you are taking more than one product per day, please consult your doctor for an opinion.
Diet, lifestyle advice
Avoid excessive exercise, refrigerated water drinking, exposure to mist, cold wind.
Avoid excessive spices and deep fried foods.
Have more of turmeric and curry leaves in diet.
Side Effects, Adjuvants

Co-drink – Honey or musk.
Side effects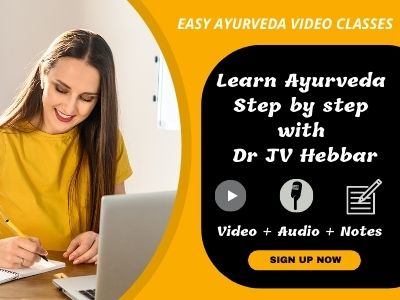 Dashamoola Katutraya Kashaya Side Effects:
There are no known side effects of this medicine.
Higher dose may cause gastritis.
Ingredients, Contents, Reference
Dasamoola Katutraya Kashayam Ingredients:
Dashamoola – group of ten herbs. –
Bilva – Aegle marmelos
Agnimantha – Premna mucronata
Shyonaka – Oroxylum indicum
Patala – Stereospermum suaveolens
Gambhari – Gmelina arborea
Brihati – Solanum indicum
Kantakari – Solanum xanthocarpum
Gokshura – Tribulus terrestris
Shalaparni – Desmodium gangeticum
Prishnaparni – Uraria picta
Katutraya – refers to Trikatu – Pepper, long pepper and ginger
Vrisha – Adhatoda vasica
It is added with 8 parts of water, boiled and reduced to quarter part, filtered.
Reference
Sahasrayoga Kashayaprakarana 107
Dashamoola katutraya kashayam, tablet is the kashayam in tablet form. Its dose is two tablets two times a day before food.
Dashamula Katutraya Kwatha churna is the herbal coarse powder of the above herbs.
Shloka, Sanskrit Verse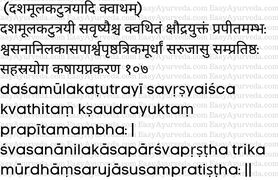 Manufacturers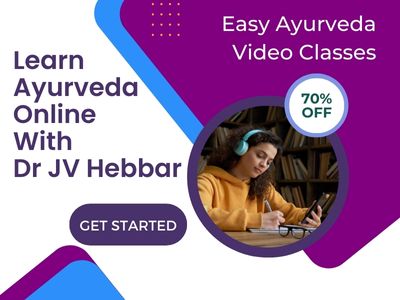 Nagarjuna – Dashamoola Katuthrayam Kashaayam, Dashamoola Katuthrayam Kashaayam Tablet